Amazing sights along The Wilderness Road Sweden (Vildmarksvägen)
The Wilderness Road in northern Sweden is beautiful. One of the most beautiful roads we have here in Sweden. And I can't believe it took me so long to finally drive it, but now I have and I can't wait to go back for more adventurers there!
The Wilderness Road starts in Strömsund (Jämtland) or in Vilhelmina (Swedish Lapland) – it all depends on where you start your roadtrip. If you decide to drive the whole route and start and end in the same place, it will be around 500 kms. When I visited with Kenny, we did the stretch from Strömsund to Vilhelmina and that is 370 km. The road is one of Sweden's highest roads and it will take you over the Stekenjokk Plateau between Swedish Lapland and Jämtland.
We originally planned our trip for 2-3 days. Not a lot of time really, but that's all we had. In the end, we ended up only having one full day to explore. That meant we had to prioritize about where to go and what we wanted to see. And if you like nature and waterfalls like me, then one day is most certainly way too little time.
Good to know before you go: the road over Stekenjokk is only open from the beginning of June until the middle of October. It's closed during winter because of the large amount of snow that falls there.
Two nights and one full day on The Wilderness Road
Our first stop was Hällingsåfallet. It's just before Gäddede, which was where we spent our first night. We arrived when the sun started to get low and the light wasn't the best, but still so beautiful.
The next day we drove between Gäddede and Vilhelmina and visited waterfalls and old sami church towns.
Even if don't have a lot of time, but still want to drive The Wilderness Road – you'll be able to see a lot since a lot of the main sights are very close to the road. But I would definitely recommend at least a few days here if you have time. Maybe even a whole week so you won't feel rushed. There's just so much to see and do here.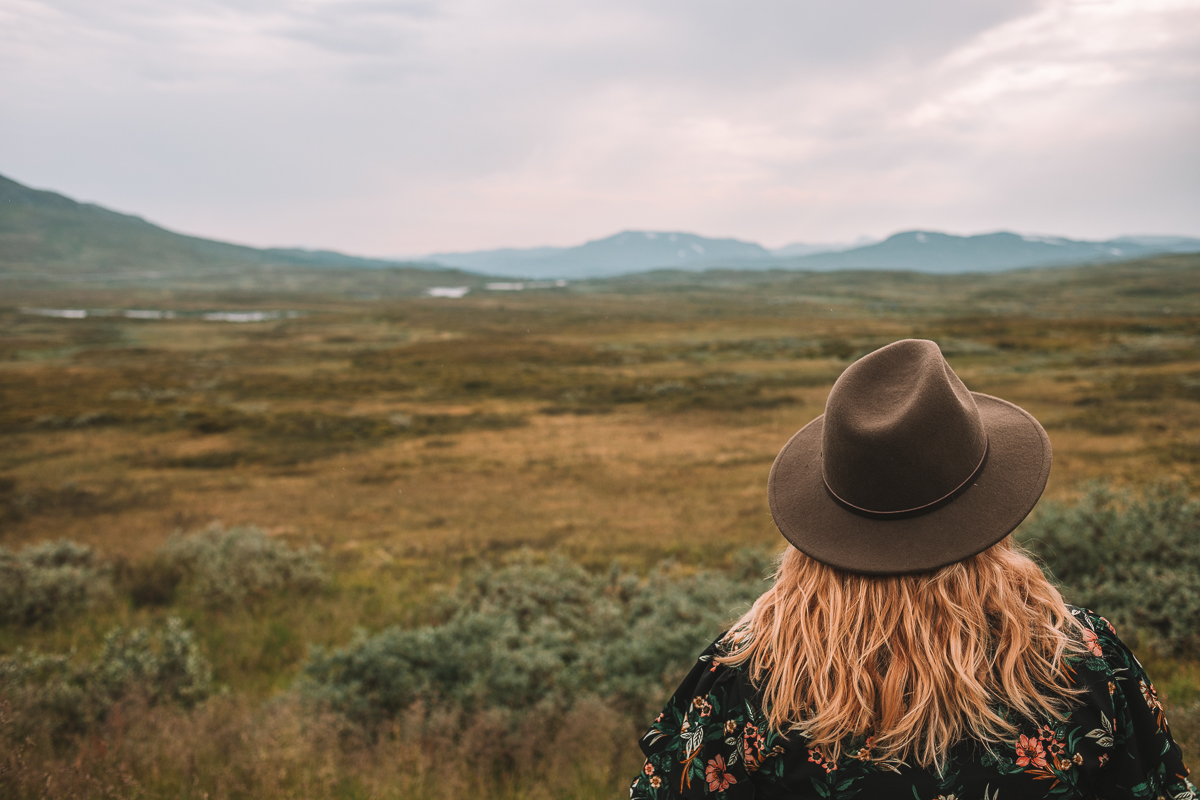 Our stops along The Wilderness Road in Sweden
Hällingsåfallet
Gäddede
Brakkåfallet
Stora Blåsjön
Ankarede
Gaustafallet
Stekenjokk
Klimpfjäll
Norgefarargården
Fatmomakke
Saxnäs
Trappstegsforsen
Staloberget
Official website: Wilderness Road in Sweden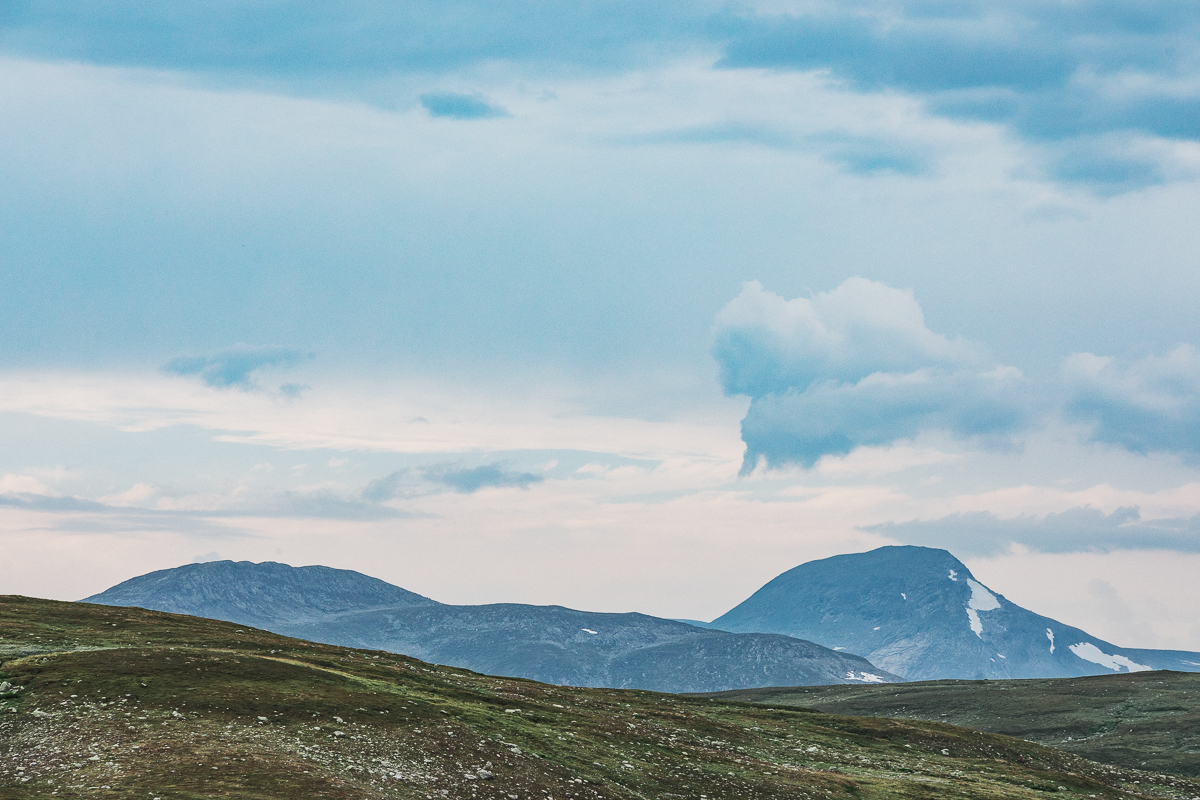 SIGHTS ALONG THE WILDERNESS ROAD
Let's start in Strömsund. Here you can choose to drive along the Wilderness Road or if you're feeling a bit more adventurous, set your sights on Björnvägen with less traffic. Björnvägen is 100 kms and goes along Vattufalens western side through the wilderness. We didn't have time to drive along Björnvägen this time, but next time we'll definitely do it.
In these forests, many of our wild predators such as bear, lynx and wolf, as well as elk and reindeer, lives. Here you will also find plenty of forest birds such as wood-grouse and blackcock. In the lakes there is lots of mountain trout and char.
Hällingsåfallet – a vattenfall and a nature reserve
Our journey through the Wilderness Road started off with a visit to Hällingsåfallet. We arrived quite late but managed to catch the last of the sunlight there.
We did the short walk from the parking lot to the viewing platform for the waterfall, but there's also a longer trail that you can walk alongside of the canyon. I've heard that it's a gorgeous walk and yes, it's on my list for next time.
Since we arrived so late, we were attacked by mosquitos and bugs. So I recommend visiting a little earlier in the day. I'm sure it's a paradise for them there, with the humid air because of the waterfall.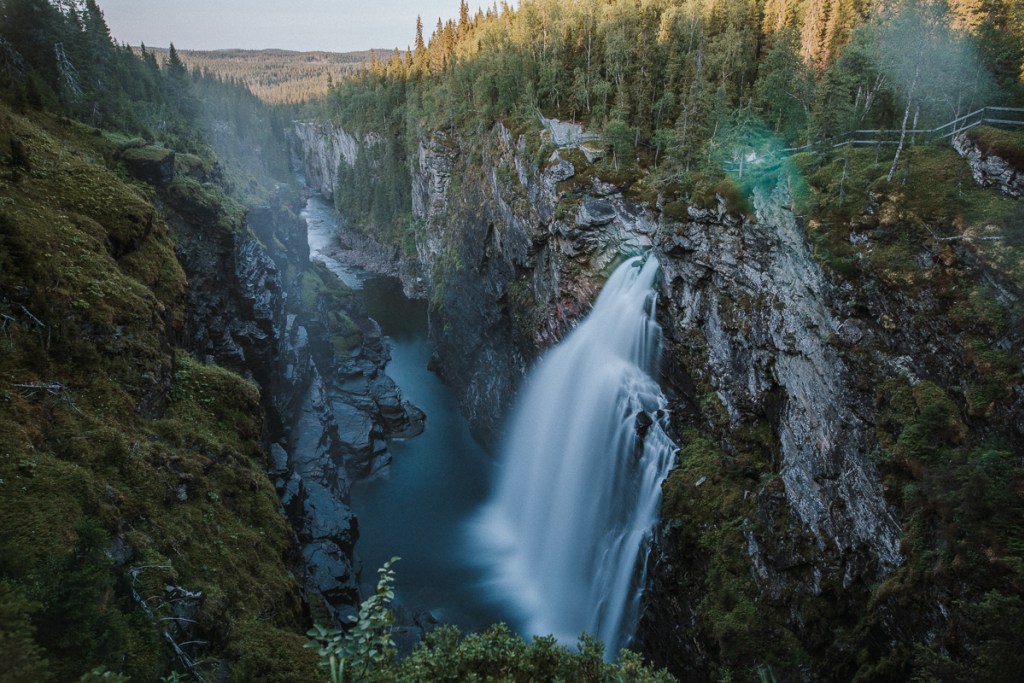 Gäddede and Brakkåfallet
We spent a night at Gäddede Camping & Stugby because we wanted access to a shower in the morning.
Gäddede is a small community along The Wilderness Road and a great place to stock up on snacks and drinks before starting a new day of exploring.
Brakkåfallet is a small waterfall close to Gäddede. We actually didn't manage to find our way all the way to the waterfall this time because of a thunderstorm.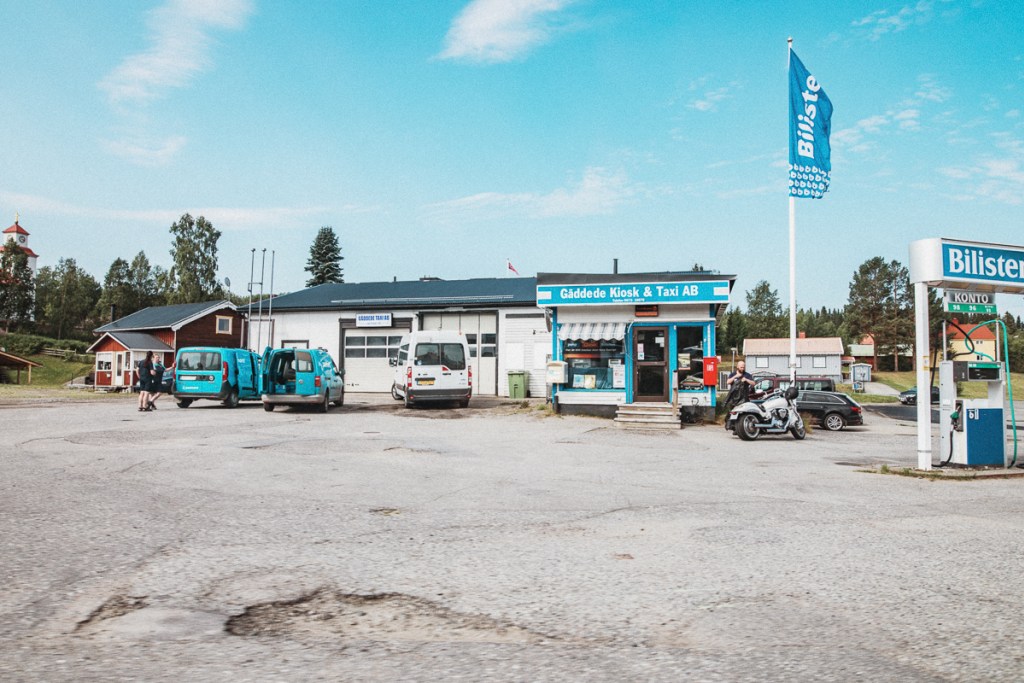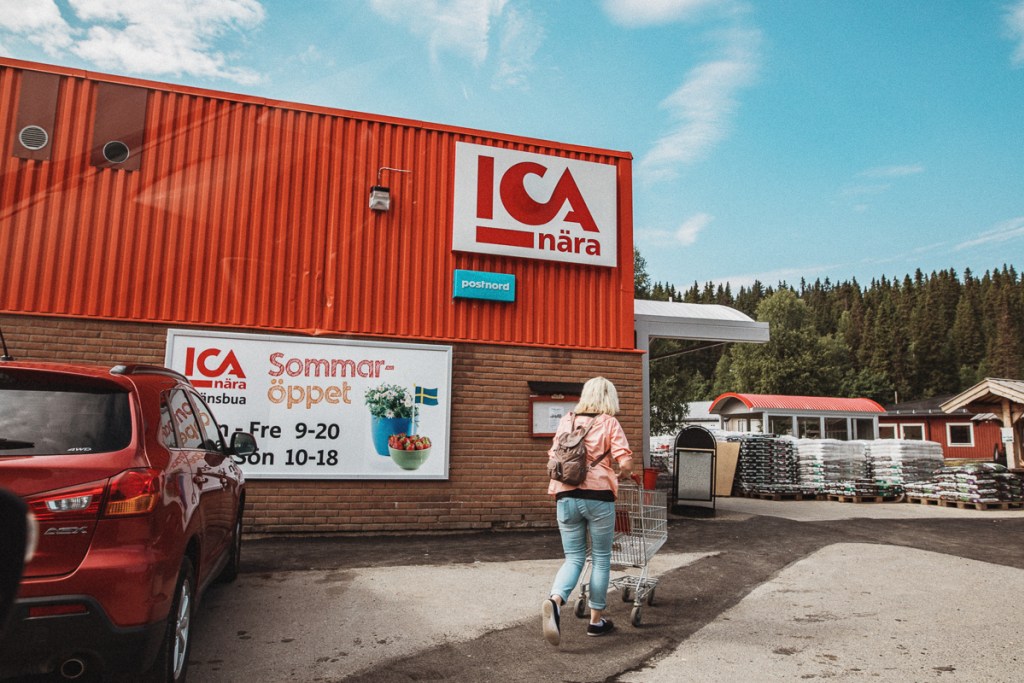 Stora Blåsjön and Restaurant Fjällripan
We had lunch at Fjällripan in Stora Blåsjön. We both had pizza and highly recommend it, it was so good. While we were having our meal, thee rain was pouring down like crazy. A great time to be inside.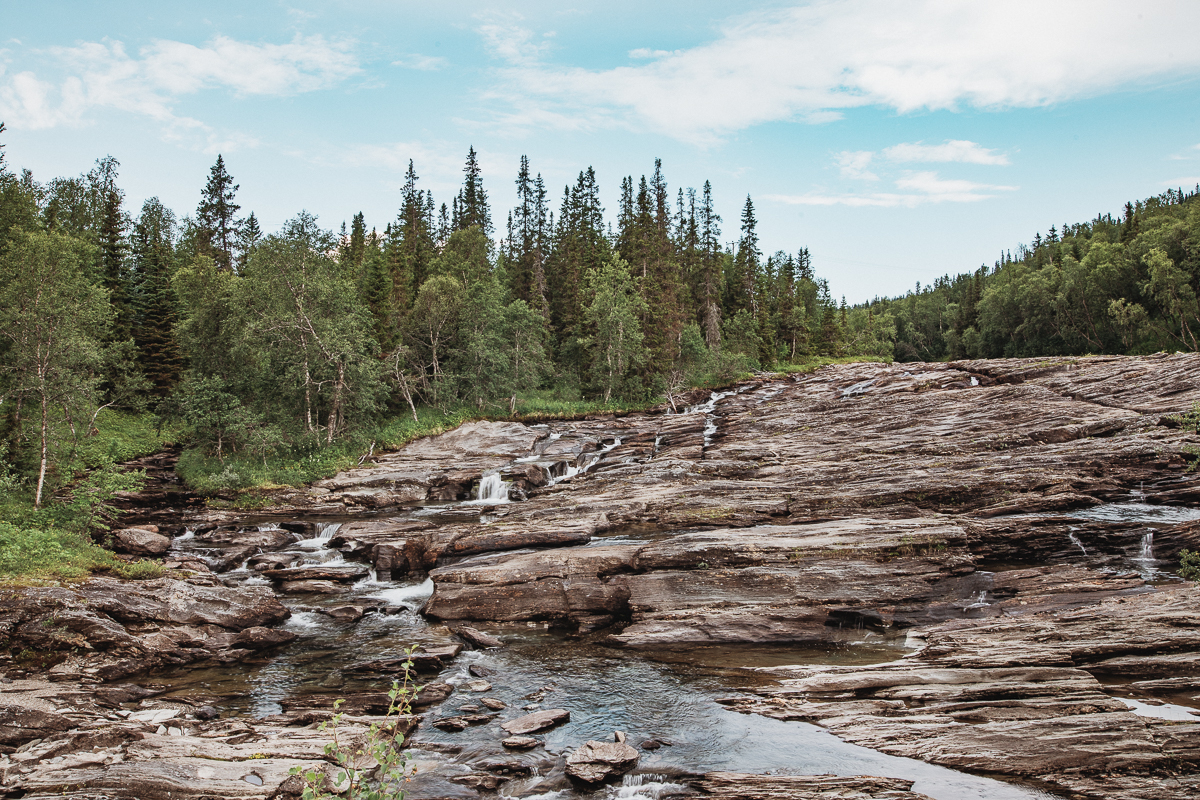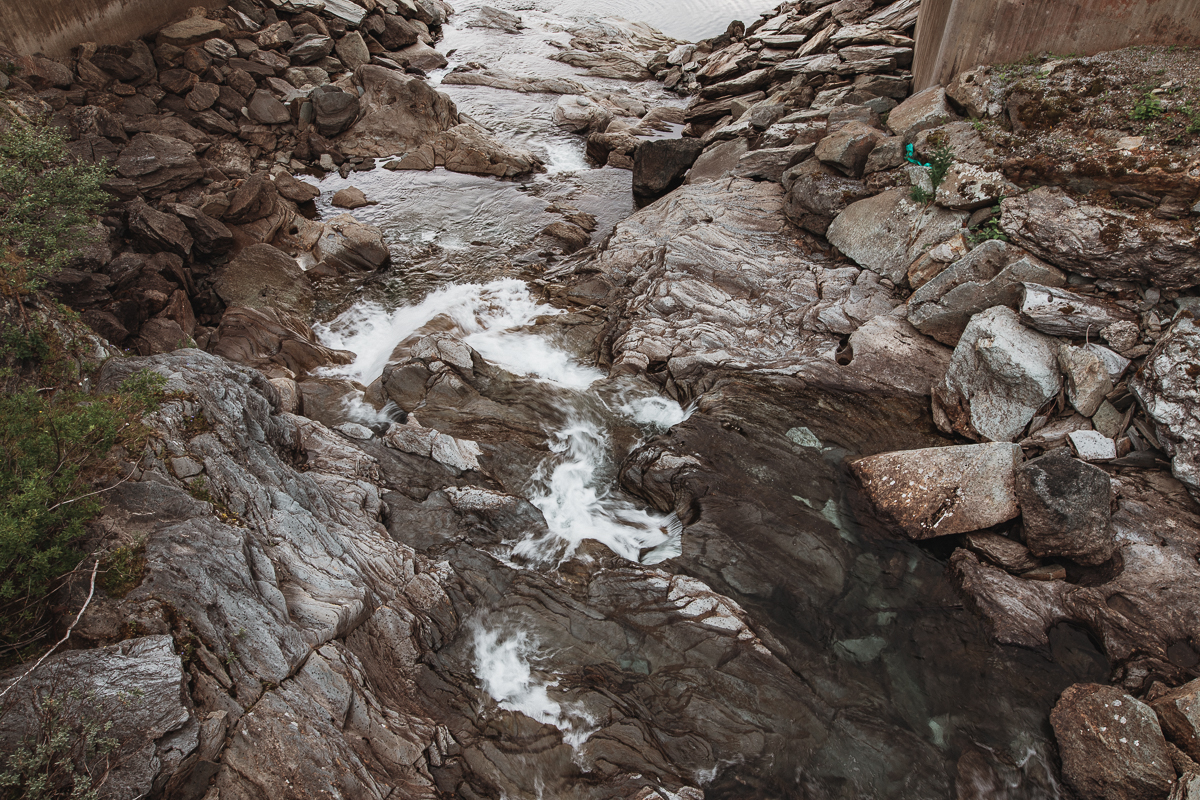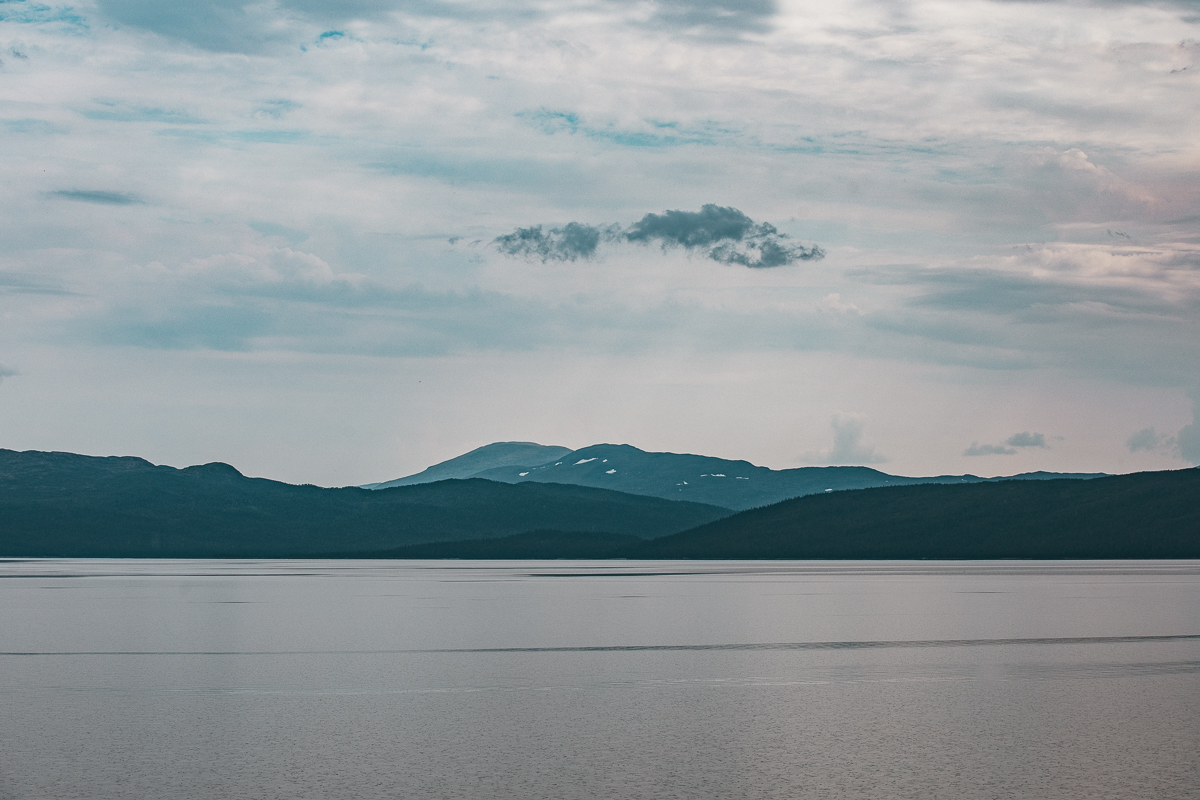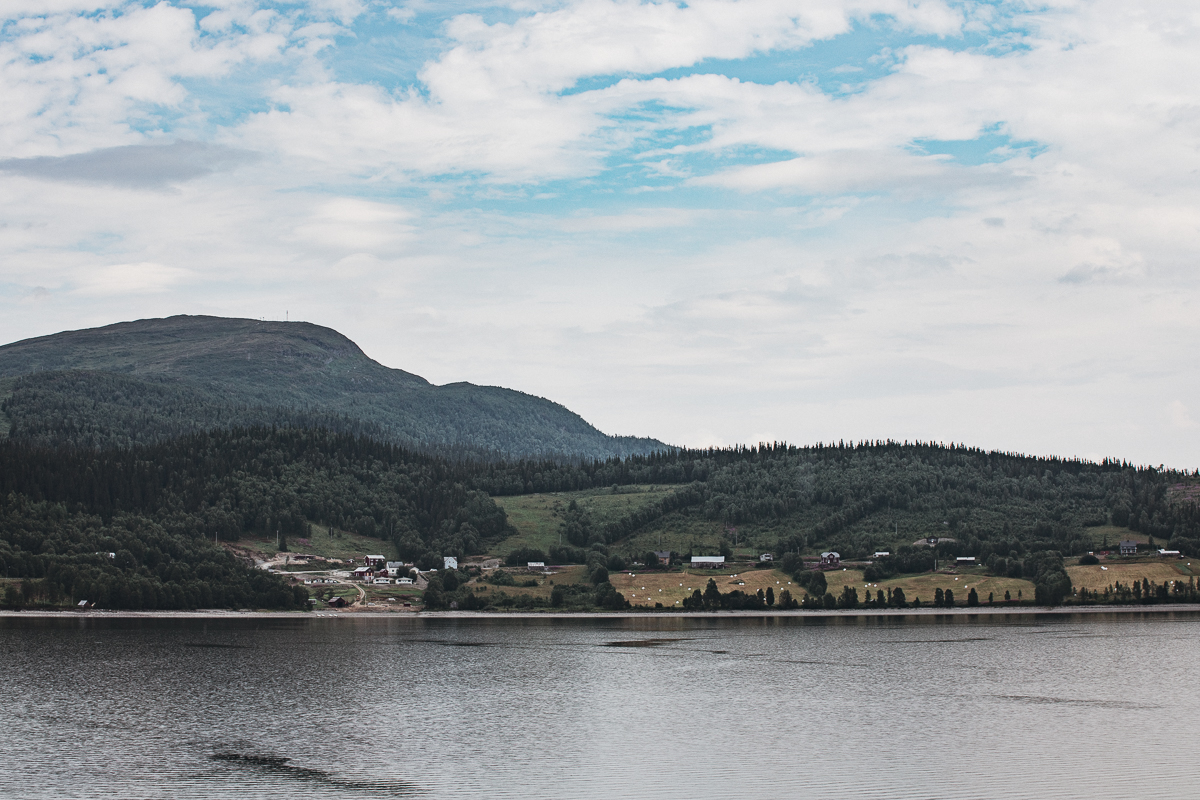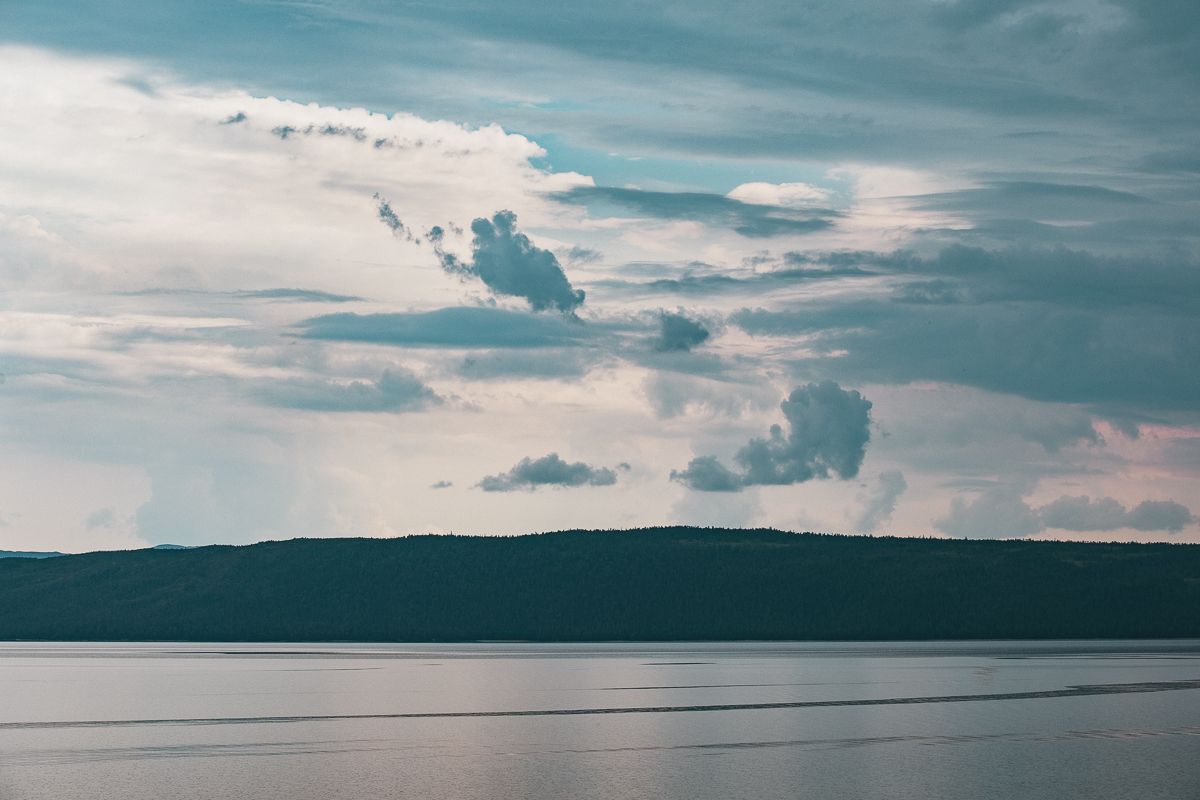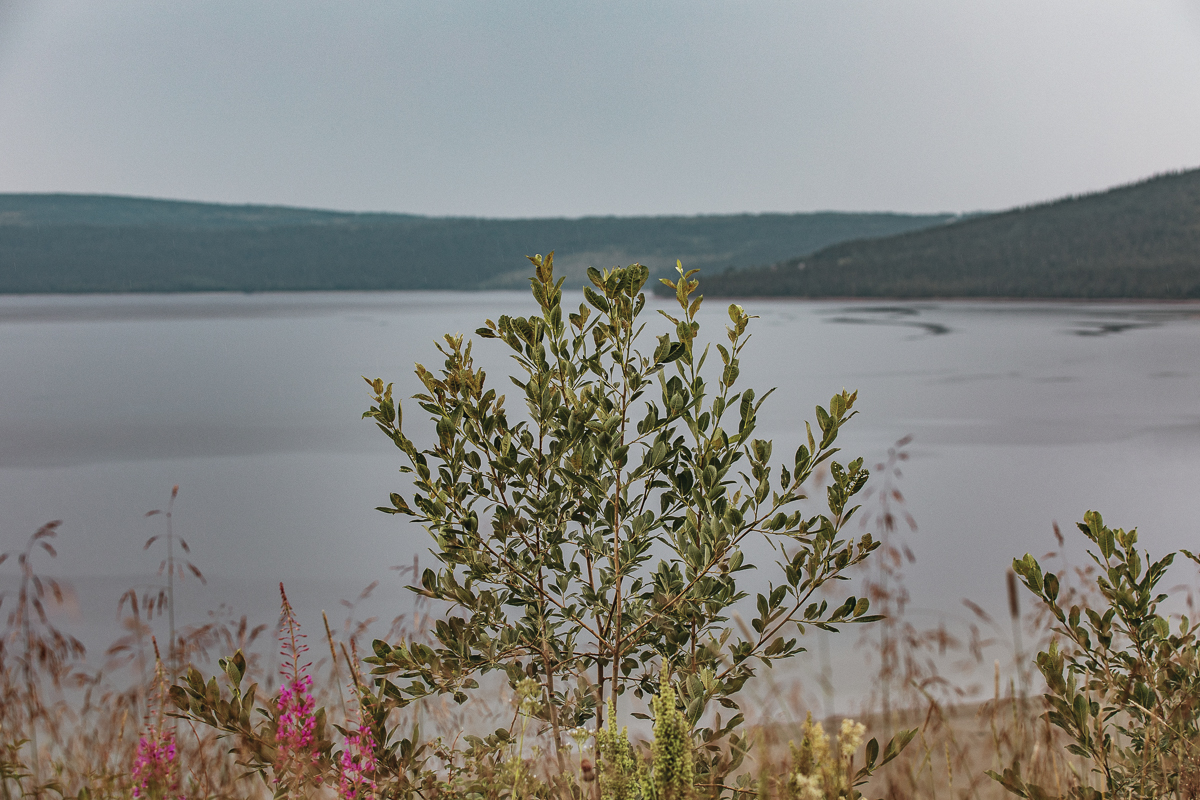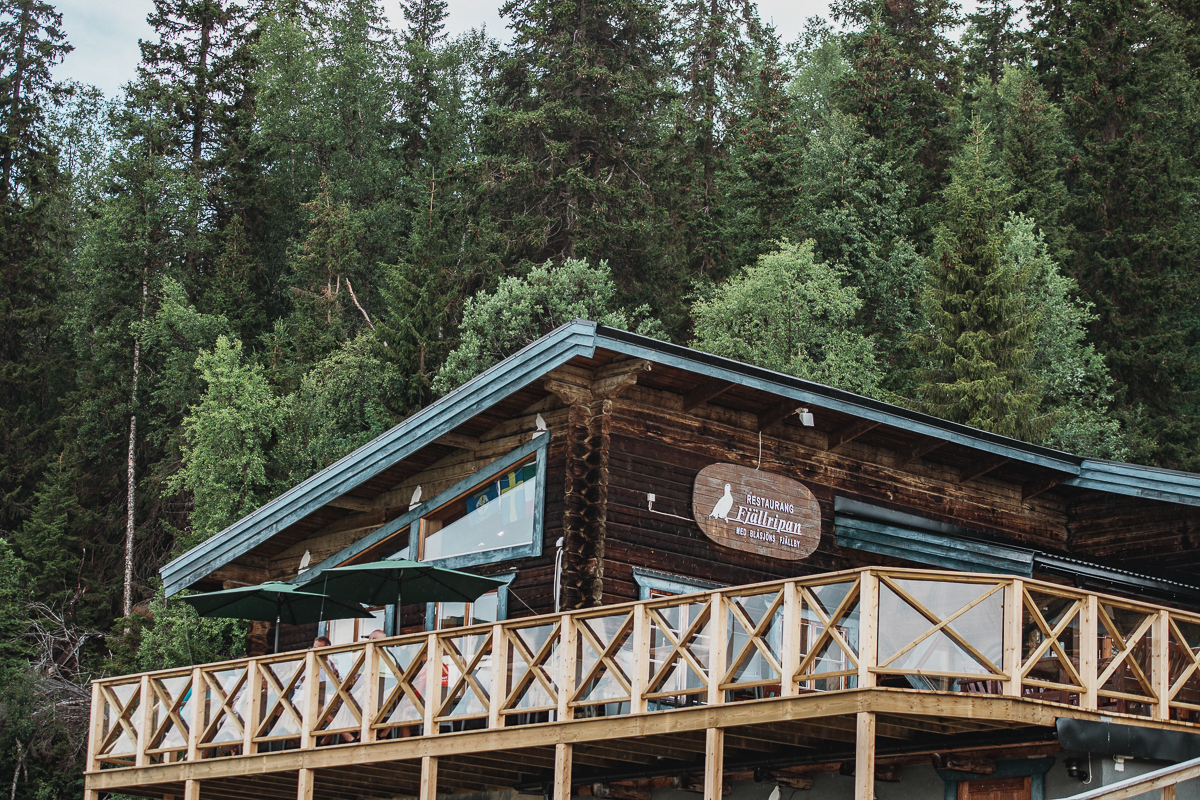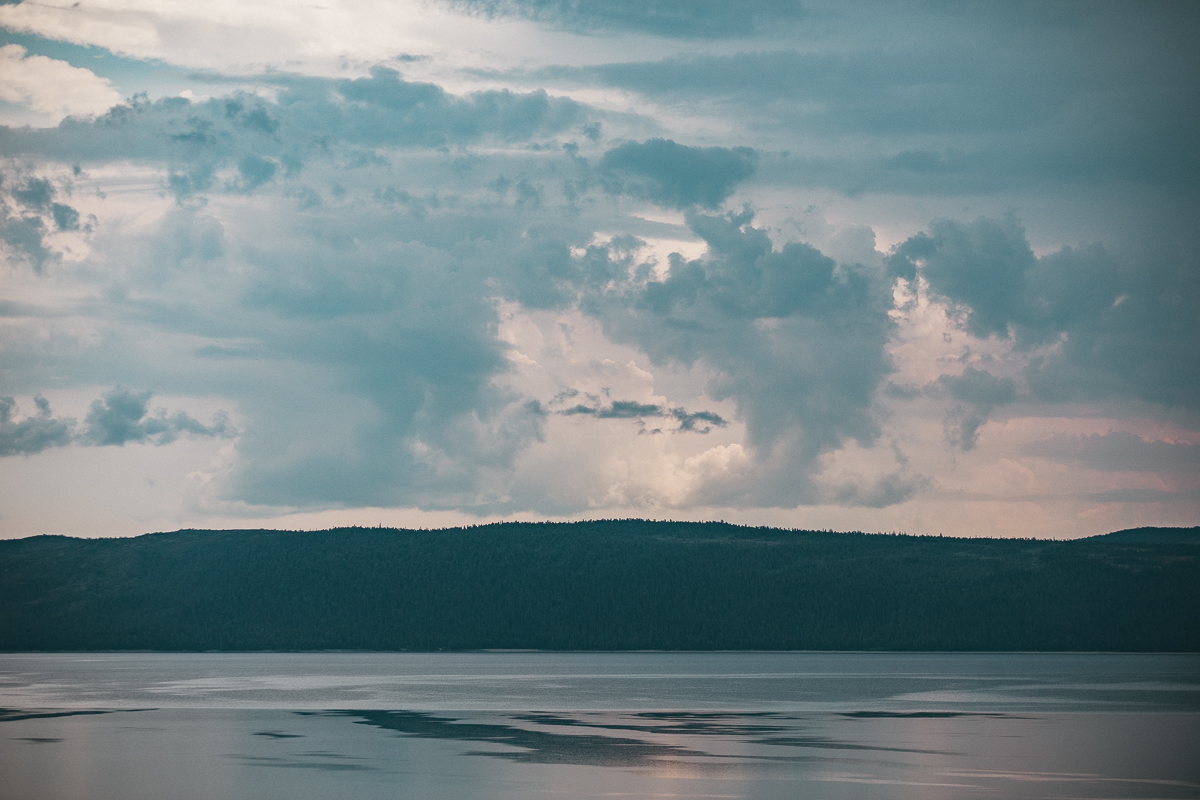 Ankarede Church Town
Ankarede is a traditional Sami gathering place and it is usually said that where the road ends and where the mountains begin – there you'll find Ankarede.
It has always been a meeting place and it still is today. It is also the only church town in Jämtland that is still in use today and it is classified as a national interest in the cultural environment. In Ankarede there are about 20-30 wooden cabins, a few church cabins and a few lodges.
Every year, the Christmas market is the first weekend in December and every Midsummer there is a big party there – apparently a minimum of three days long party weekend with lots of activities.
At Ankarede we had intended to go for a walk to Lejarfallet but when it was still raining we chose not to. Rain clothes? No, unfortunately we didn't have any with us. But we were happy to just stretch our legs for a little while in this area before heading on to Gaustafallet.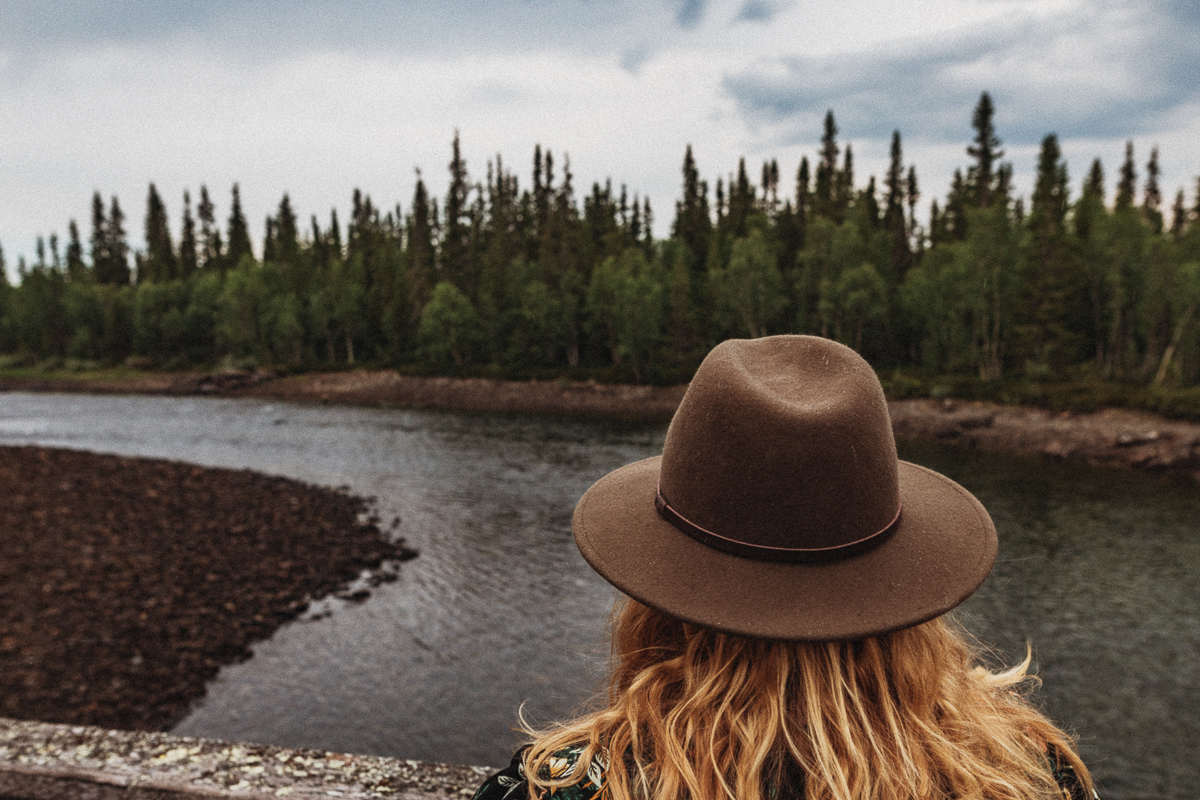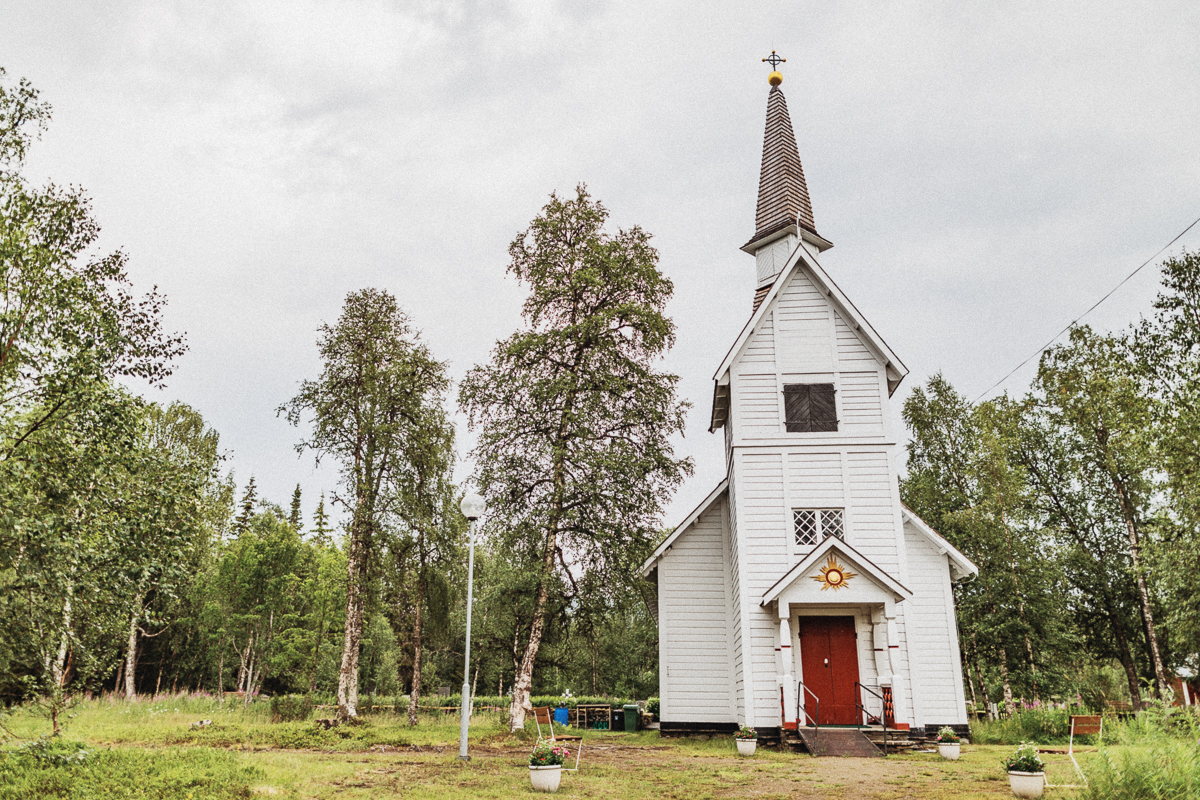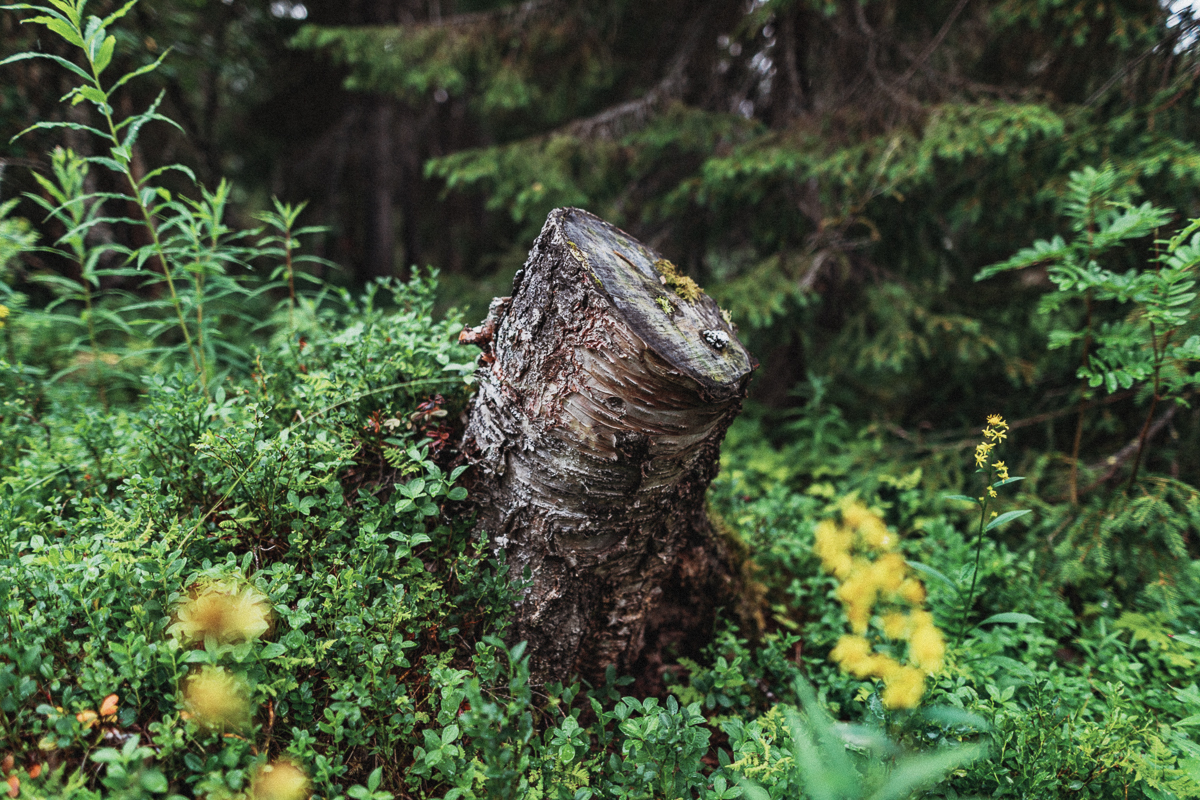 Gaustafallet
The Gaustafallet is a waterfall that's very close to the main road on The Wilderness Road. We parked at the small parking lot that was alongside the road and walked for maybe a minute to the waterfall. In my opinion, this is the most beautiful waterfall along Vildmarksvägen. However, I have not visited all the waterfalls yet.
Since this waterfall is so easy to get to, you must make a stop here! It's also a great place for a picnic and you'll find a table and benches here.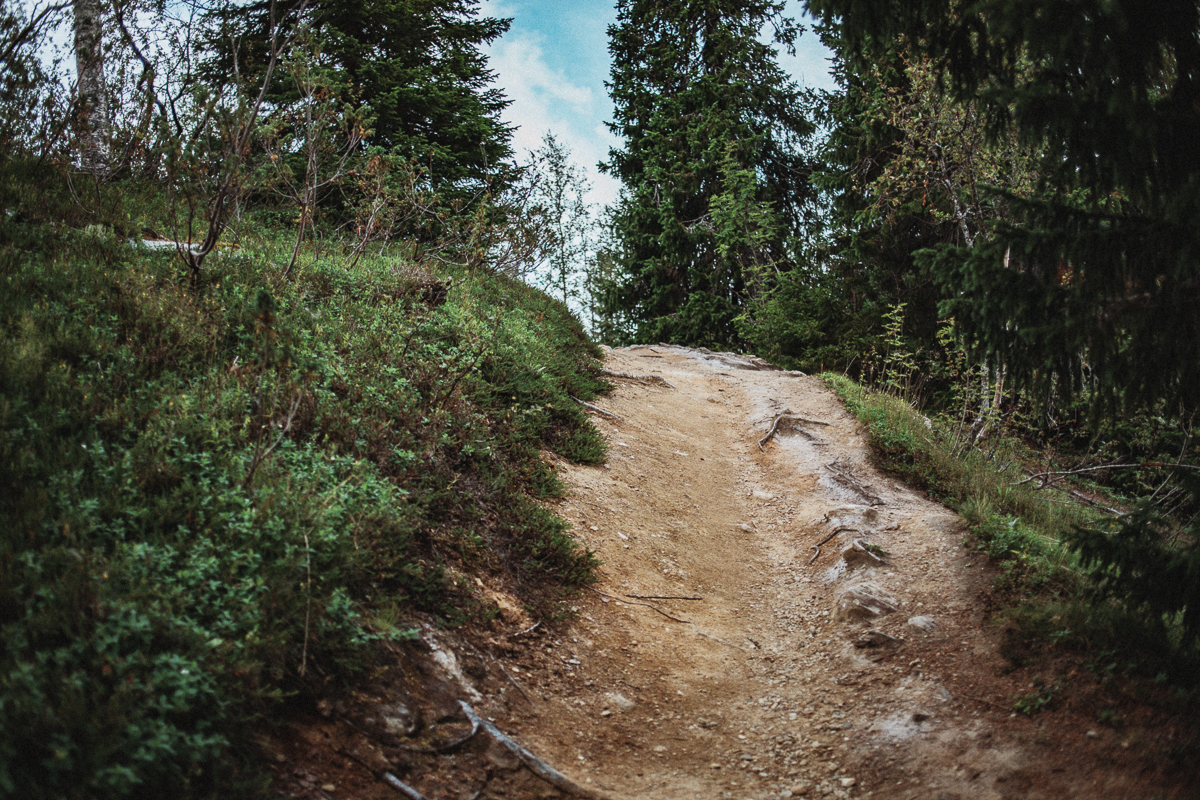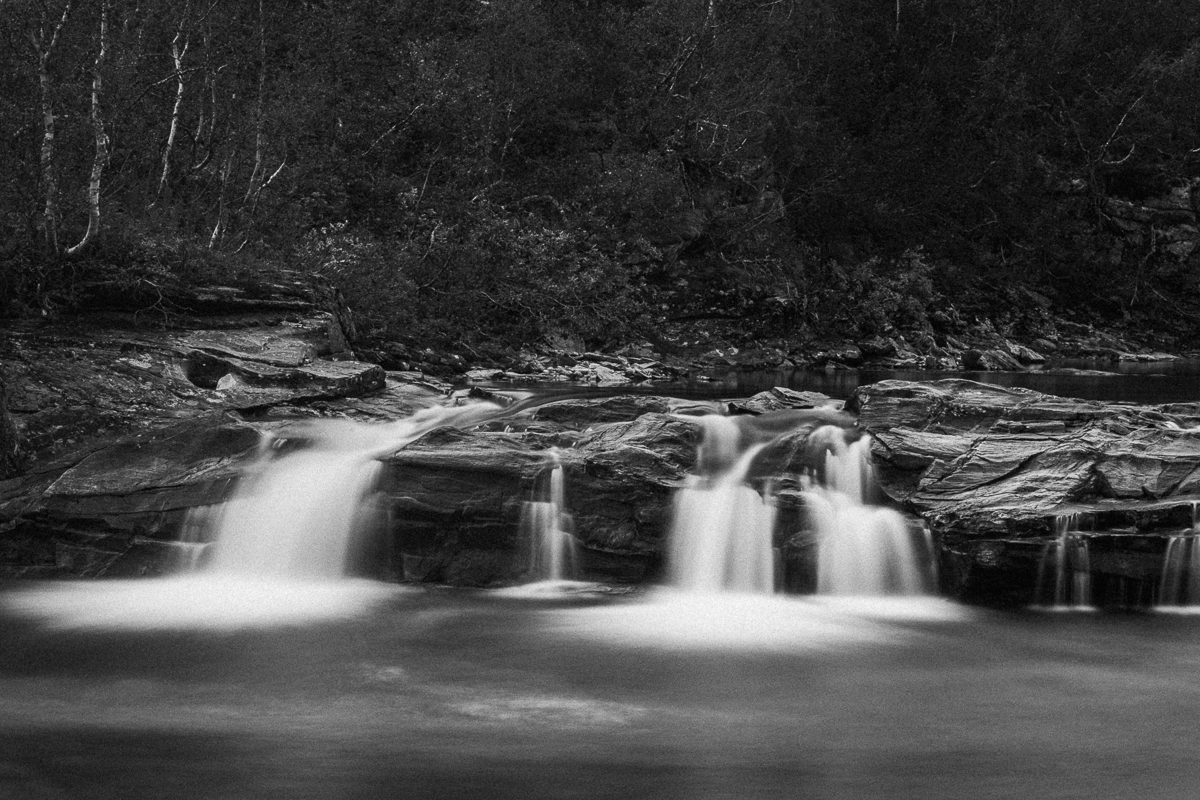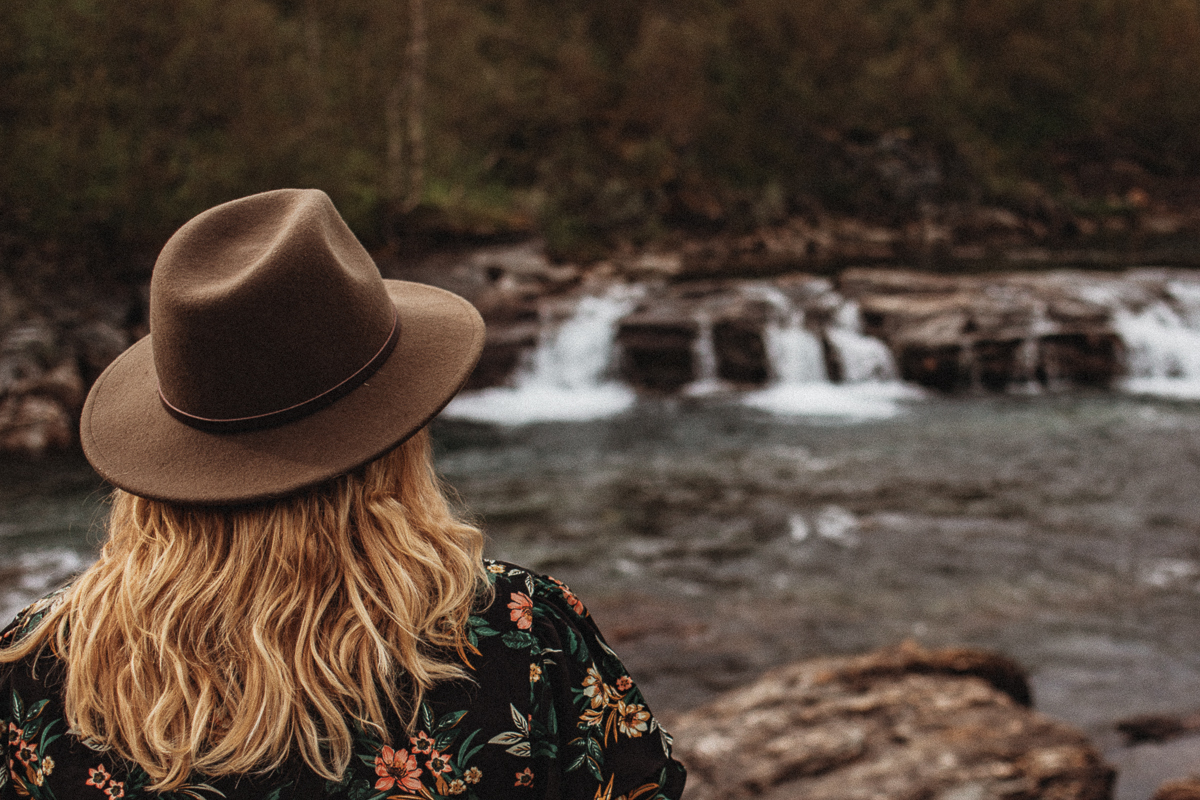 Stekenjokk
After our visit to Gaustafallet which took longer than planned (it was so beautiful!) we finally made our way to the Stekenjokks plateau. Definitely a must see along The Wilderness Road and honestly, if you'll be driving the entire strech – you can't miss it since the road goes through here. There we took the opportunity to fly a little with the drone. If we would've had more time we would have liked to go for a shorter hike here. It's a beautiful place.
Up at the Stekenjokk Plateau you will find miles-wide views! This is the part of the road that's only open from the beginning of June to the middle of October like I mentioned in the beginning of the post.
What makes the Stekenjokks plateau very unique is that it's one of the few places in Sweden where you can hike by car. Basically, you can drive your car up on the mountain and start hiking immediately. For example, you can hike between Saxnäs to Borgafjäll which is a longer hike since it's 21 kms.
There are also many nature reserves around here where you can hike.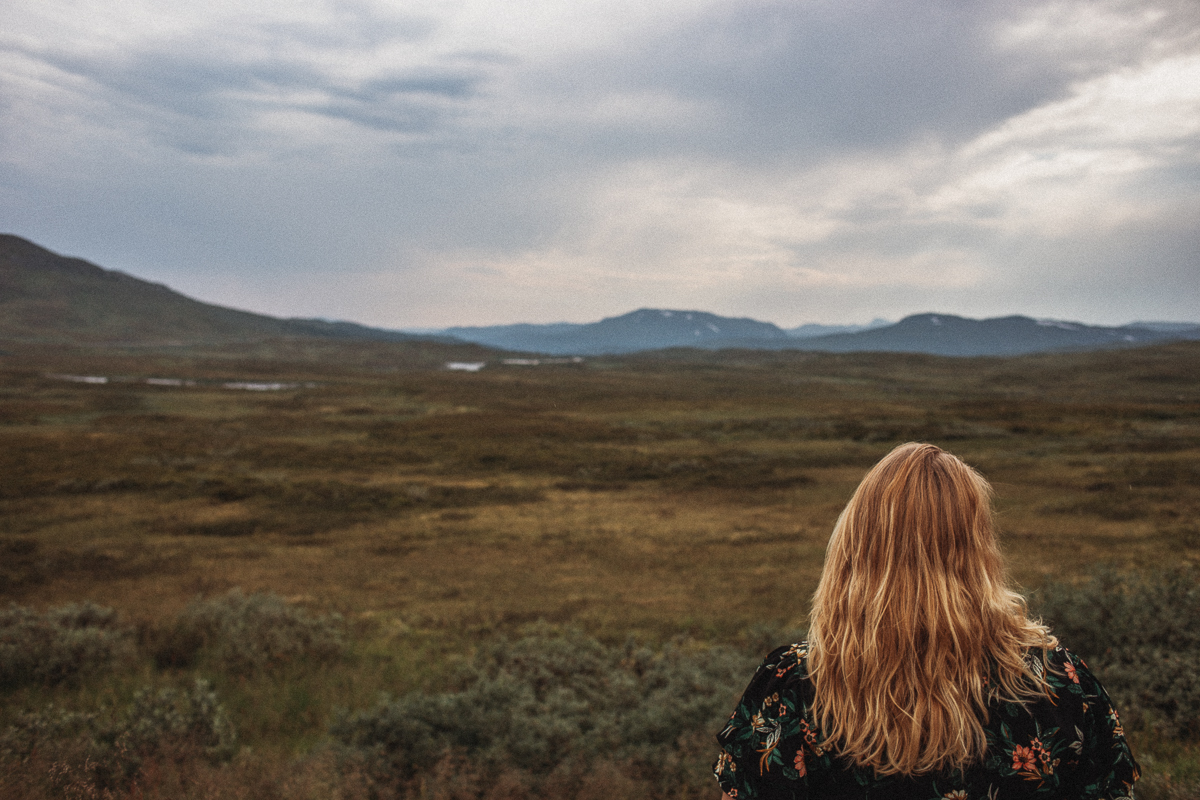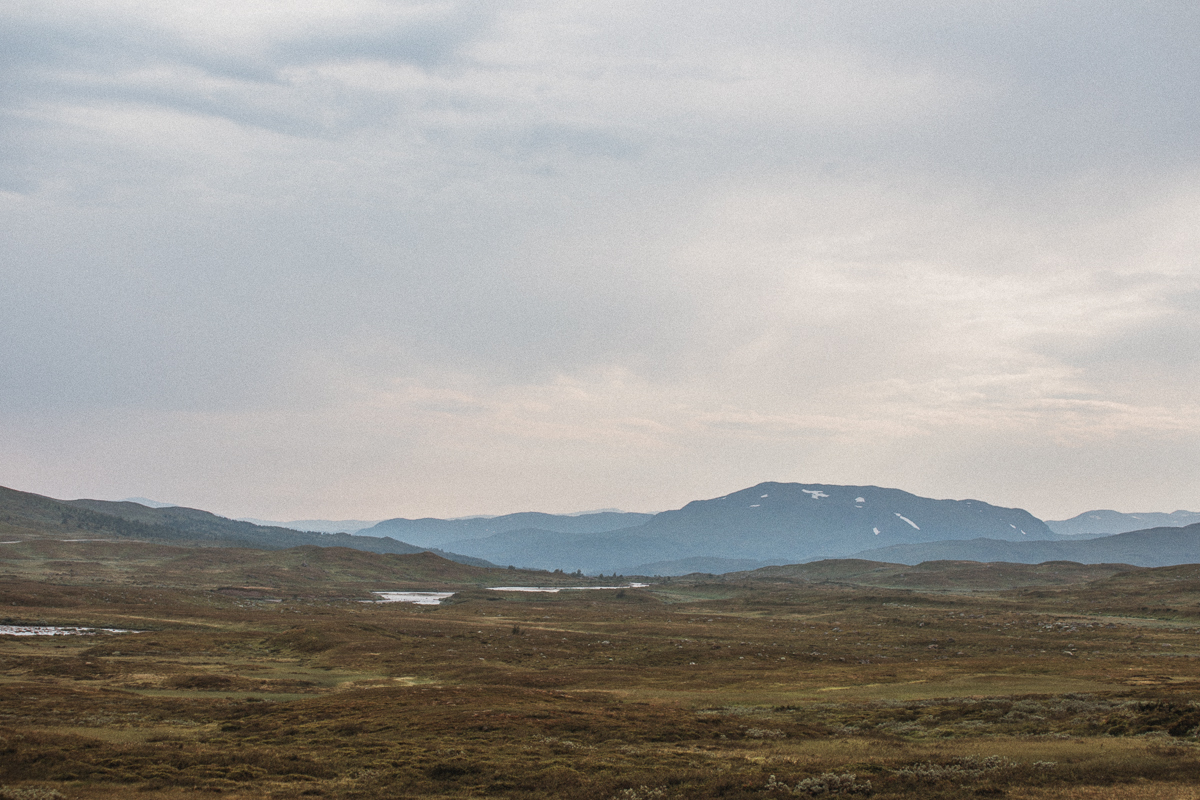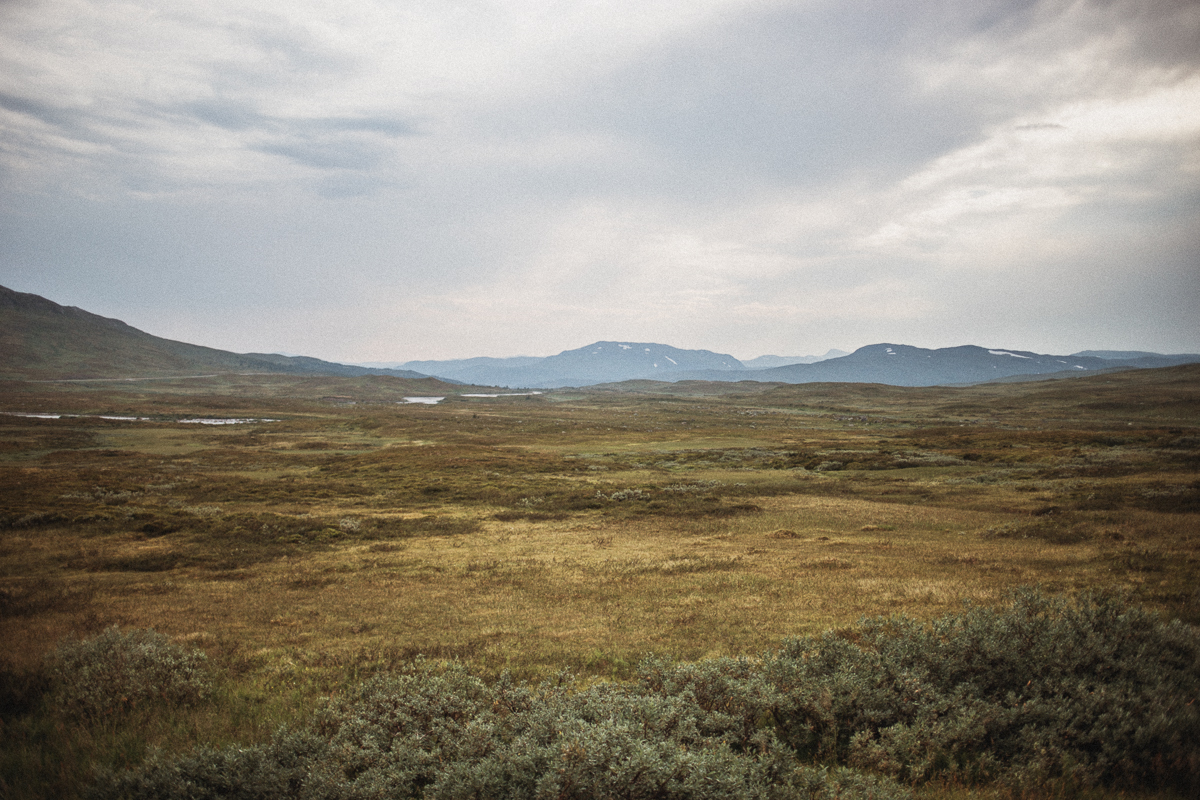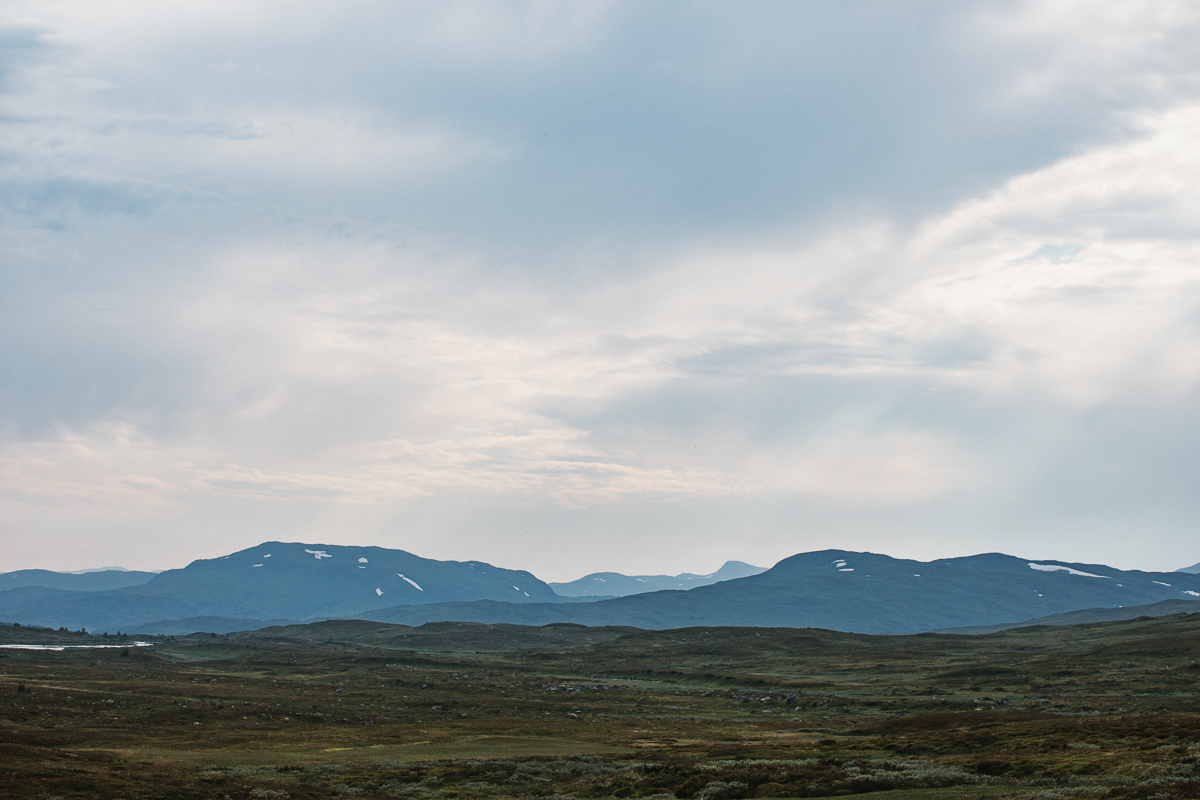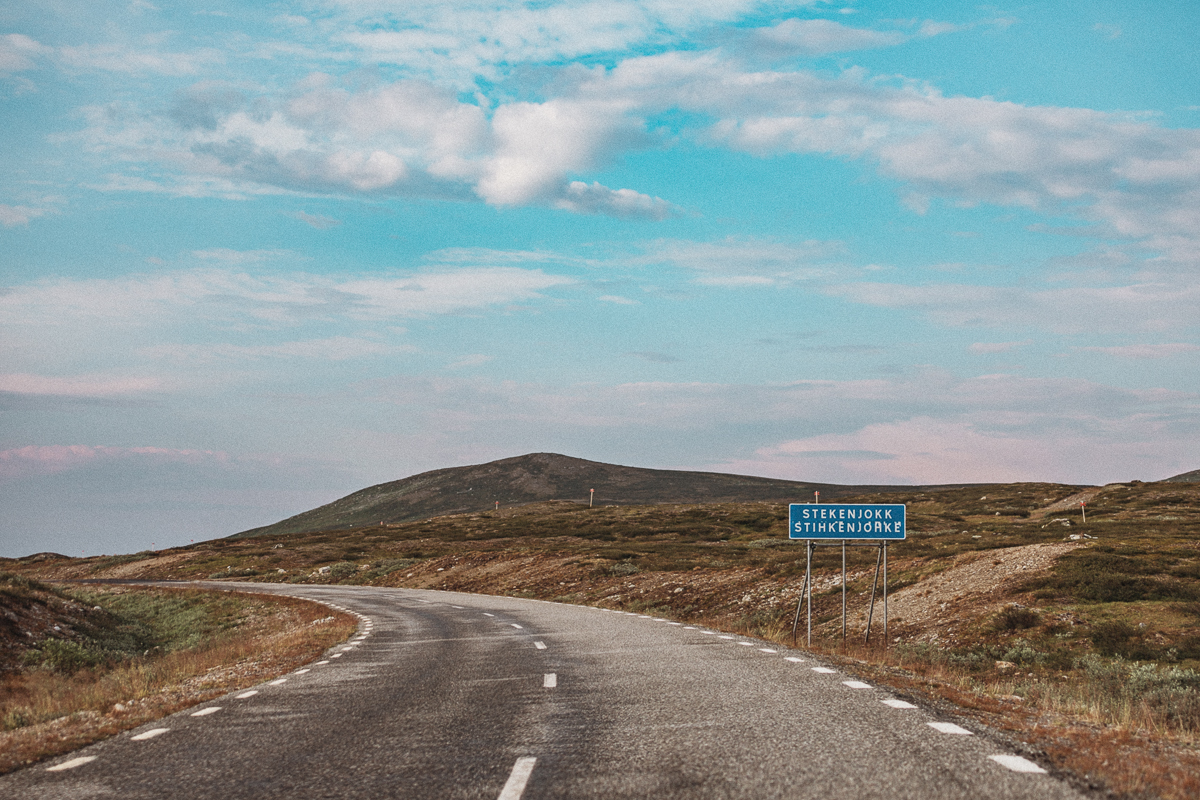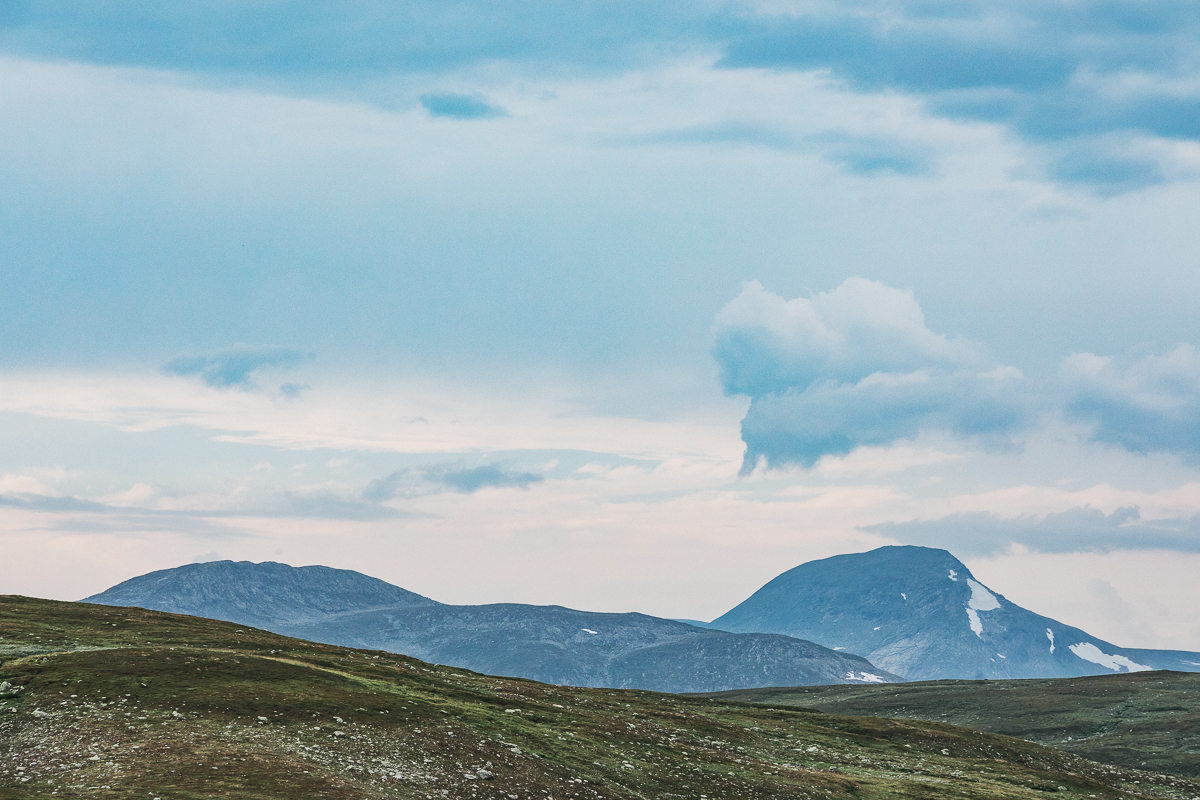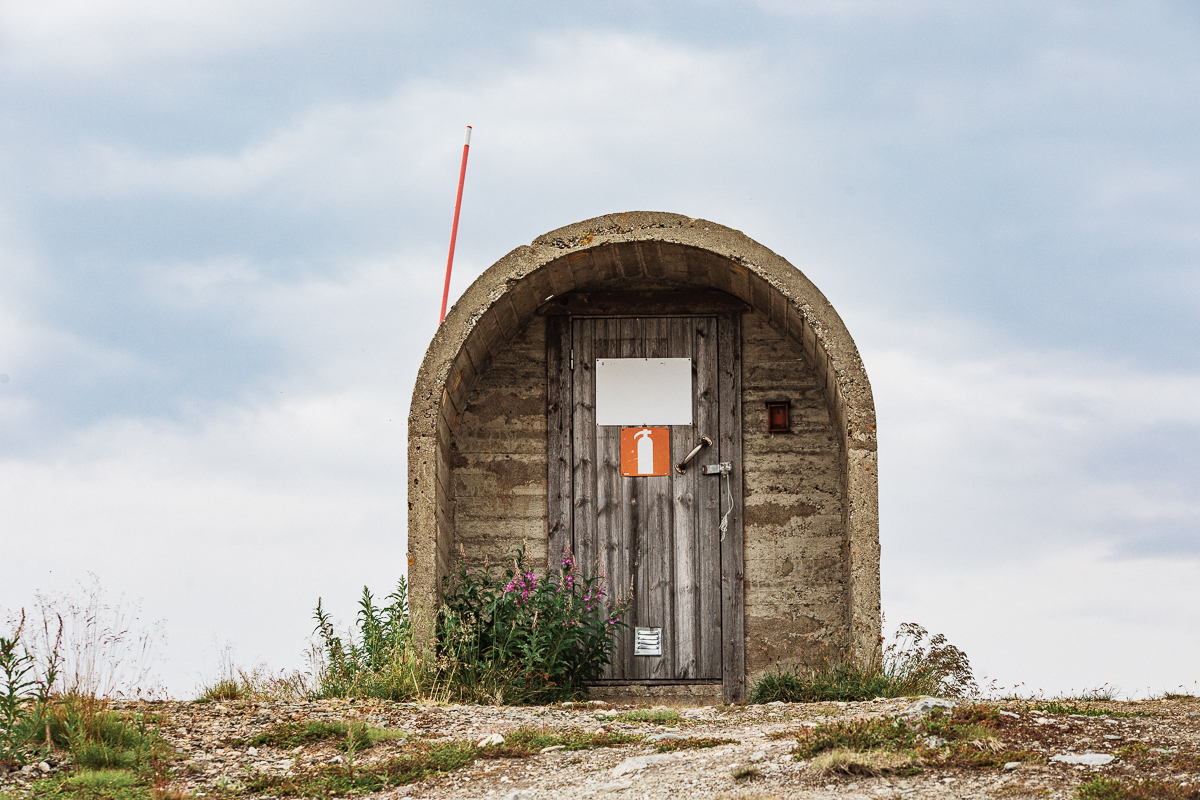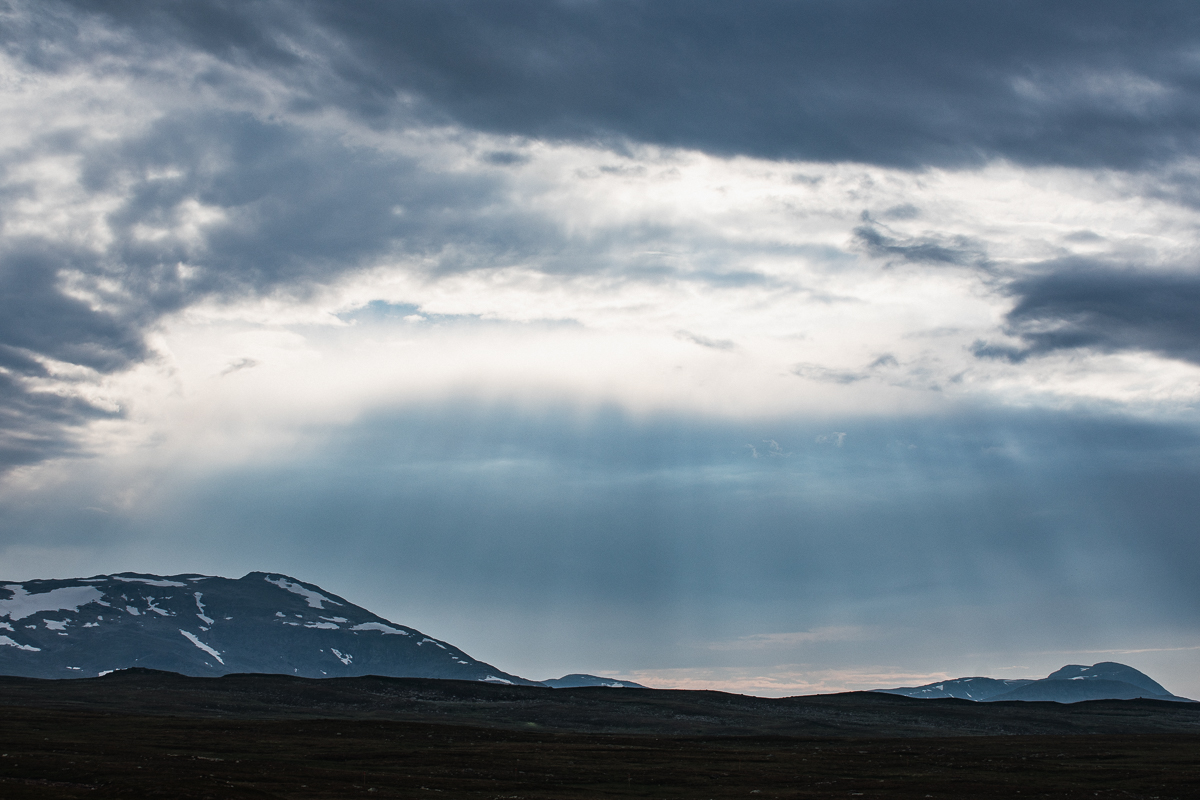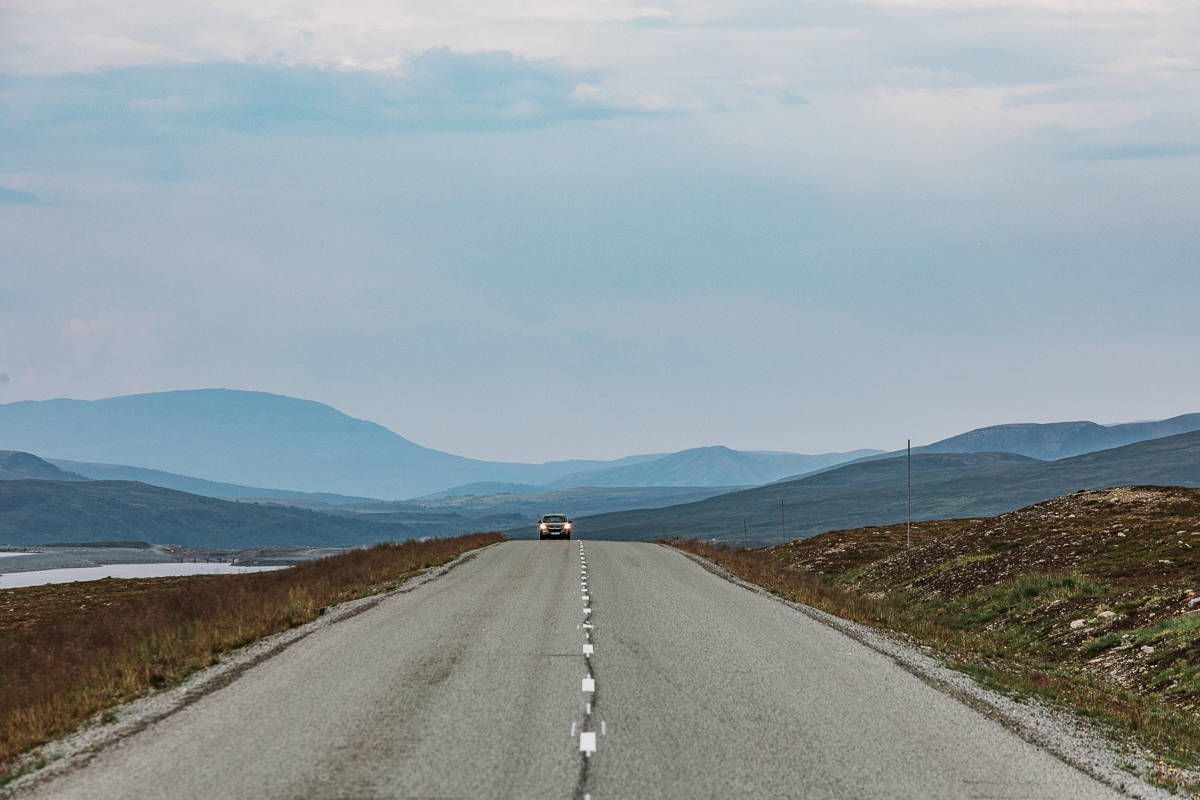 Klimpfjäll and Norgefarargården
The next stop was the small village of Klimpfjäll.
Here you'll find an incredible view of Kultsjön and Norra Borgafjällen. Of course, we couldn't help but stop to photograph and film.
Here in the village and the surrounding area there are many Sami cultural trails, such as reindeer herders, reindeer herders' cottages and cottages. Many of the mountain peaks and lakes also bear Sami names.
In addition to admiring the view, we also explored Norgefarargården, which is a cultural-historical building. The timbered house was built between 1832 and 1860 and was of great importance to the border trade during the late 1800s and early 1900s. The mountain farmers who were going to the Kroken and Mosjöen trading venues in Norway often made a stop here because there was both accommodation for the farmers and their horses. Today, Norgefarargården is a farm shop and summer café where you try to use local produce from the area. Here you can also learn more about the history of both the countryside and the farm.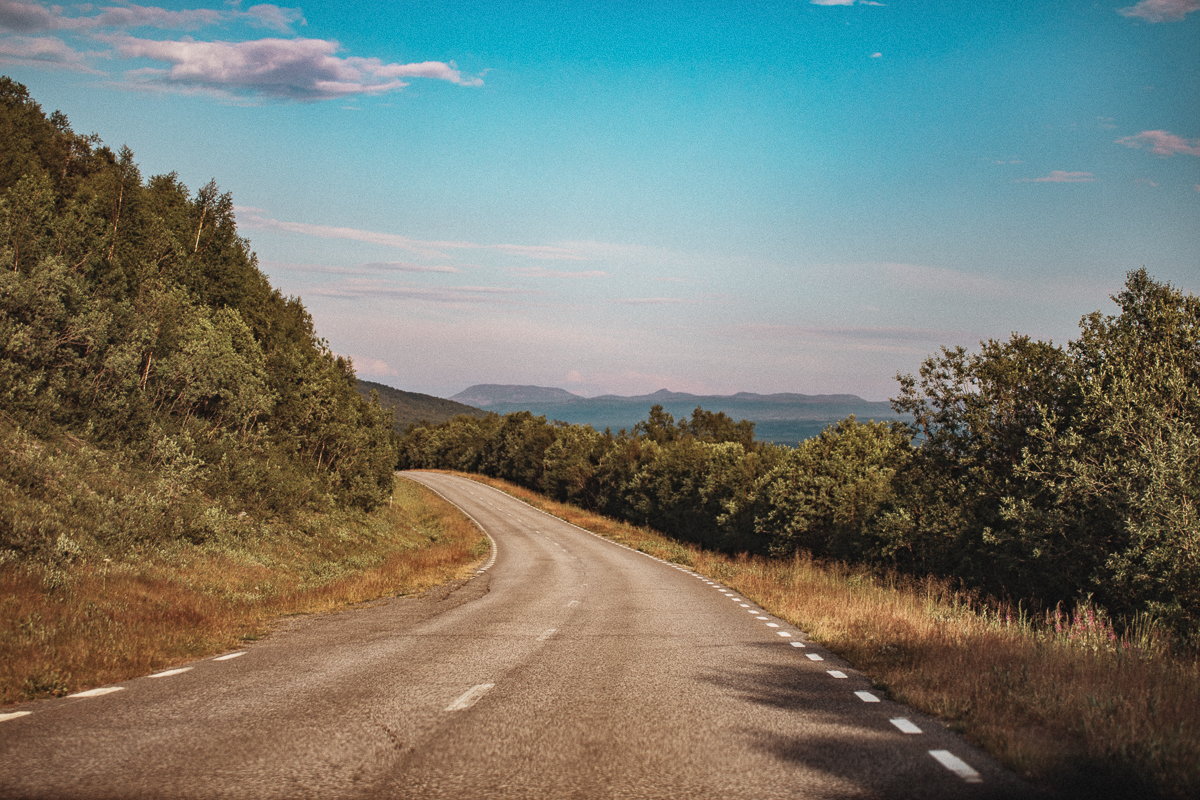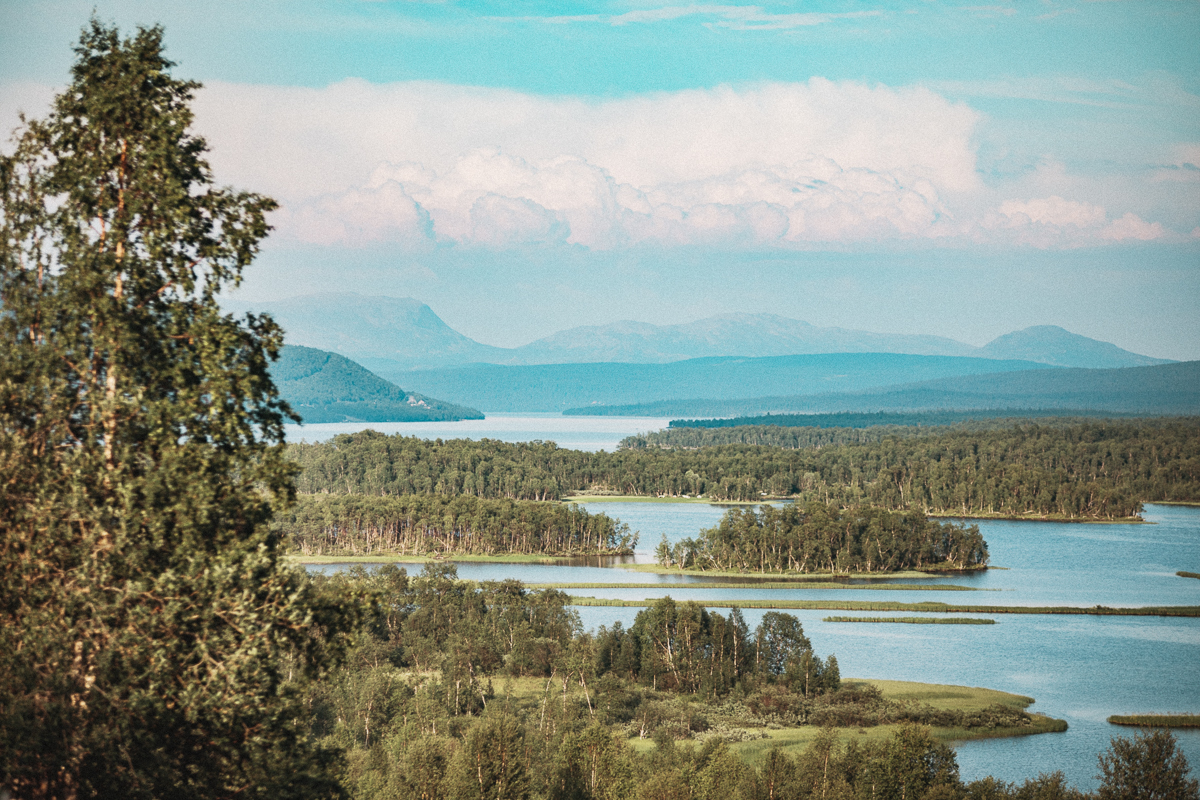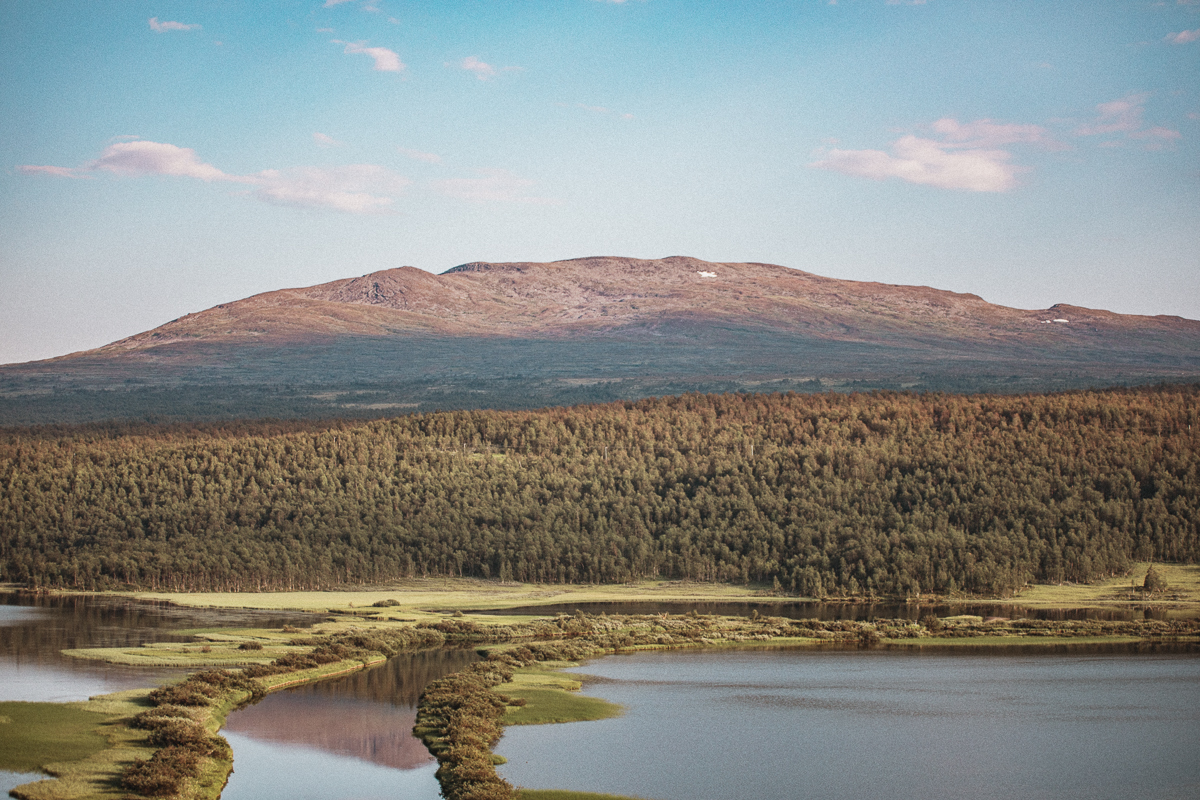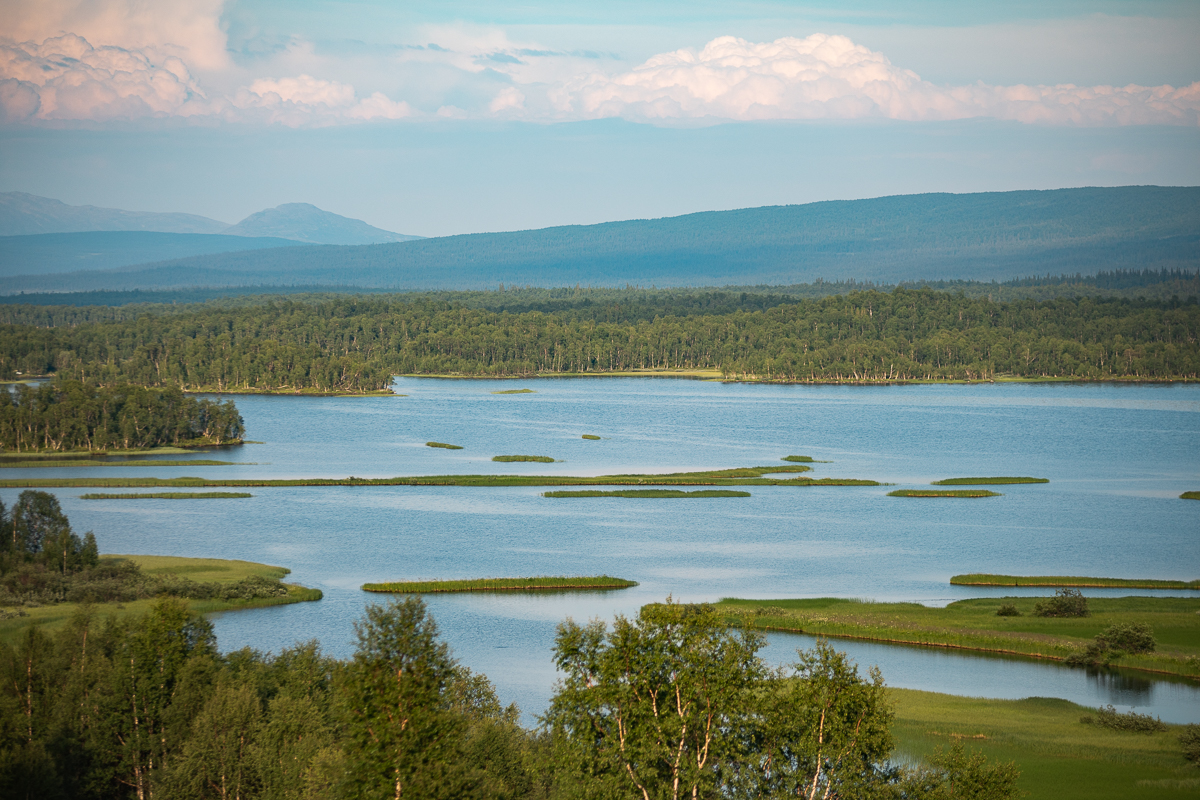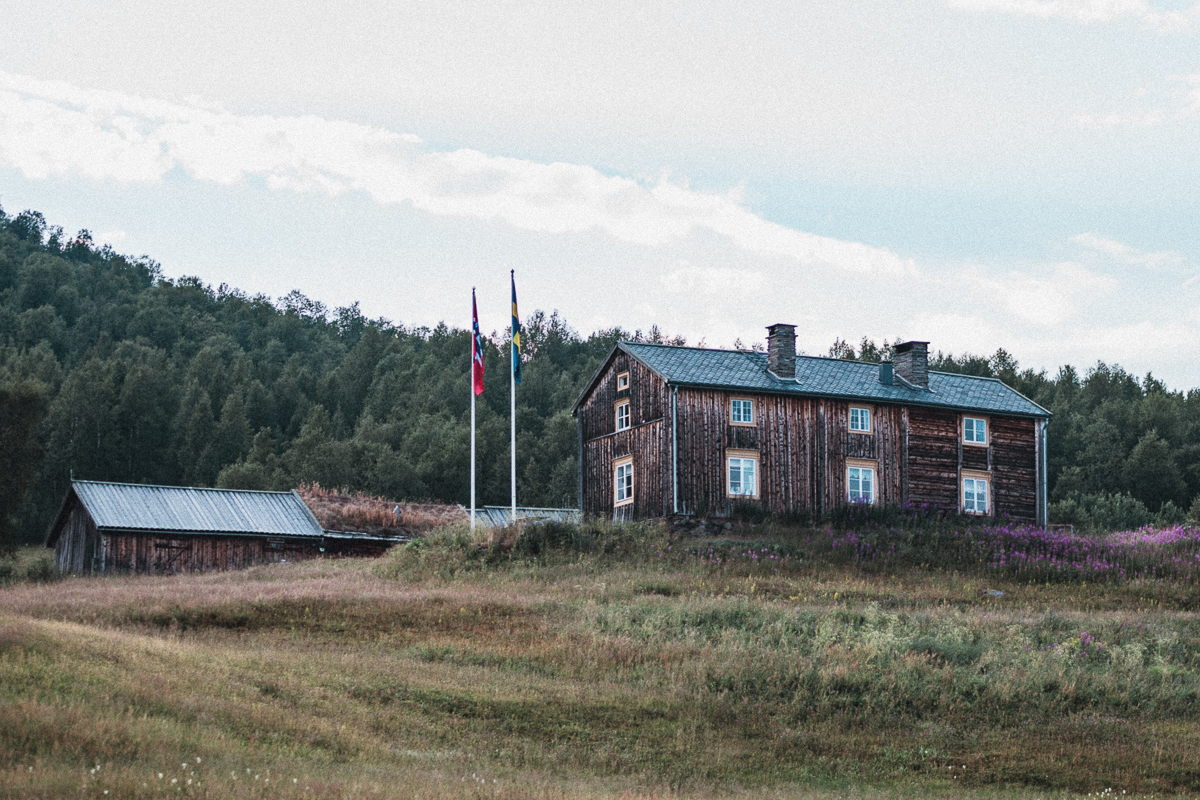 Fatmomakke church town
Our visit to Fatmomakke church town was short. When we got here, the sun was slowly setting behind us. Luckily, we visited in the middle of summer and if you didn't know – summerdays in northern Sweden are quite long.
Fatmomakke is the most prominent Sami church town in the entire country and this place has had, and still has a very important significance. It is a spiritual and multicultural meeting place. The church town also has a great significance for the Sami tradition.
The oldest buildings in Fatmomakke are dated to the end of the 18th century, but most of the buildings are from the 19th and 20th centuries. There's also traces from older buildings that are protected here.
Fatmomakke church town consists of cottages, cottages, sheds and a beautiful church and the area is protected as a cultural park. However, most of the cabins and cabins are private and still used today. The central buildings of the church town are the stately white church, the open church house and the prayer casket of the Salvation Army.
To get to Fatmomakke you first drive to the parking lot and then walk a few hundred meters over a footbridge that takes you into the church town itself. There is a café and a kiosk here which is open during the month of July.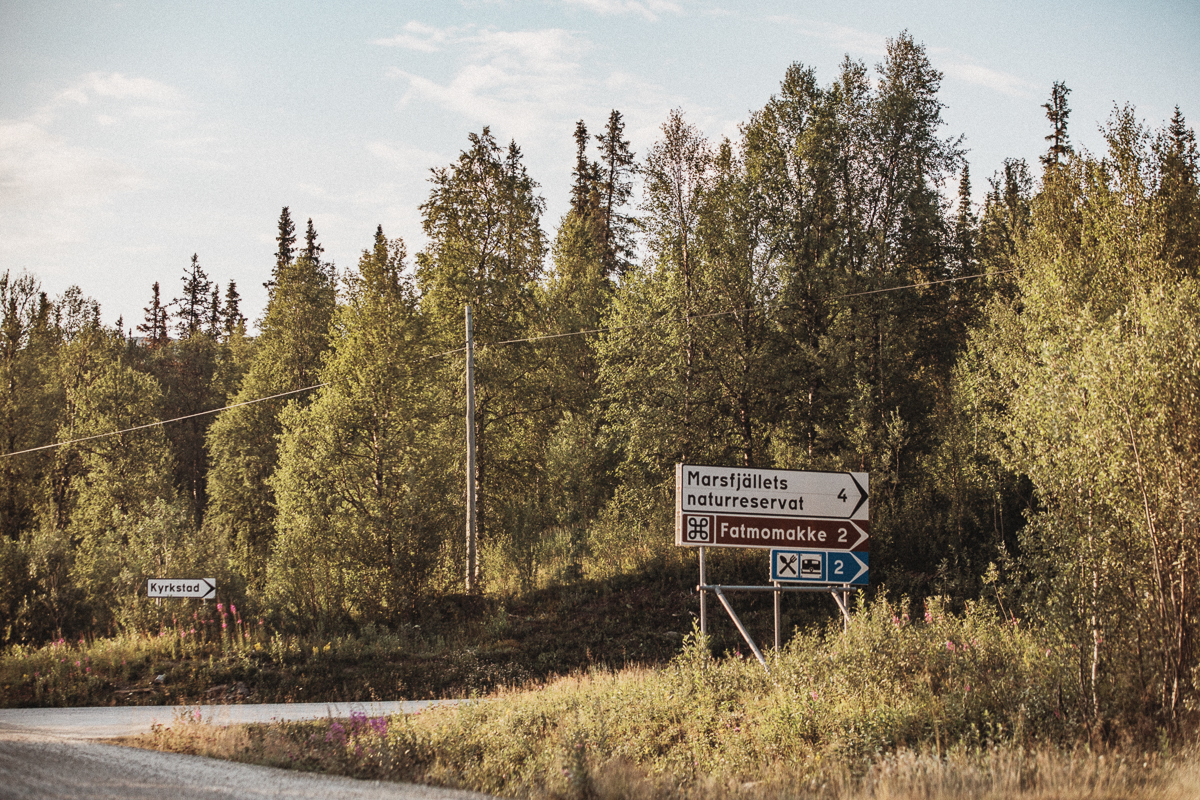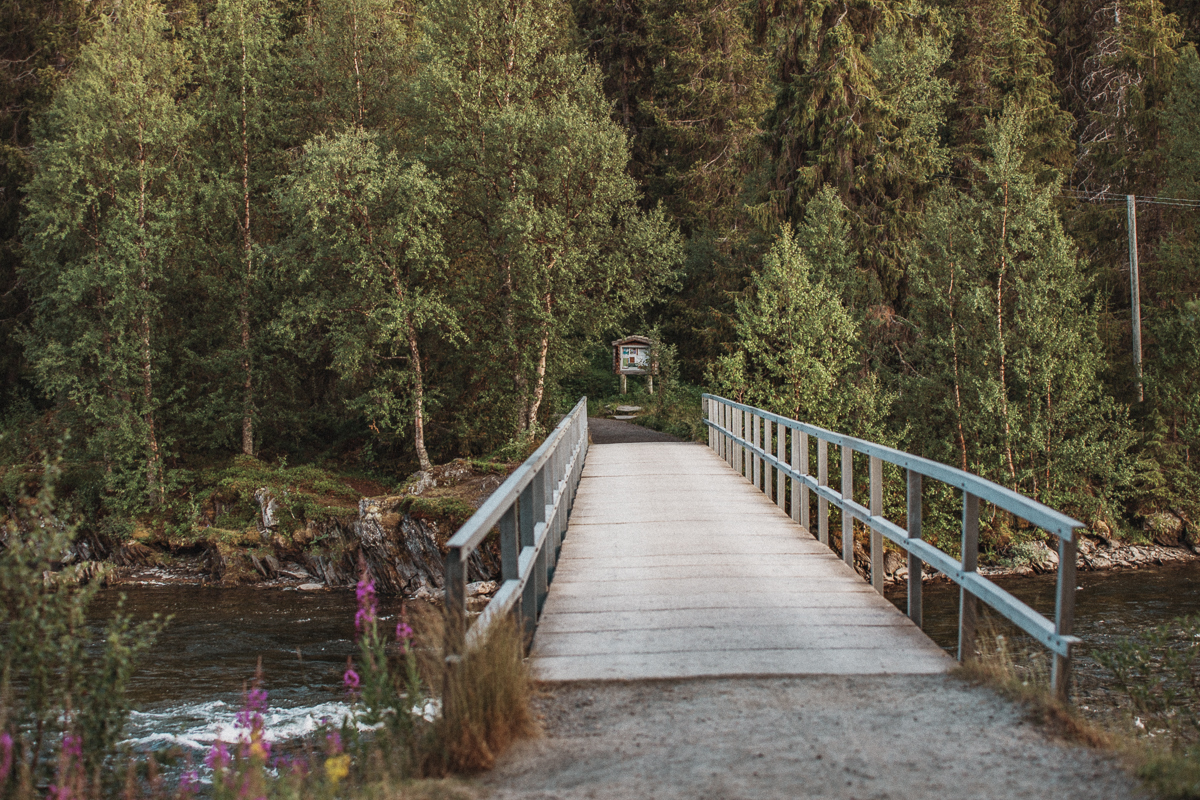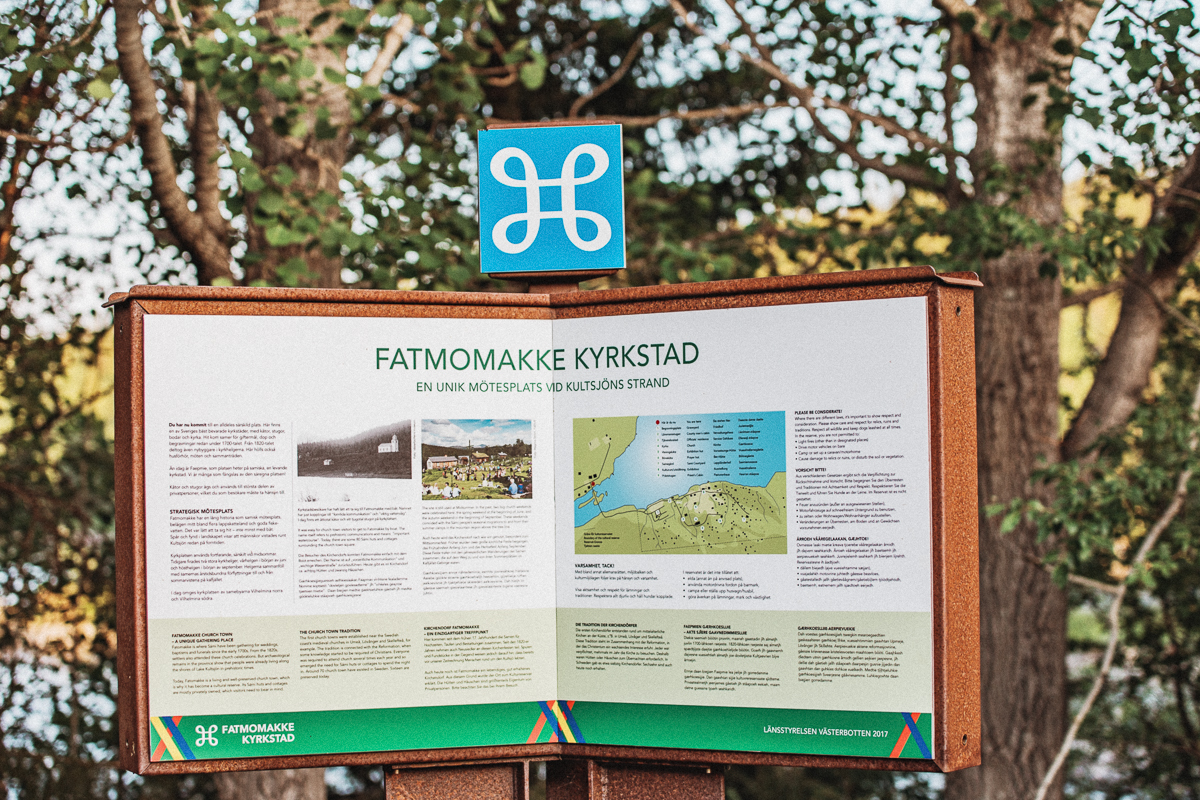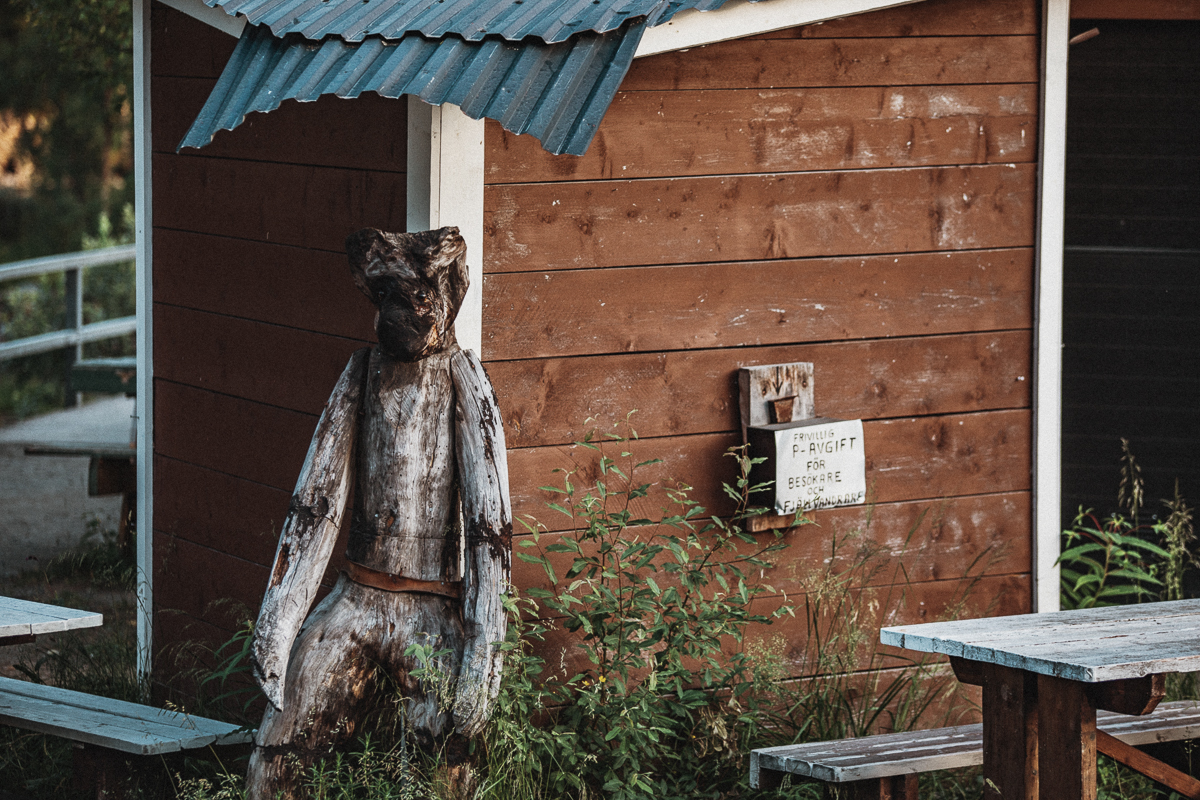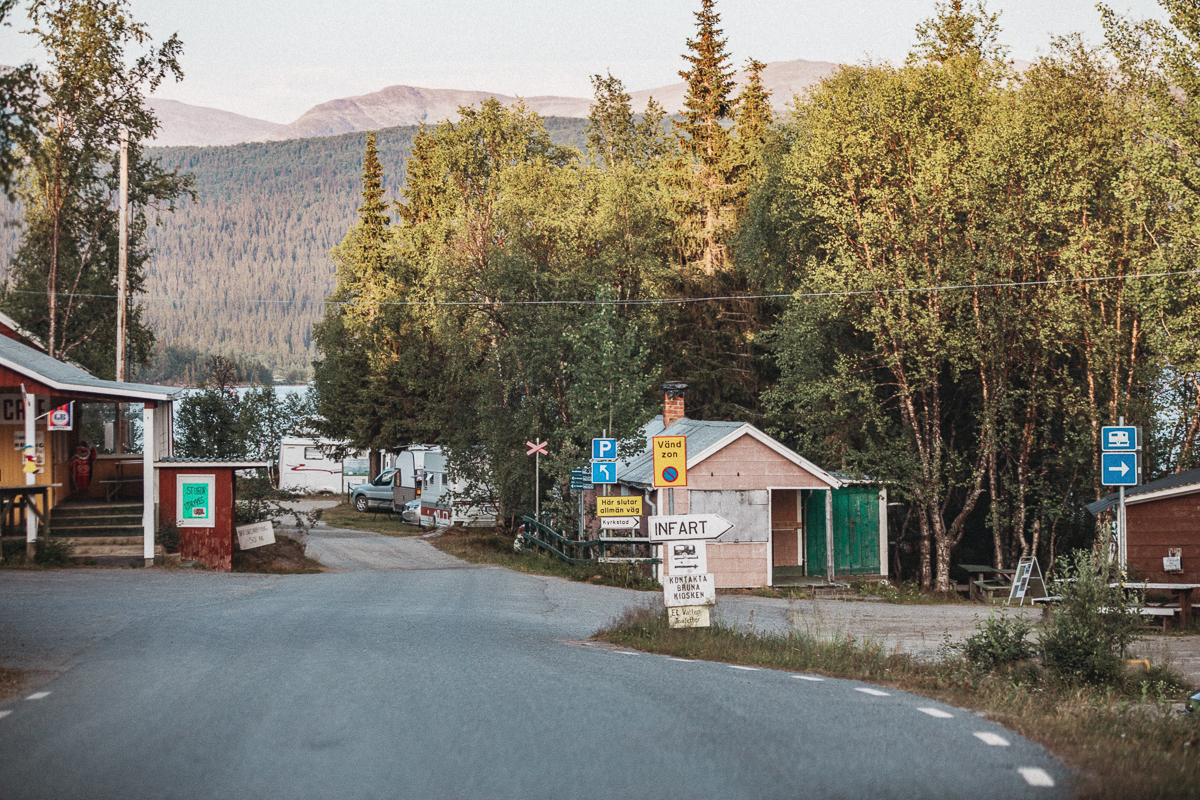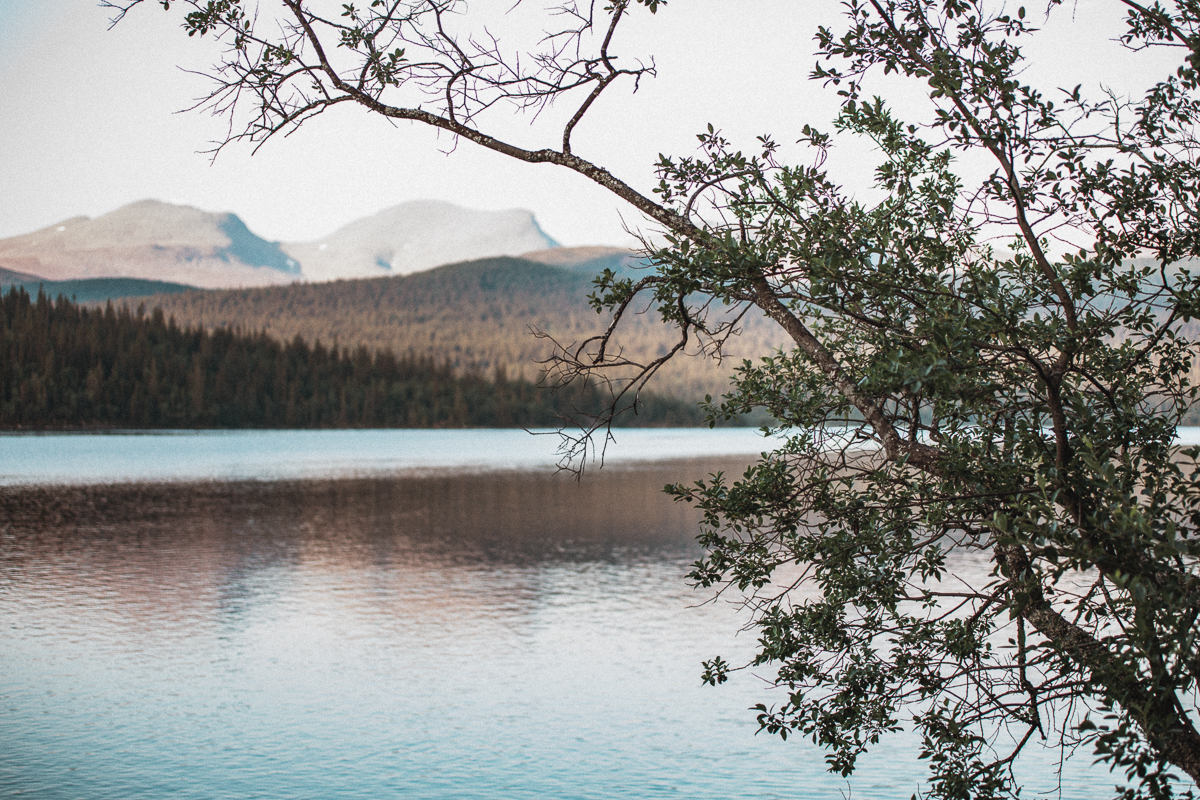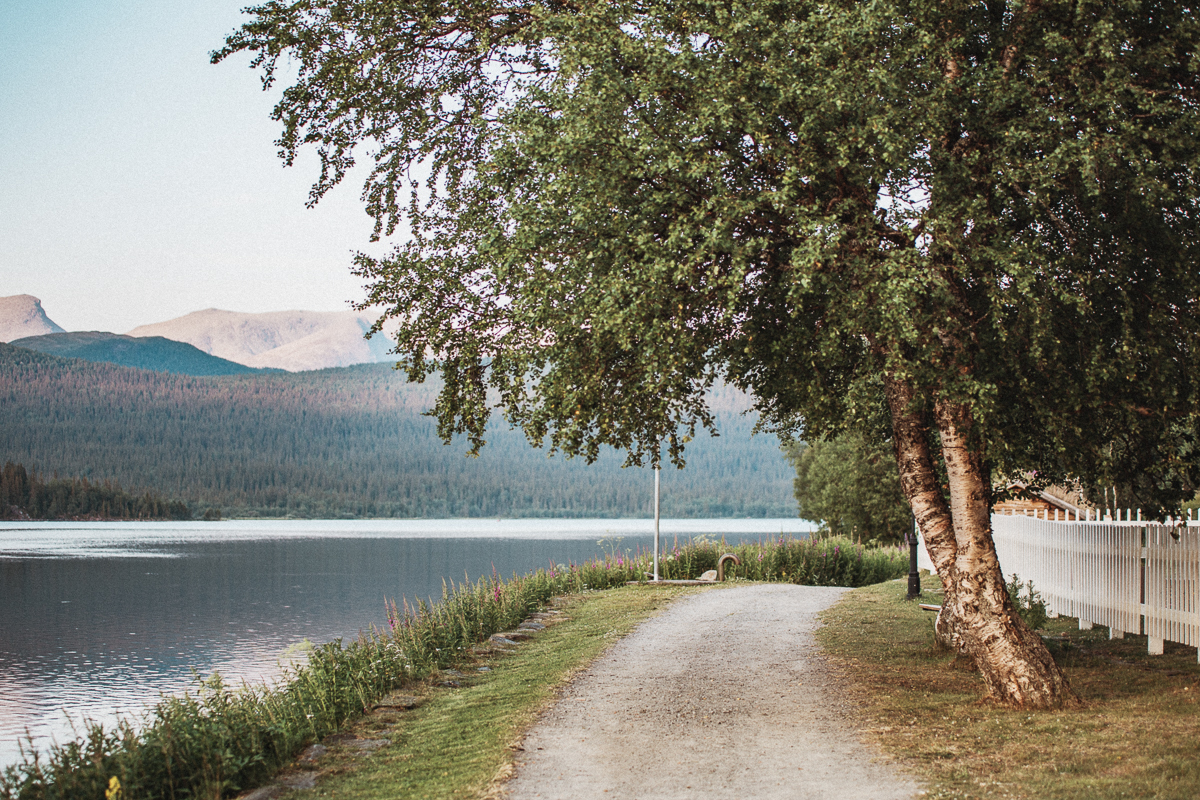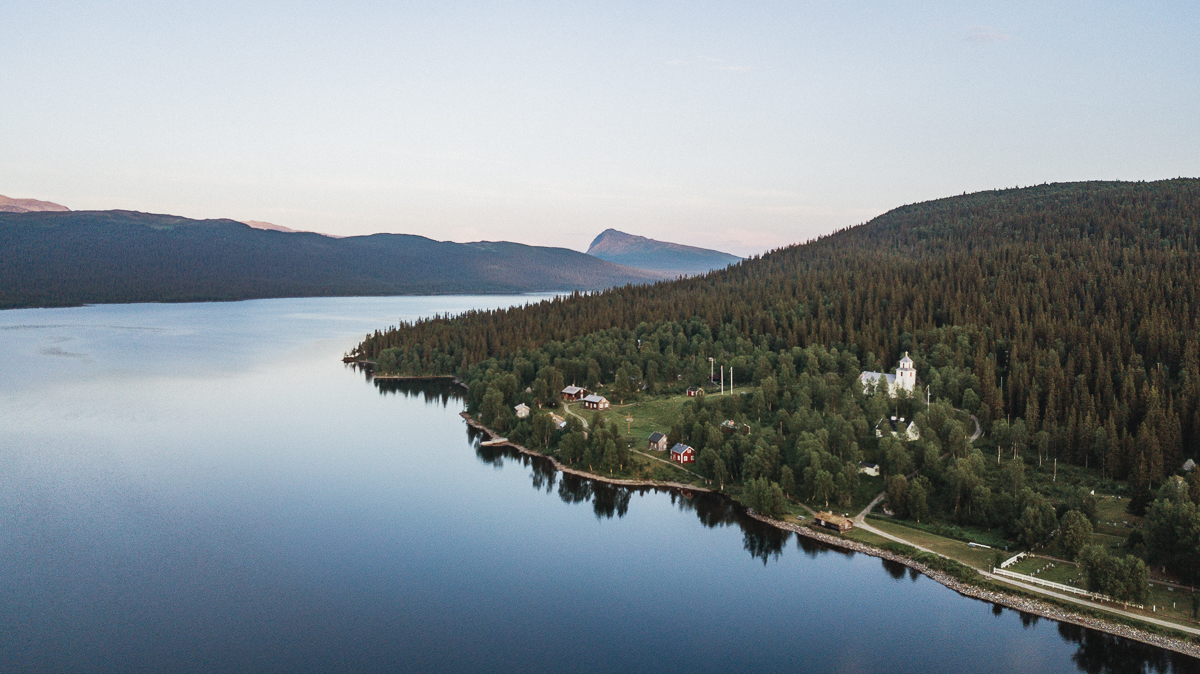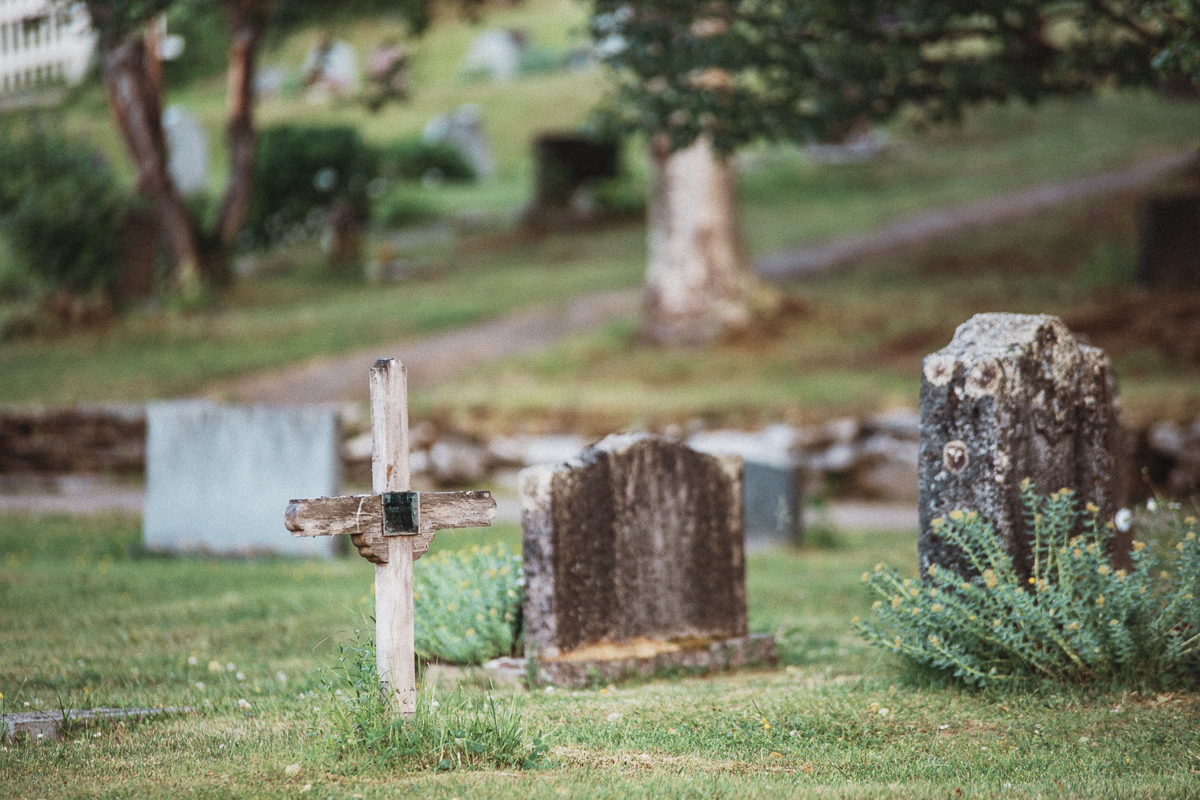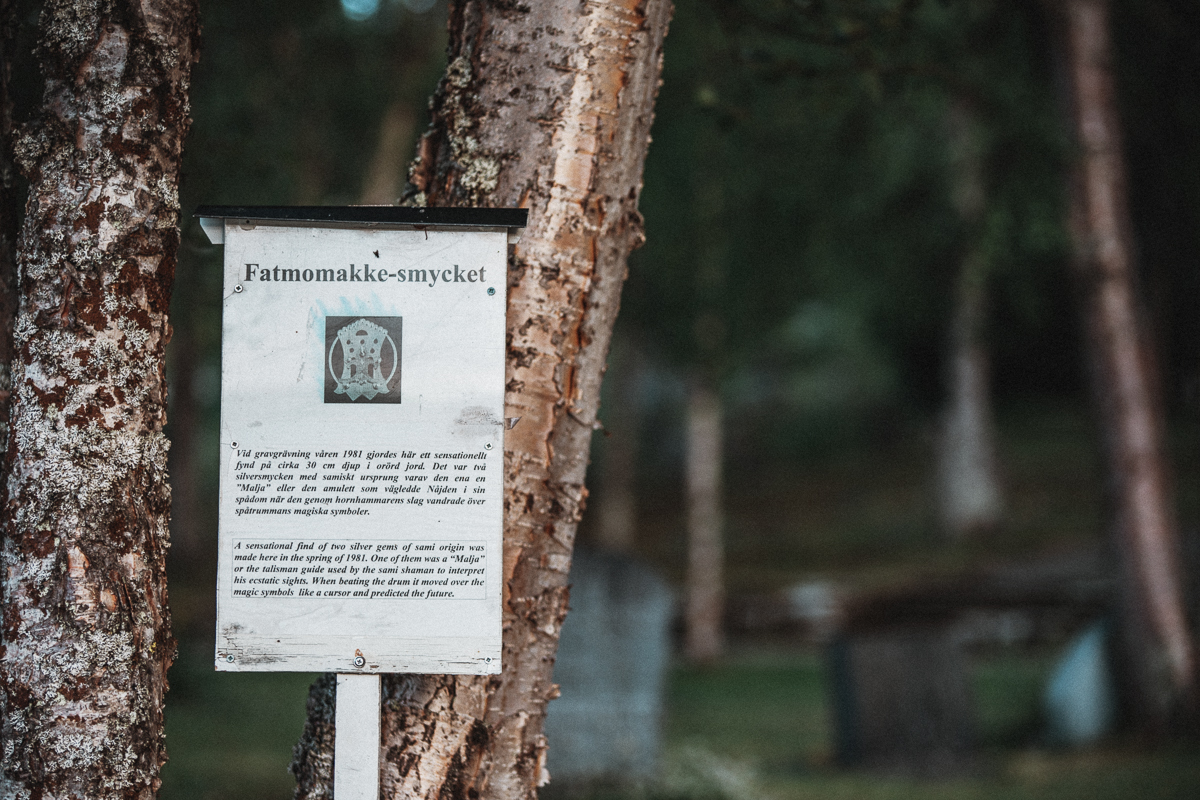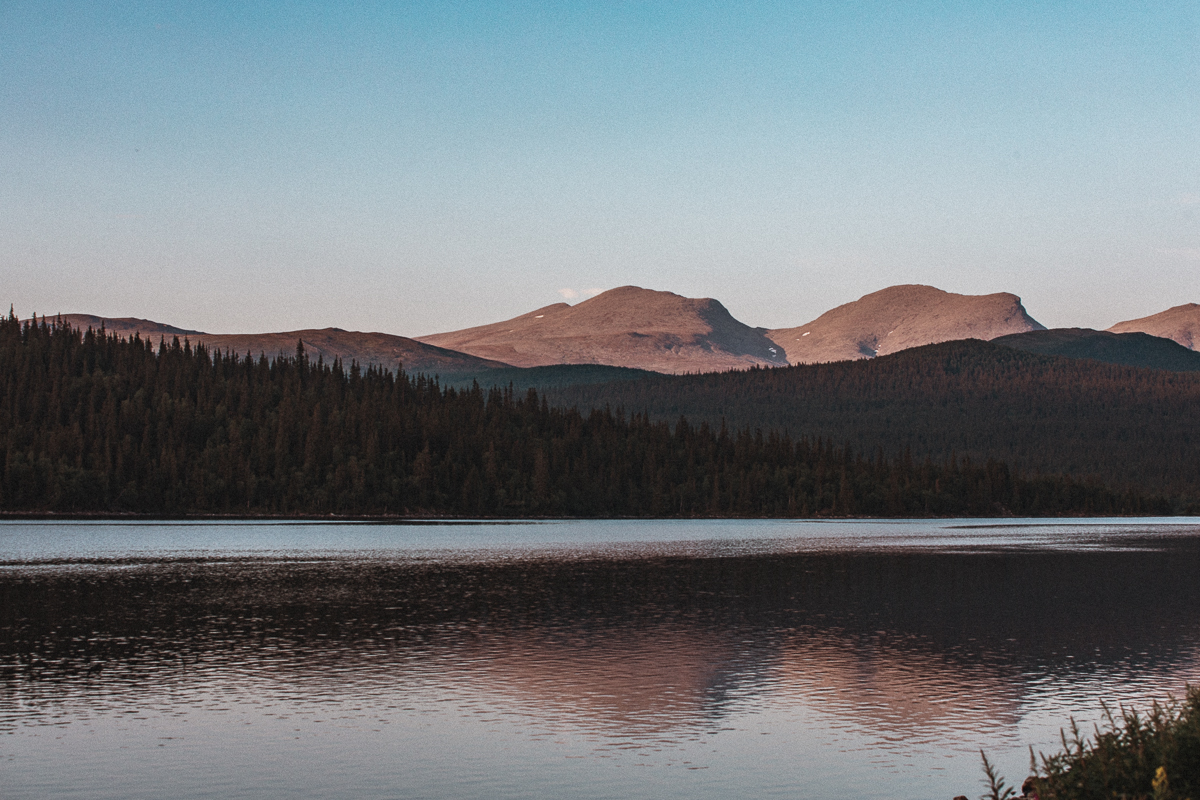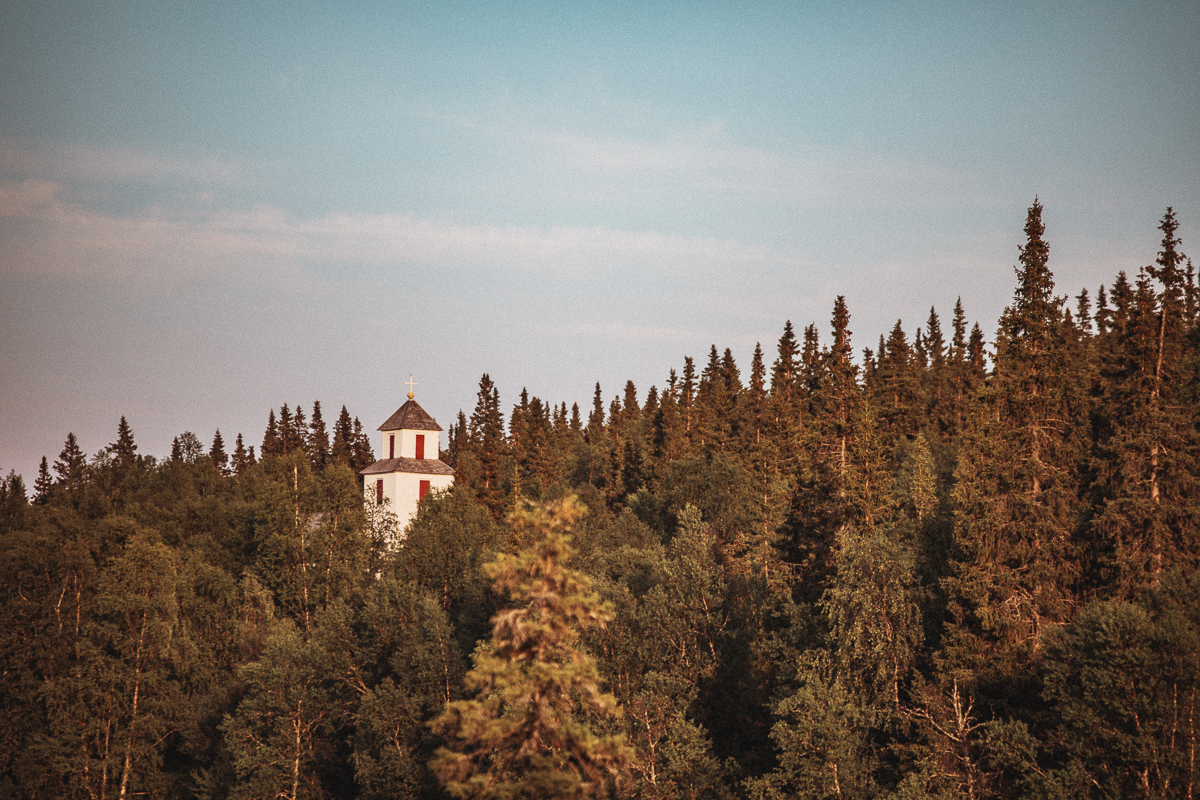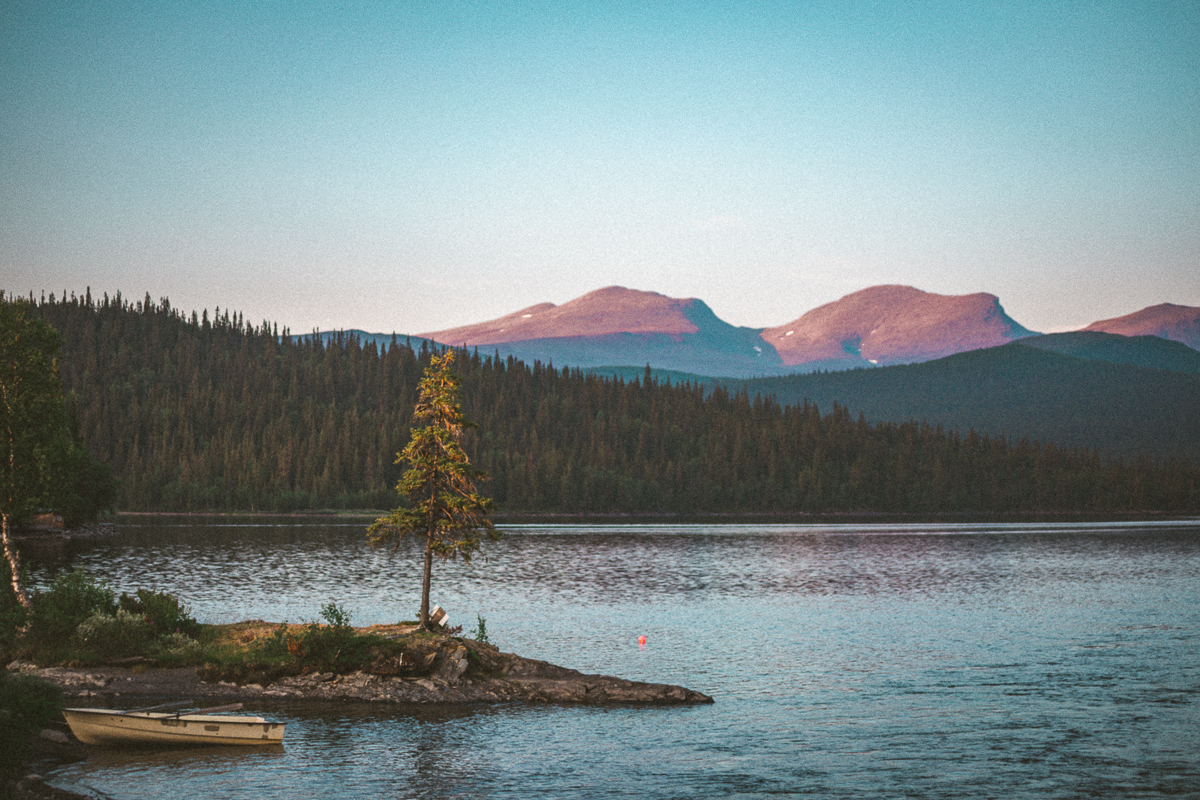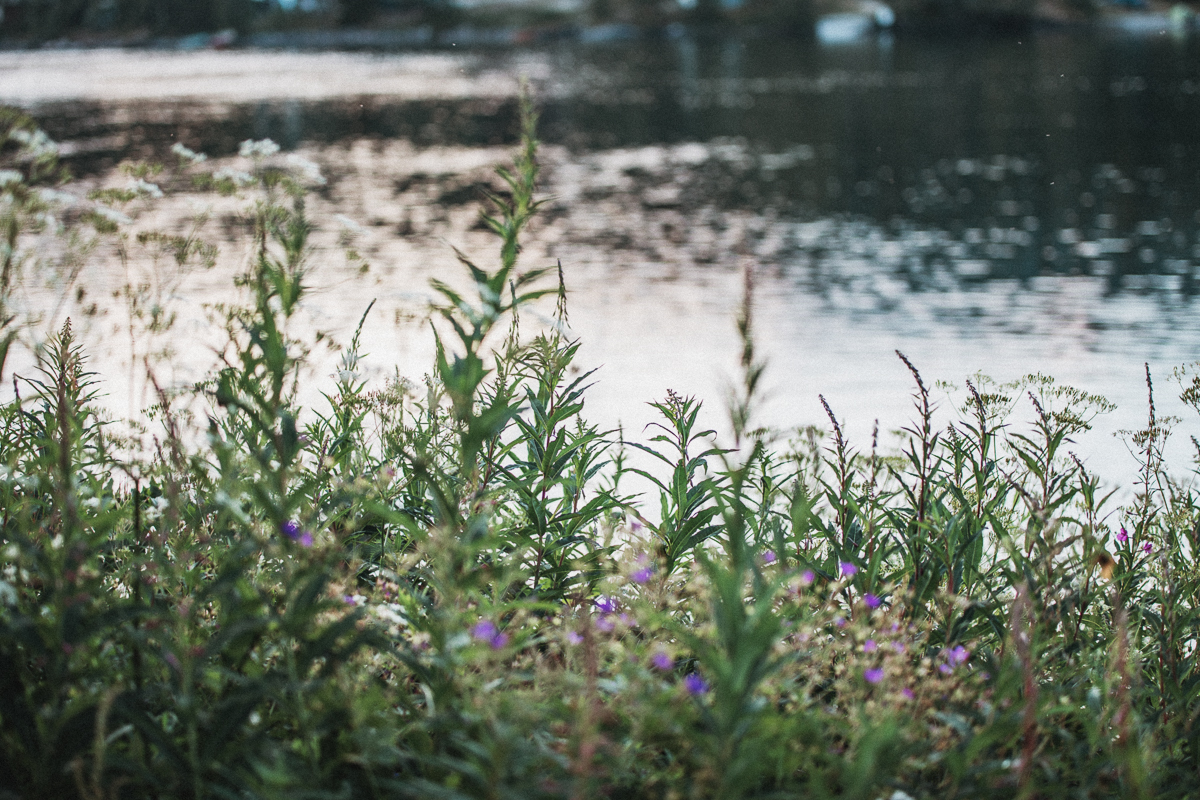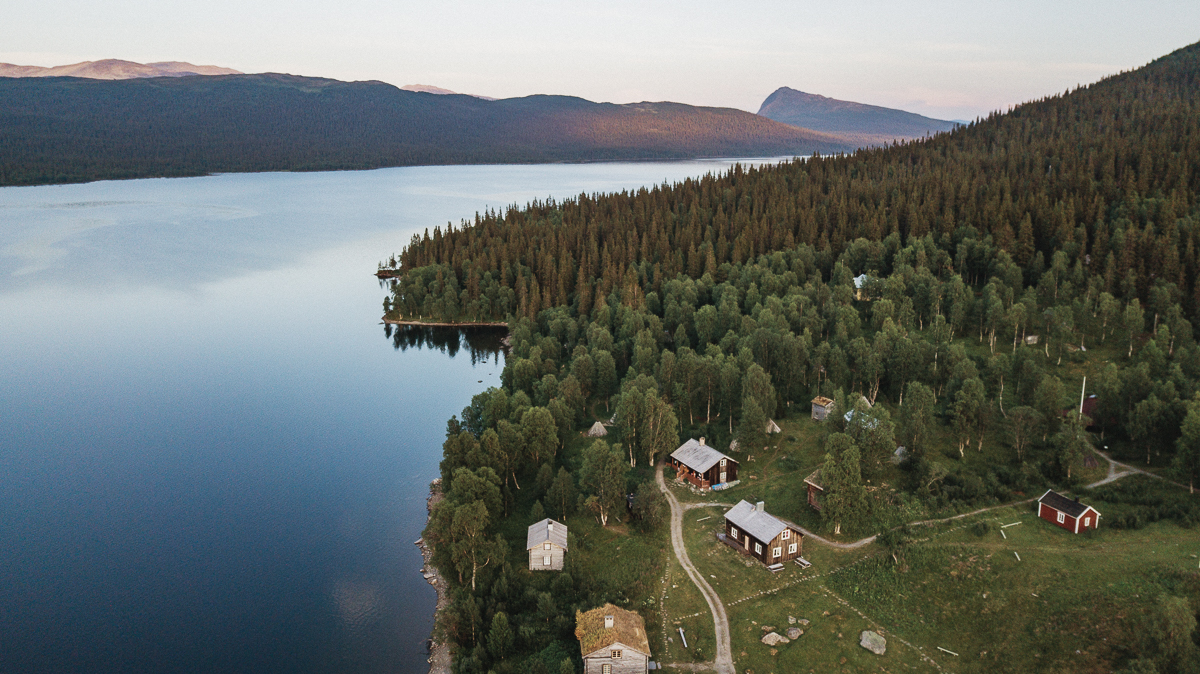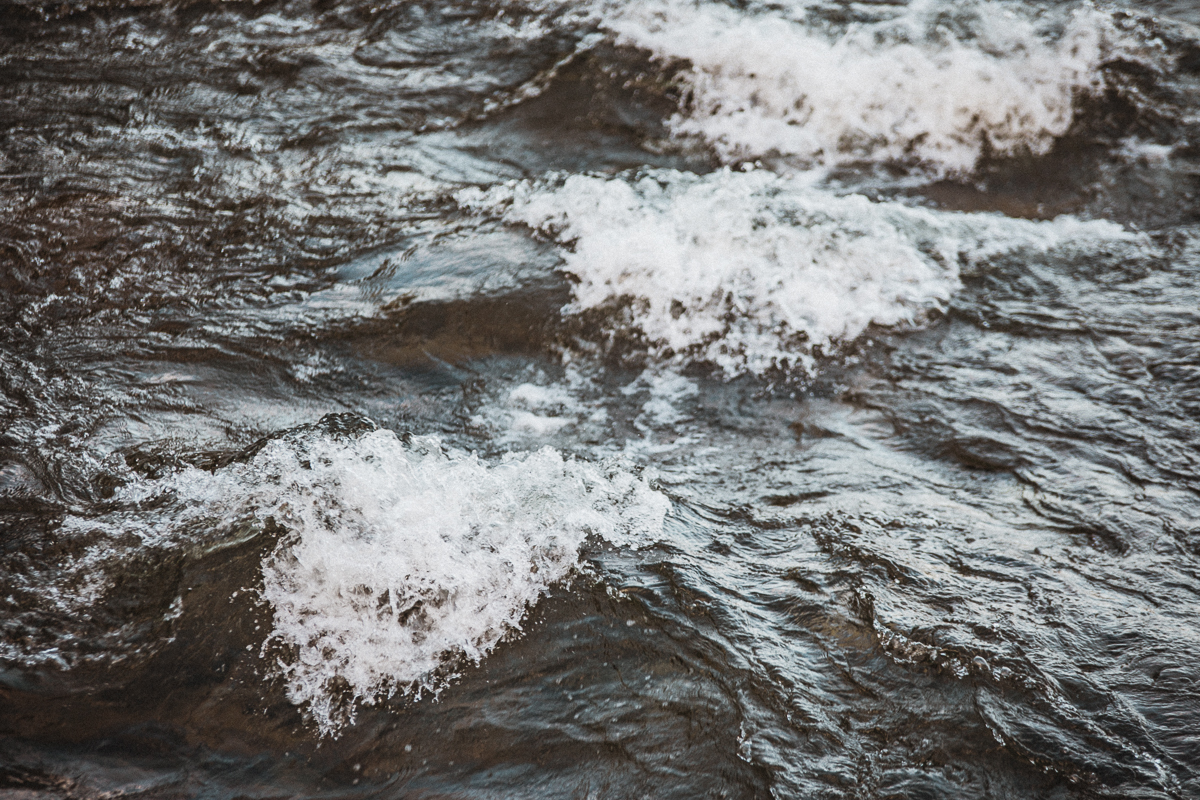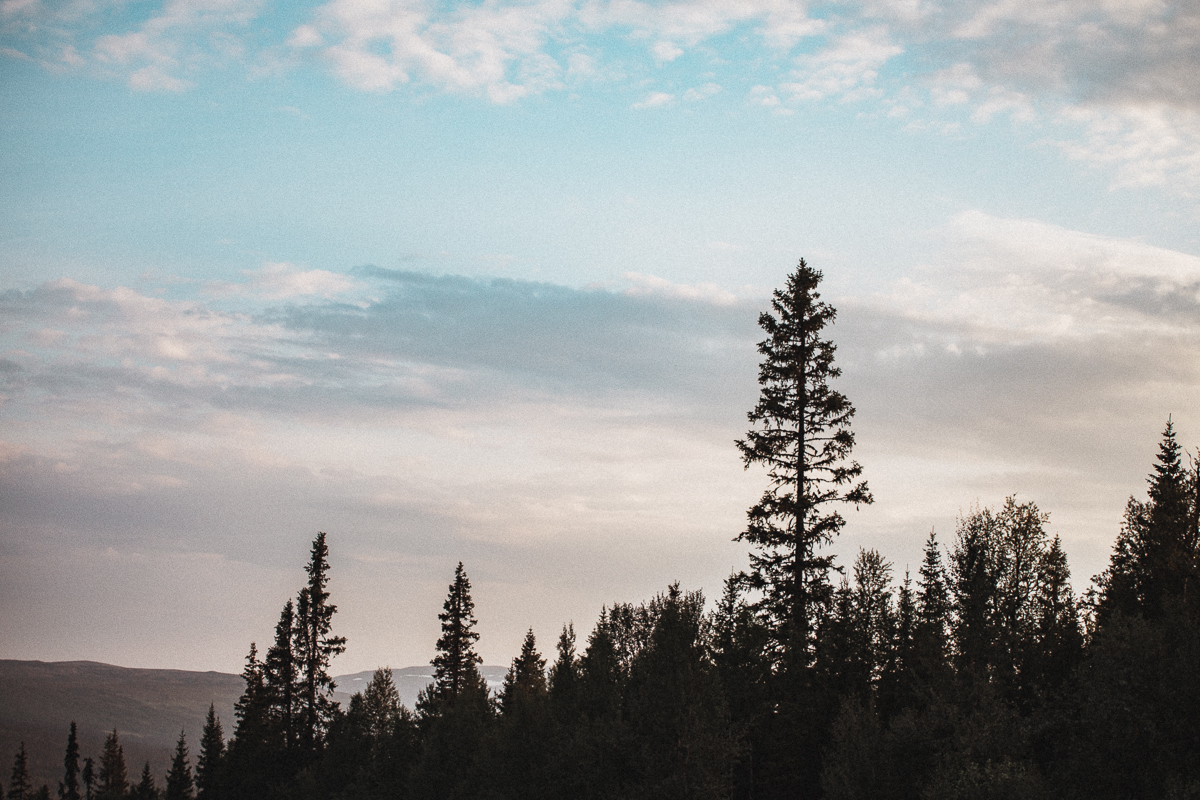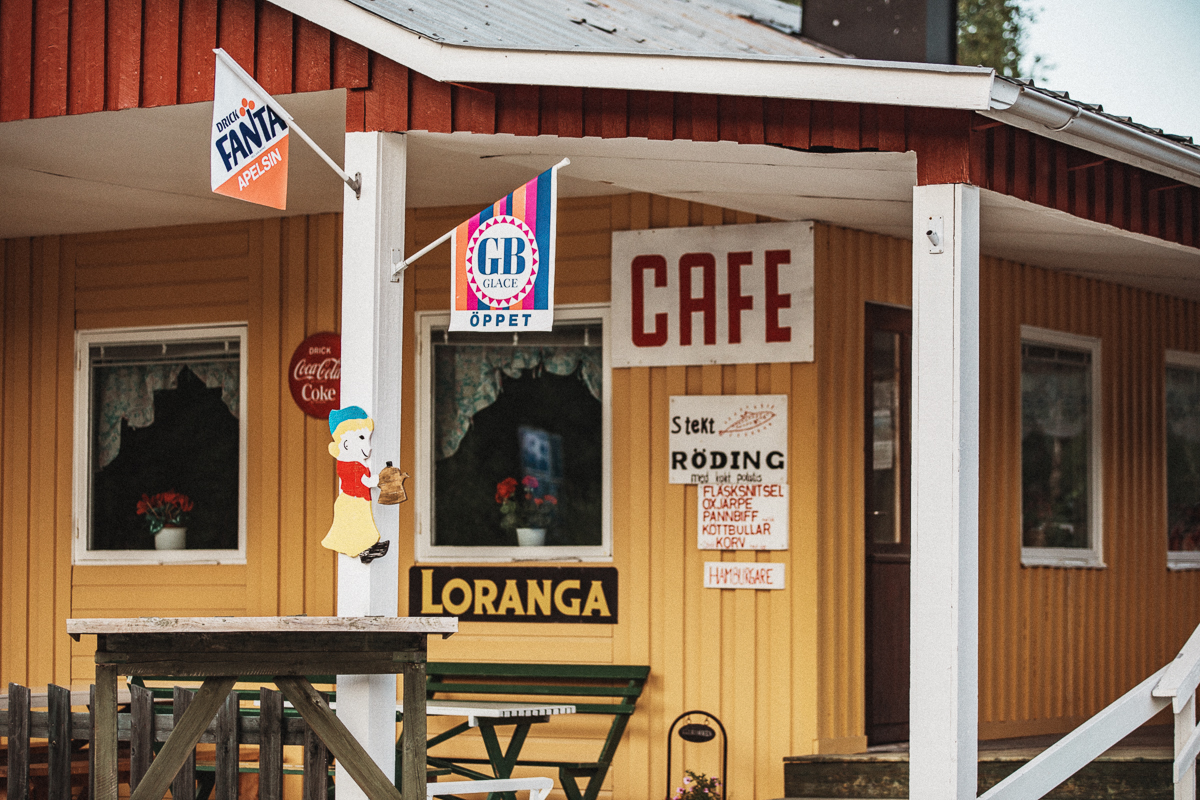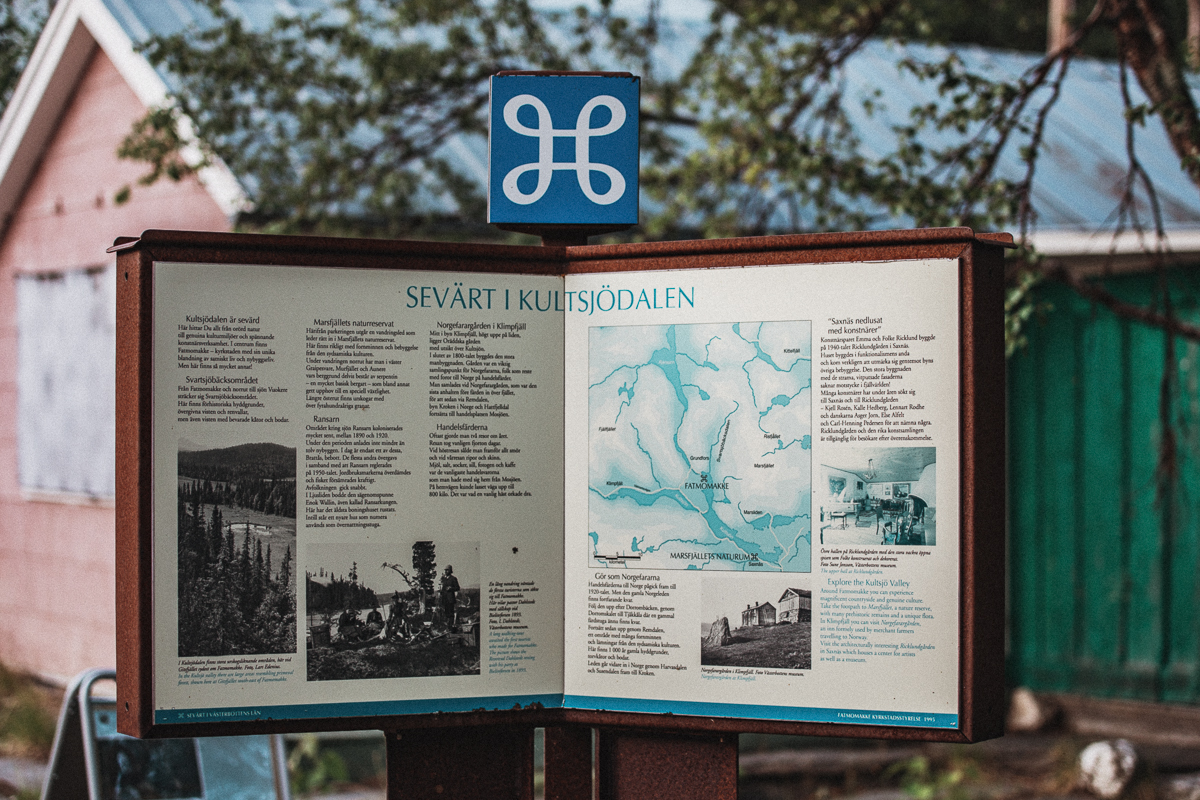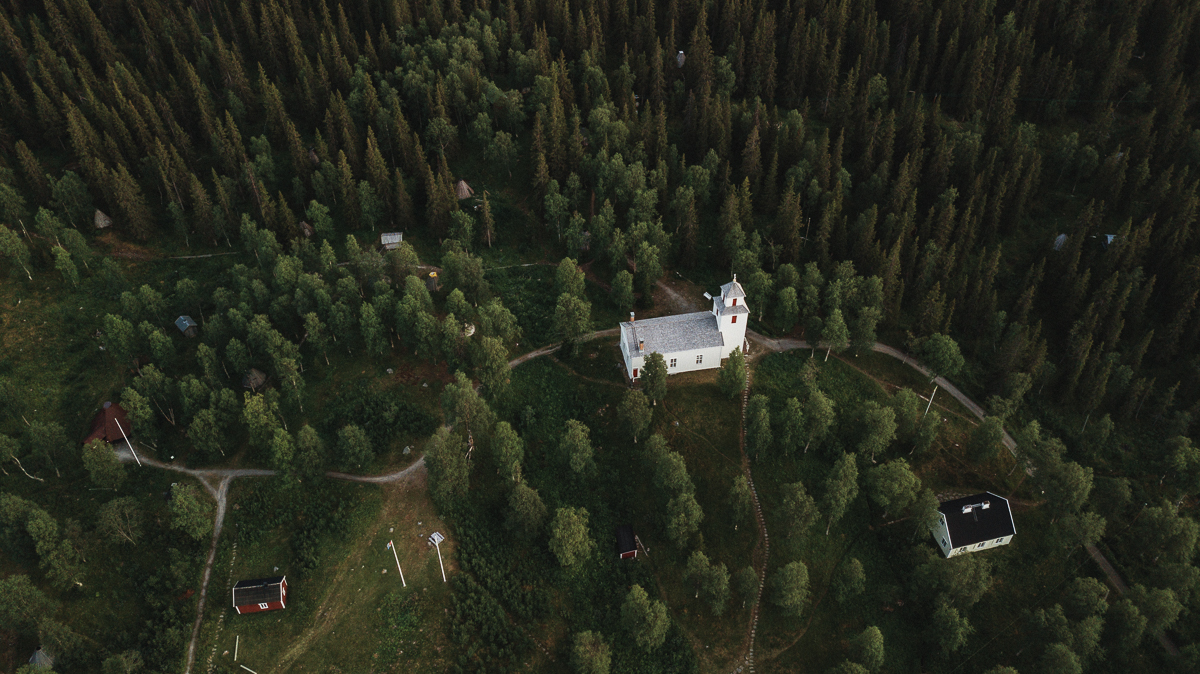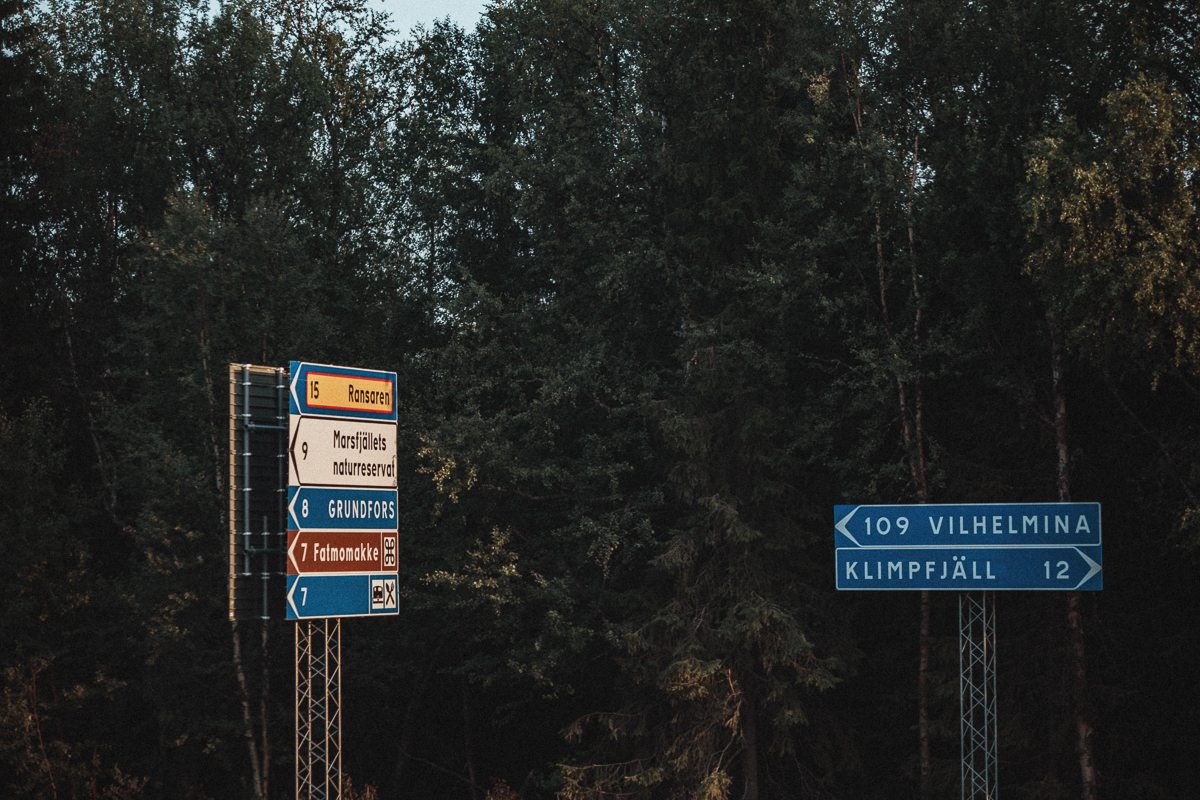 Saxnäs
We didn't really see much of Saxnäs except for when we drove through. But here you'll find lots of hiking trails and lakes where you can fish. Saxnäs also has both a hotel and a hostel.
Trappstegsforsen
The steps of Trappstegsforsen isn't really a waterfall. But the river falls very beautifully here, over lots of steps.
There is a café here, but also a table and bench where you can settle down to snack / eat brought food. Warning for mosquitoes after sunset though! We were almost eaten alive…
The view from Staloberget
We had decided to drive to Vilhelmia after our day exploring around The Wilderness Road. This meant that we would arrive quite late, but during summer it never really gets superdark in the night. So, we decided to take a little detour to drive up to Staloberget and catch the last of the sunset.
Up on Staloberget you'll get a gorgeous view of Malgomaj and Kultsjödalen. The road is a little steep and curvy, but is paved. The forets in this area is really old and the view is miles wide during a clear day.
Fun fact: an old airport used to be up here.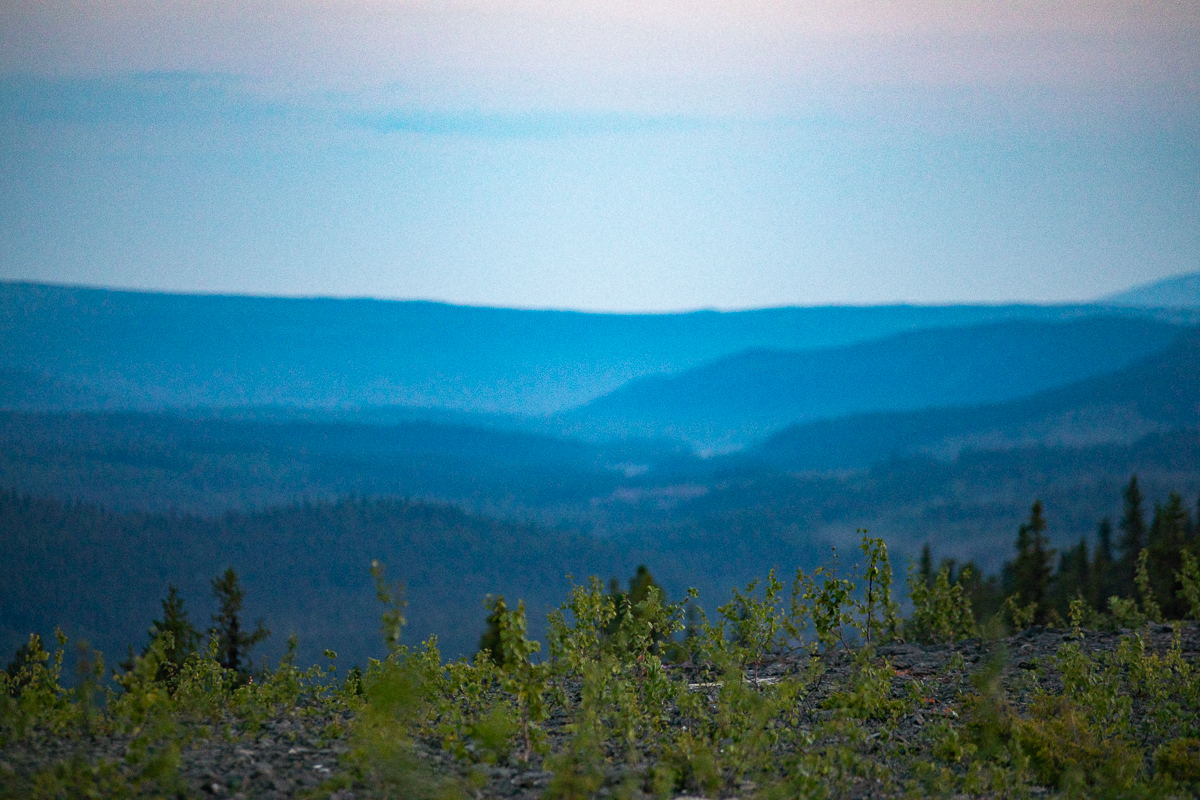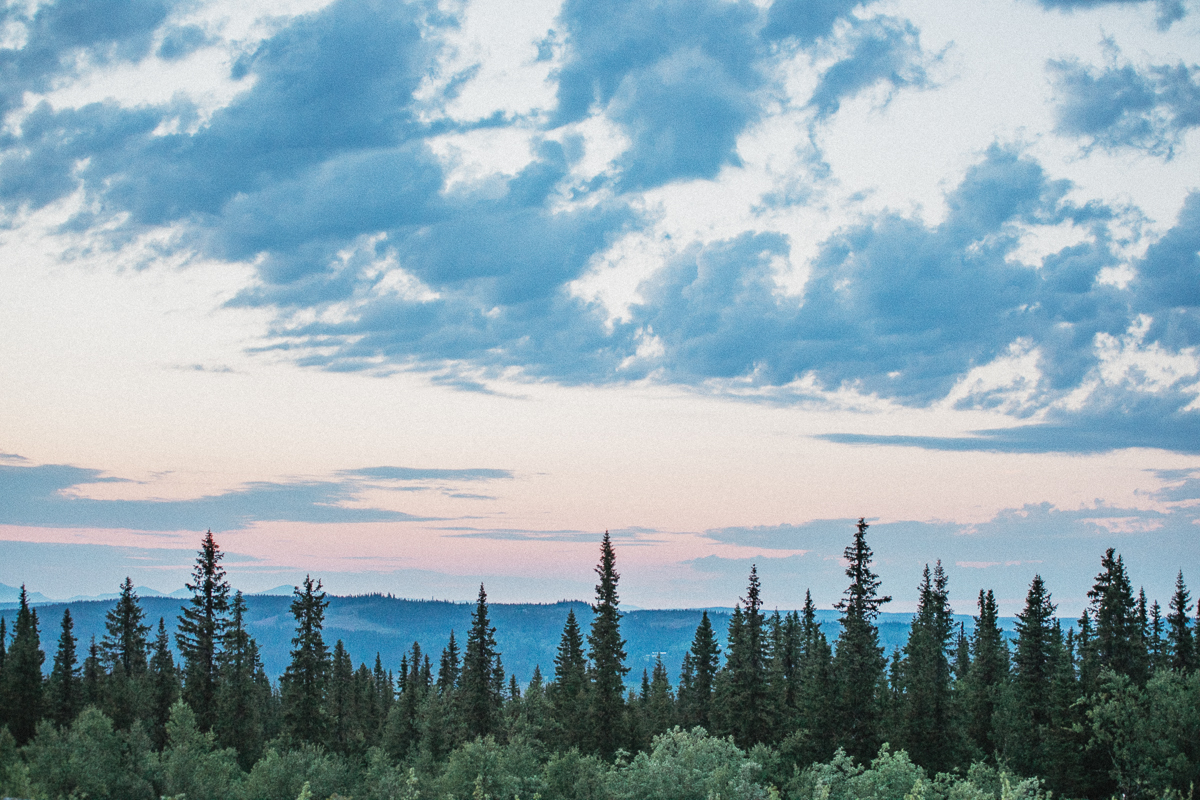 Good to know before you drive the Wilderness Road
If you have a dog with you – make sure it is always leashed. It's here, on the tundra, that the reindeer gives birth to their calves. So it's very important to follow this rule!
There are no shops or petrol stations between Stora Blåsjön and Klimpfjäll.
Be prepared to make many stops – and bring snacks and drinks with you so you won't get hungry.
Map of attractions along Vildmarksvägen
The map below is created by Stekenjokk.se and it's a very good one so I thought I'd share it with you. I did make an addition to this map – "Waterfalls along the Wilderness Road". Be sure to open it in a custom new tab in your browswe to view it in a larger size as it'll be easier for you to see all the markers.
Hiking trails along The Wilderness Road
Our original plan had a few shorter hikes but we got a late start and had somewhere to be so we couldn't stay as long as we wanted this time. But I've saved all my notes about dayhikes to do until next time.
Waterfall hikes along The Wilderness Road
Lejarfallet is a 6 km return hike that starts in Ankarrede and goes alongside Lejarälven. It's an easy hike.
Kulla-fallet and Sju Forsar in Klimpfjäll is a hike I definitely want to do someday. It's only 3 km. First you'll get to Kullafallet and then there'll be six other waterfalls alone the hike.
Dimforsen is around 6 kms from Stalon and the roar of this river is supposedly deafening
Regular day hikes along The Wilderness Road
The hike in the nature reserve of Bjurälven and the Coral Cave is supposed to be great. Here you'll find the Coral Cave which is Sweden's longest cave of 6 km.
Marsfjällskåtan is apparently a well-visited rest protection during both summer and winter. I wouldn't mind resting my feet here after hiking.