Winter in Kiruna – things to see and do in a winter wonderland in Swedish Lapland
Planning a trip to Kiruna during winter? Don't know what there is to see and do in and around the city? Look no further, this post is all about Kiruna. If you would've asked me what there is to see and do in Kiruna when I was younger. I probably would've said nothing. At that time, I just didn't realize what a special place Kiruna really is. But hey, you're allowed to change your mind!
Today, Kiruna is a fun winter destination with lots of experiences both for the young and old. How do I know? Well, judging by all the thousands of tourists that nowaways pilgrimage to Kiruna during the winter, there simply has to be something drawing them in.
Facts about Kiruna
Kiruna is, on the surface, Sweden's largest municipality (20,000 square kilometers).
In total, there's around 23,000 people living in Kiruna and its surroundings
About 18,000 people live in Kiruna city and the rest are distributed in the around 50-ish villages.
Kiruna church has been named Sweden's most beautiful public building in 2001.
The city has more daylight than Stockholm during seven of the year's months.
Kiruna has midnight sun for 50 summer days.
Polar night in Kiruna usually lasts from December 12 until January 4 – a total of 20 days.
During this period, the sun does not reach the horizon at all.
Giron means Kiruna in Northern Sami.
And then there was that list of everything to see and do in Kiruna and the surrounding area. Here it comes! All experiences and excursions are within day excursion distance from Kiruna.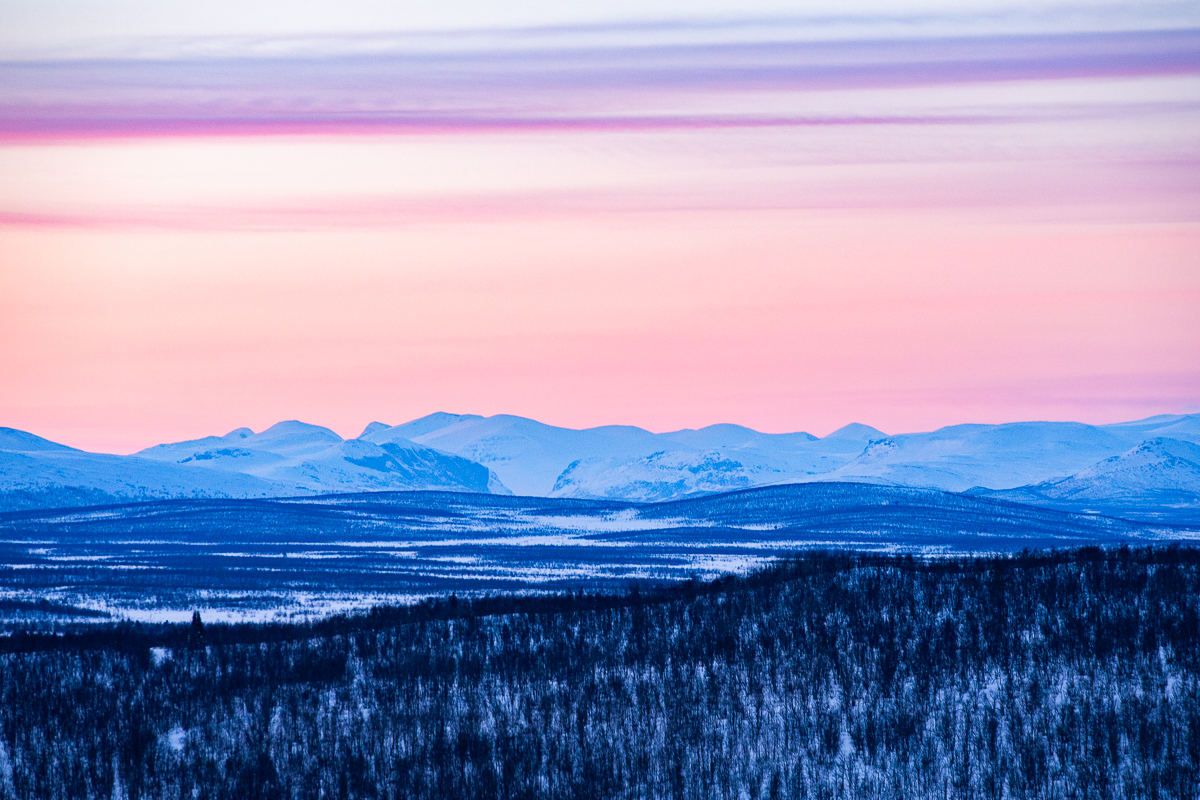 Experience the Northern Lights in Abisko
In Abisko you will find Aurora Sky Station (located up on the mountain Nuolja) which has been named "the best place in the world to experience the northern lights" by Lonely Planet. I can only agree – it's a great place to view the northern lights as long as the weather is good. Abisko's geographical location means that it is often cloudless there, which in turn provides better conditions for experiencing the dancing northern light.
Other places worth visiting in Kiruna
Aurora SPA at Camp Ripan
Go for a walk up on Loussabacken (great view over Kiruna so don't forget your camera!)
Hjalmar Lundbohmsgården – one of the oldest buildings in Kiruna
Places worth visiting outside of Kiruna
Abisko National Park
Kebnekaise
Esrange Visitor Center – Sweden's only space rocket base
Jukkasjärvi church
Moose Safari – Drive along the road to Nikkaloukta and see if you can spot the King of the forest
If you have access to a car I really recommend the road between Kiruna and Abisko – it's gorgeous and worth driving even if you're only going over the day.
The road between Kiruna and Nikkaloukta – also gorgeous!
Restaurants and cafés in Kiruna
My personal favourites to eat in Kiruna is definitely the "souvaskebab" from Empes Gatukök (the one behind Hotel Scandic – Mommagatan 4), hamburger at Annis grill and the lunchbuffet at ICEHOTEL's restaurant in Jukkasjärvi. The pizza at Lombolo Pizzeria & Grill äis also great and highly recommended.
Café Safari has delicious sandwiches (my favourite is the one with ham and cheese). Pizzeria Sicilia is located right in the city centre and I always go for a Hawaii pizza there. I also liked the Sundaybrunch at SPIS Mat & Dryck – also in the city centre. SPIS also has a small café at Kiruna Airport and when I worked there I always had a sandwich for lunch.
Stejk Street Food was also quite good although a bit expensive. But that's always the case with souvas and reindeer/moose meat. I haven't been dining at Landströms but have heard only good things even if they also are a little bit pricey. Last but not least, I've had a great lunch at Camp Ripan although it was a few years ago.
And of course, there's a lot more places to eat in Kiruna but these are my favourites and the ones I've heard good things about. And if you haven't tried souvas yet, definitely do it before you leave the north!