Cruise America – tips about renting & traveling with an RV in the United States
Cruise America is a company that's been around for a long time – 45 years to be exact. That's why it felt safe to rent an RV from Cruise America – especially when this was our very first time doing so. I've wanted to try travelling around with a motorhome for a while now and during the summer of 2019 it was finally time.
This roadtrip makes it our third one together. Me, my boyfriend Kenny and my two brothers, Jimmy and Tony. Their friend Anton joined us for our second roadtrip in 2017 and this time my, well our, dad also came along wanting to experience the wild and rugged landscapes of America.
During our first roadtrip, we first couldn't agree on how to travel around the country. But after lots of discussions, we came to a compromise and we first did a roadtrip in the western US in a campervan. Then we had a regular car and stayed in motels and Airbnb in the southern US.
Now, after three long roadtrips we've tried three different ways of traveling. Of course, there's both pros and cons no matter what you do in life. And staying in a motorhome isn't for everybody. But personally, I loved it. I love being able to wake up in the middle of a beautiful landscape but after a few nights, I love being able to stay in a nice hotel every once in a while.
Traveling around in a motorhome allowed us to create our own combination of what we like and appreciate. Having the comfort of a "home" on wheels and at the same time, being able to stay close to nature is definitely my favourite. So, I never really felt that need to stay in a hotel every once in a while because well, we already had that home with us all the time.
This blog post is all about our experience traveling around the US in a large RV from Cruise America.
Since our trip, I've gotten a lot of questions about what it was like to rent a motorhome from Cruise America and if we liked it. I'm answering all those questions in this blog post. If you have any questions that I've missed, please feel free to leave a comment after reading this post. Or if you prefer you can send me an e-mail and I'll be sure to add your questions to this blog post afterwards.
Read more: A summary of our roadtrip with Cruise America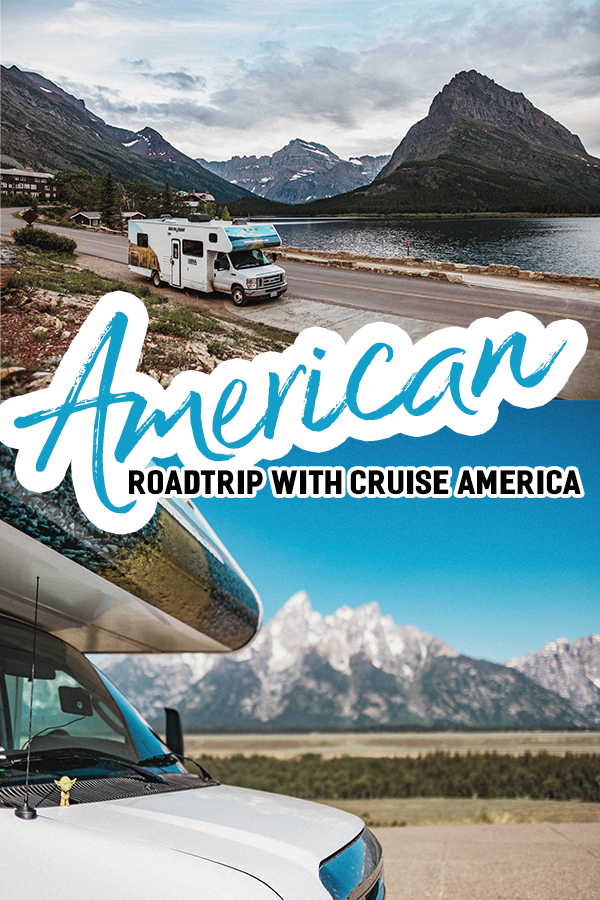 A little history about Cruise America
Cruise America started out as a small family business when Robert Smalley Sr. From Florida decided to start his company. Today the company is run by his two songs, Randall and Robert Jr.
The two brothers started working at Cruise America right after college and they are the fourth generation to work with vehicle rental. I don't really know how many motorhomes they rented out in 1972, but today Cruise America has about 4,500 mobile homes for rent across the country.
In other words, Cruise America is a company that has been around for a long time (45 years) and is very well known in the USA. They also have 126 rental offices, which felt very safe for us in case of something going wrong and we'd run into problems while on the trip. Cruise America have a support hotling available 24 hours which felt great, you know, just in case an accident should occur.
Why did I choose to rent an RV from Cruise America?
I've known about Cruise America for a number of years now, but I honestly can't remember how I first heard about them. When we did our first roadtrip in the western US in 2016, we saw a lot of Cruise America motorhomes on when roads and on the campgrounds. So even though we'd never rented from them previously, the name felt familiar to us.
One morning when we woke up in Moab, we also had the campsite next to a couple with a Cruise America motorhome. They were curious about how we liked our campervan that we rented from Escape Campervans. We were curious about how they liked their motorhome from Cruise America. Something they mentioned then was that in addition to the basic fee for the rental, there was quite a few add on expenses they hadn't thought of in the beginning.
So, when it was time for me to book our motorhome, I made sure to really check out what the final sum would be for the rental. That way, no extra fees comes as a surprise. For me, I always do that no matter if it's a motorhome, rental car or airline tickets from a low-cost carrier. And that is something that I know a lot of people don't do. They only look at the price shown first when they compare prices – ie the basic price without any extra ad ons. I always check the final price and always recommend people do make sure they do it to.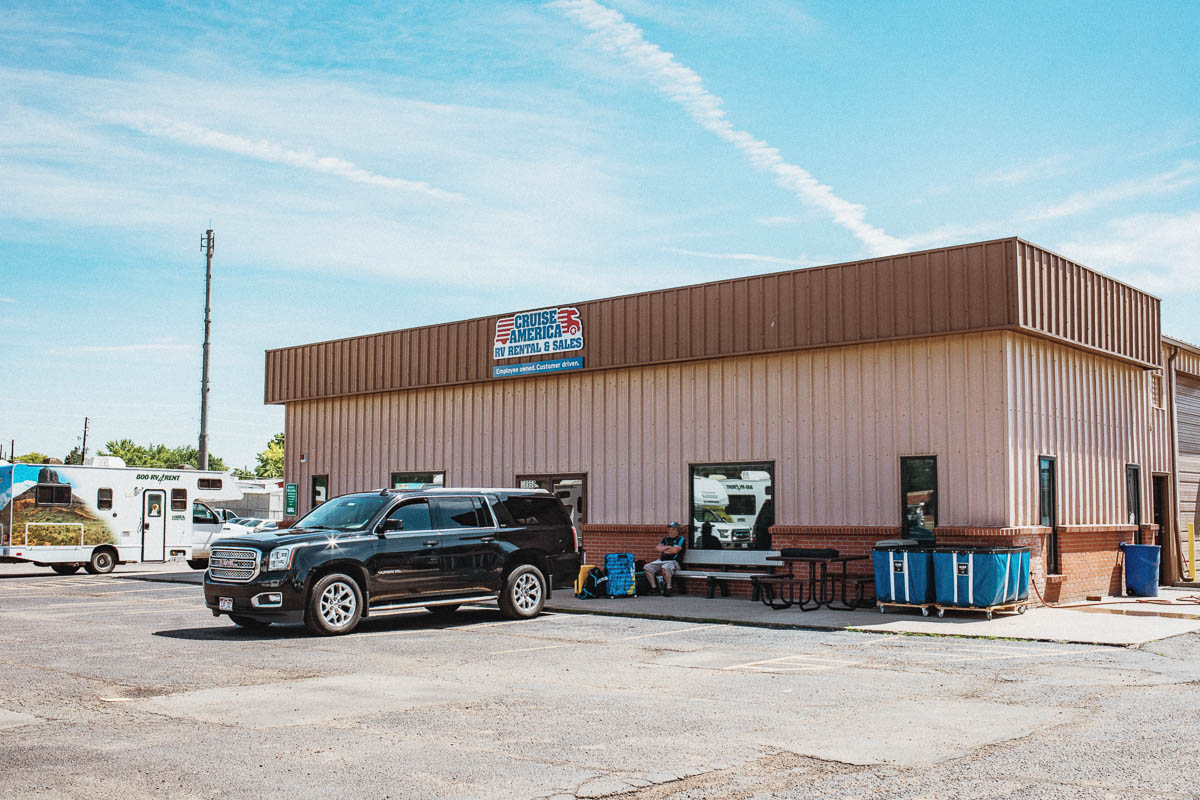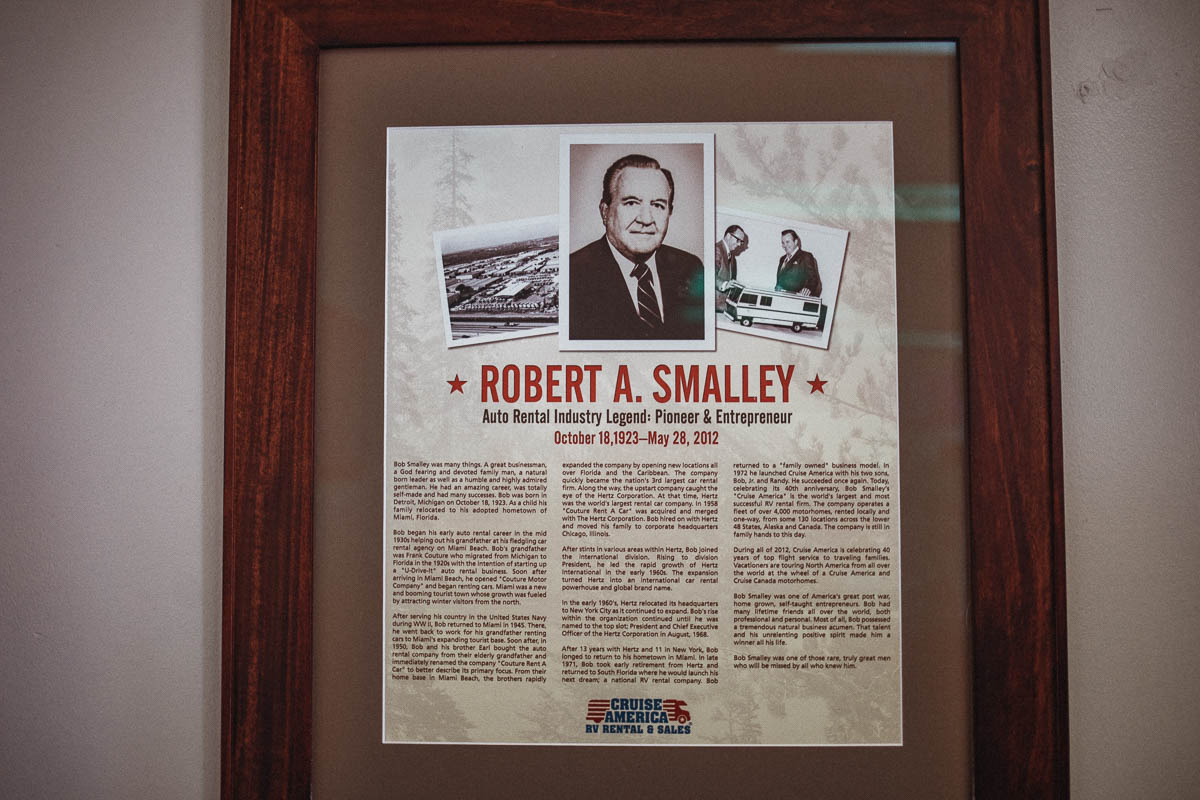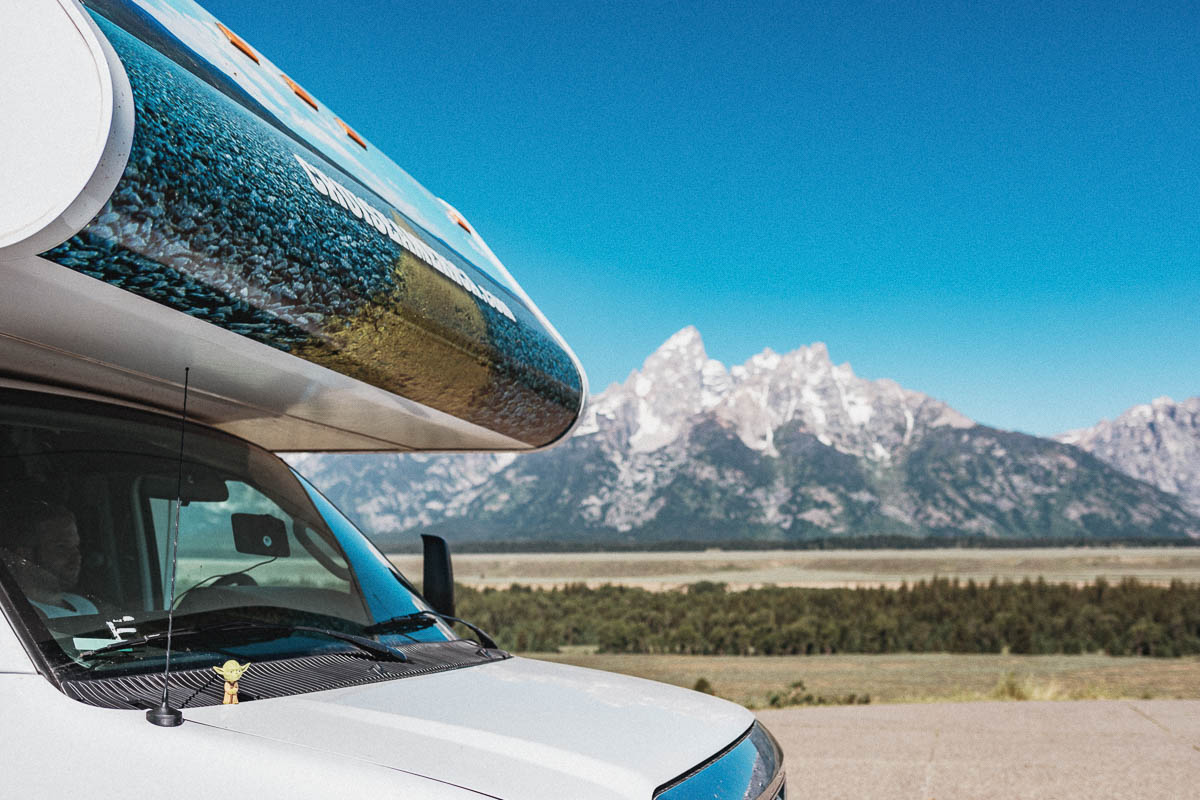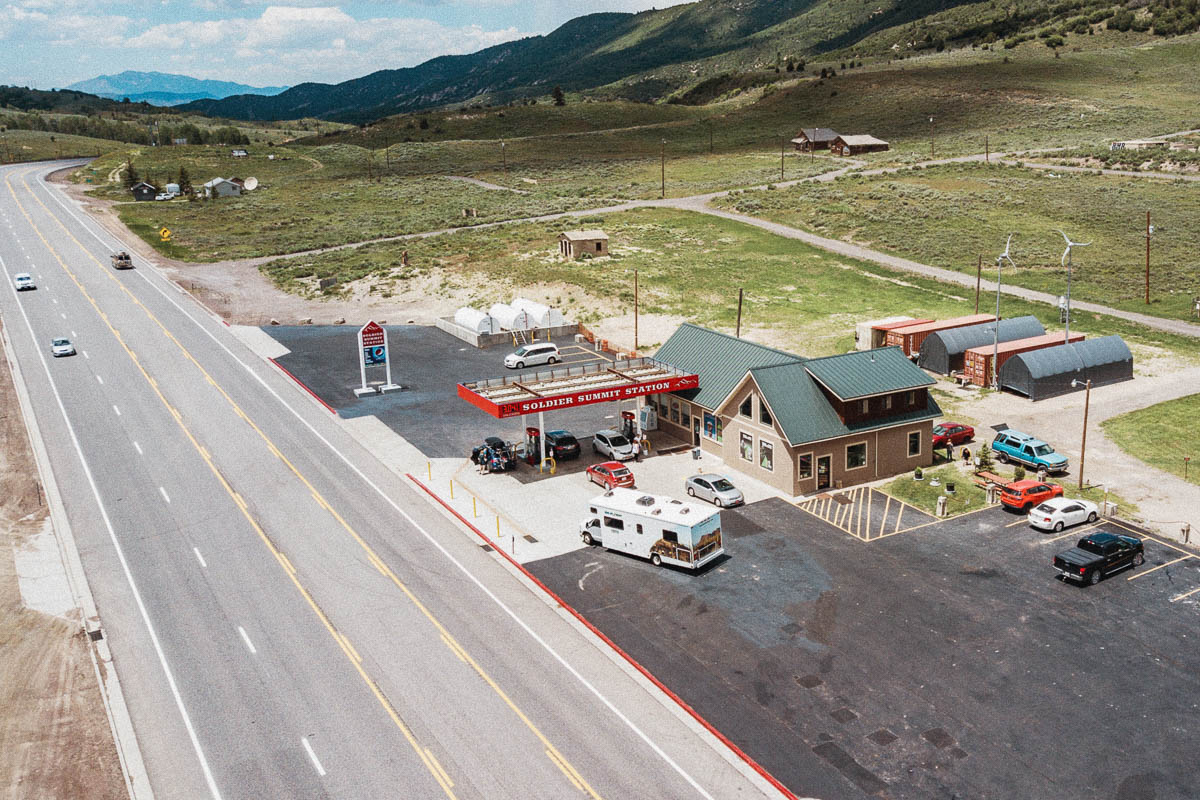 Which size of motorhome is the best?
What size to choose depends on how many people you are traveling with. We had the largest one, the Large, which accomodates up to seven people. We were only six though. We all felt that the size was good, but sometimes it did feel a bit crowded. Especially in the morning when everybody wanted to eat breakfast. But you'll just have to remember that it's all part of the motorhome experience.
Even if we would've been only five – we would've wanted the Large motorhome.
Large: 7 people // 9.1 meters long
Standard: 5 people // 7.6 meters long
Compact: 3 people // 6.1 meters long
Truck Camper: 3 people // 6.1 meters long
Included in all motorhomes: air conditioning, toilet, shower, microwave, fridge & freezer, generator and gas stove. In addition, all motorhomes are animal friendly and you're also allowed to tow. In the Truck Camper everything above is included except the generator.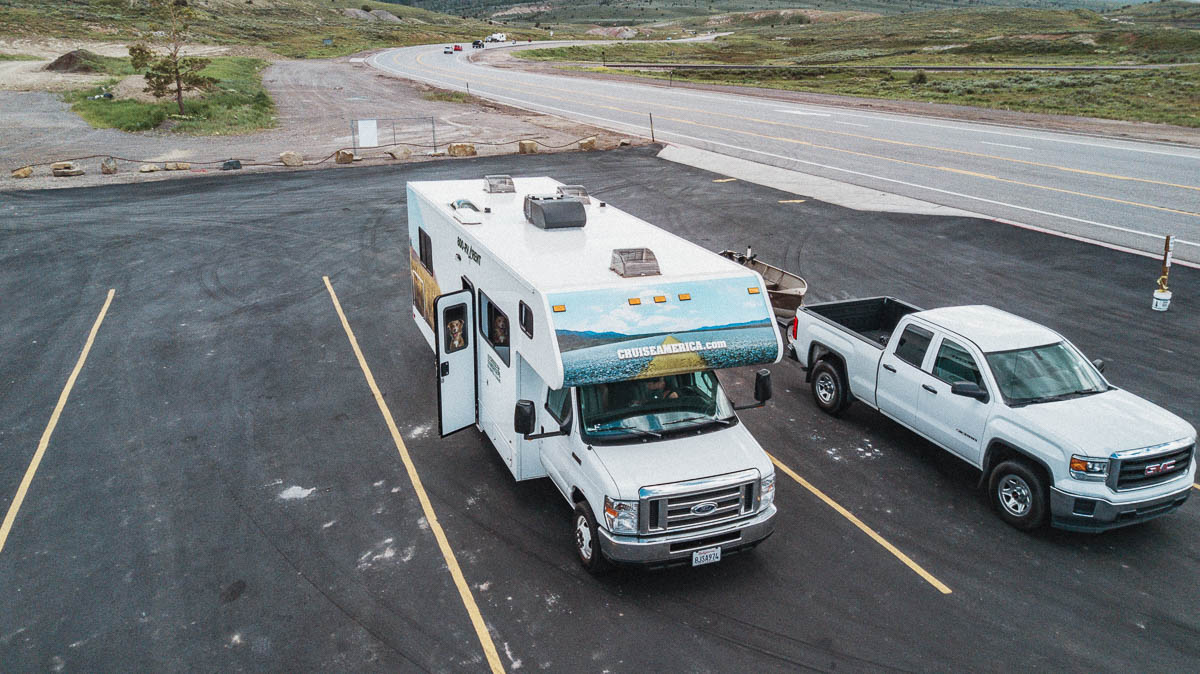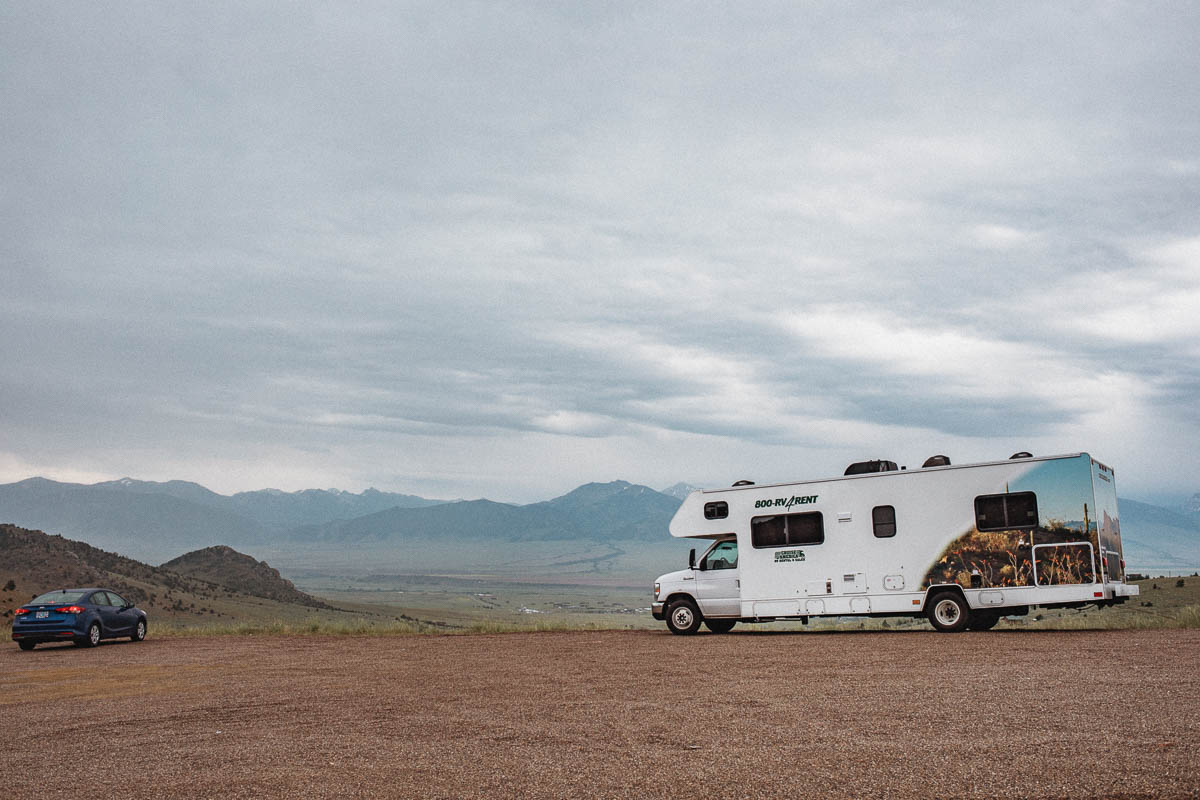 Cruise America – RV Large
Like I mentioned, we choose the size Large for our motorhome. It was spacious and it didn't feel too crowded, except for during breakfast or whenever we all had to move around at the same time.
Seating and table inside the motorhome
Even though there is a large table, we felt like it was difficult for all of us to sit at the table at the same time. Generally, there was enough places for us to sit at at other times. But you do want a table when you're eating.
In many motorhome it's possible to spin the driver and passenger seats around so that those seats also can be used when the motorhome is still. But these kind of motorhomes are built a different way. And this is not something that can be easily fixed. But we worked around this issue and it wasn't really a big problem.
Our meals in the motorhome was mostly prepared on the barbeque available on the campgrounds we stayed at. They also came with a picknicktable so we usually ate outside anyway. But when we traveled through the northern states, it could get quite cold in the early morning before the sun started to warm up. So eating breakfast outside wasn't an option for those days.
Again, this wasn't really a big issue for us. But I still wanted to mention it so you're aware of that.
How many can sleep in the Large?
According to Cruise America, seven people should be able to sleep in the largest camper van. But I don't think they mean seven adults.
There was one large doublebed in the back of the motorhome. A sleeping loft above the drivers seat and two fold out sofas that turned into beds at night.
One of these fold out sofas is supposedly a doublebed but I doubt it would fit two adults. Unless they want to sleep very close to each other. Since we were only six people – this wasn't an issue for us. We simply used it as a single bed.
The sleeping loft had a doublebed as well and it fit two adults with no problems. Tony and Jimmy shared the loft and they never felt it was crowded. They thought it was easy to get up there but you do need to push yourself up and do a little climbing on the sofas.
TIP: Many people suggest that if you're renting an RV for a long time, you might want to purchase an extra sleeping mattress as the beds can be a bit hard.
The doublebed in the back of the RV was large and fit two people without problem. The bed was quite soft and we slept comfortably in it. You can use a drapery so that the back of the motorhome becomes its own room.
Are the beds comfortable?
"They're no hotel beds but you can't expect that either. It's an RV and it was more comfortable that I thought," says Tony who was happy with his sleeping quarter.
We all agreed that the beds were surprisinlgy comfortable and good. We all slept well. Well, dad compained a little about back pain but then again, he does that at home as well so it's not only the bed's fault.
Shower & Toilet
There's a small bathroom with a cabinet with shelves behind a mirror as well as two shelves above the toilet seat with plenty of storage space. There's also a sink.
The shower is in a separate space and Tony actually was the only one who used the shower. He thought it worked well and had good water pressure. Of course, you can't compare the jets as the ones at home.
Since we often stayed in campgrounds with access to showers, we mostly used them instead. It felt like the easiest way when we were so many. Just imagine how long it would take for all of us to shower if we all had to wait for one person to be done. By showering at the campgrounds we could all shower at the same time.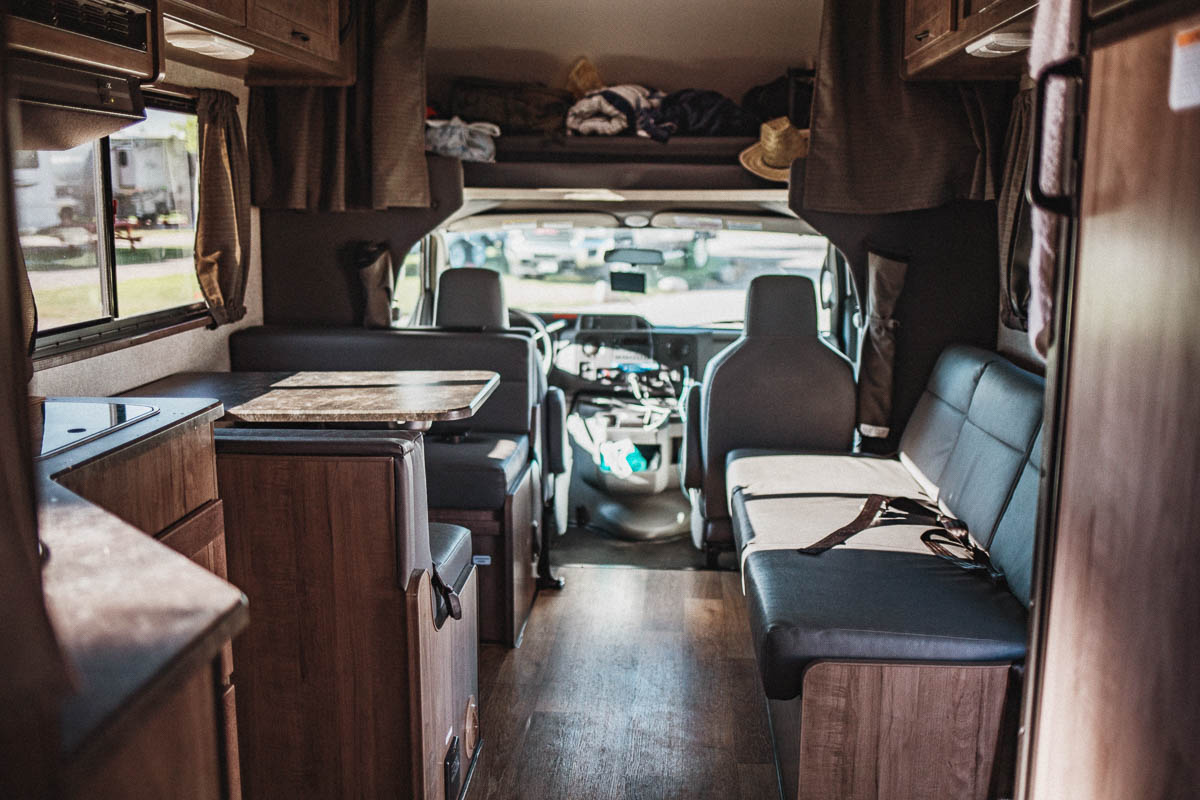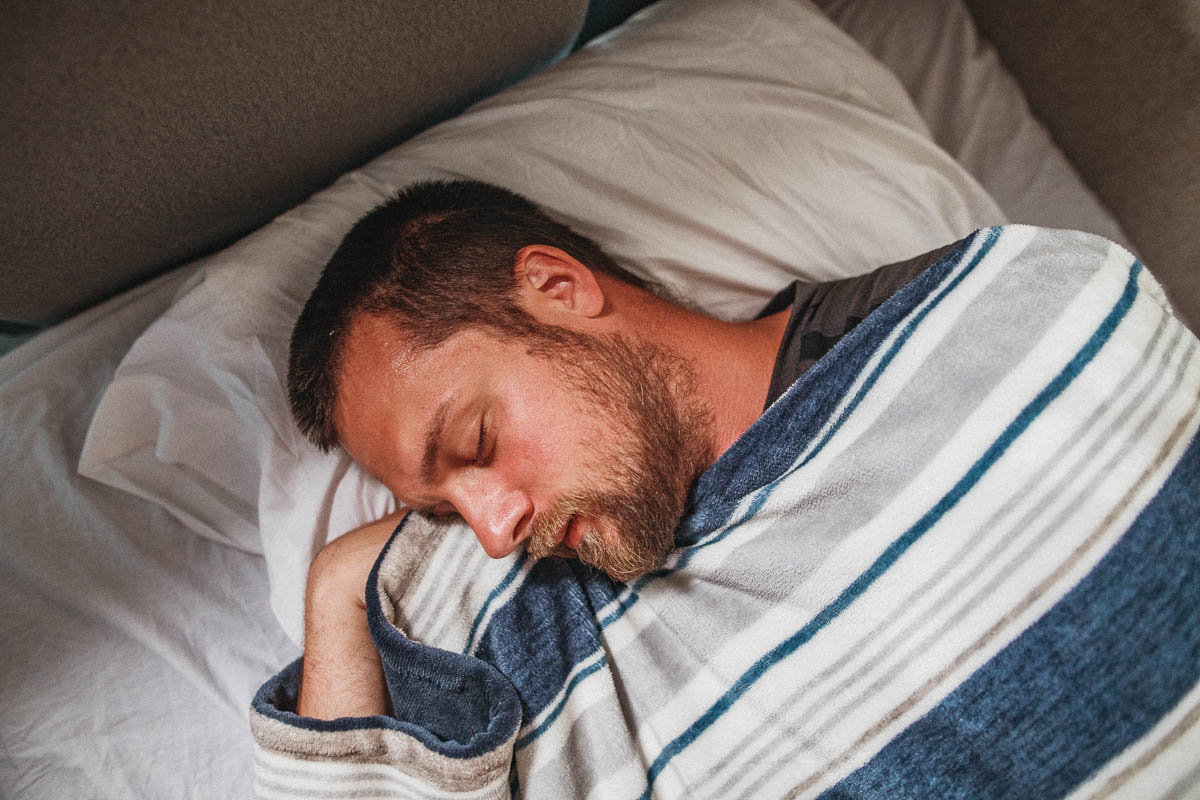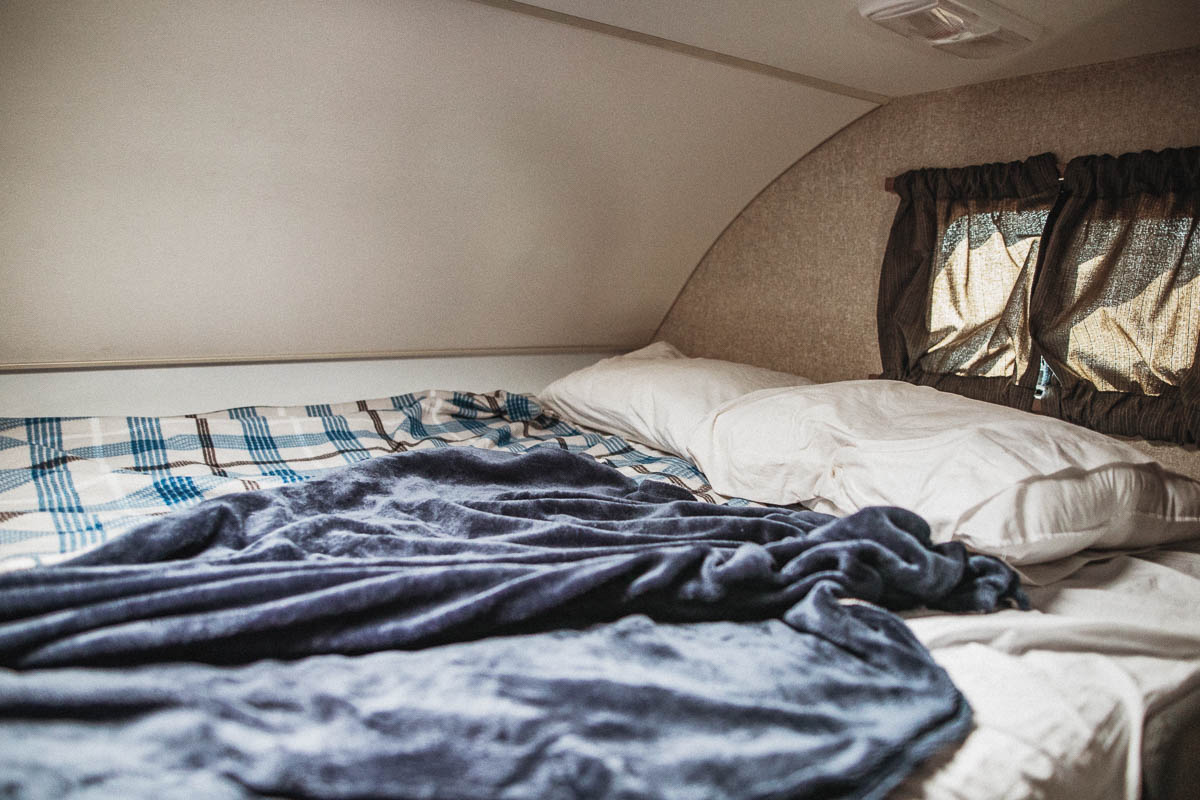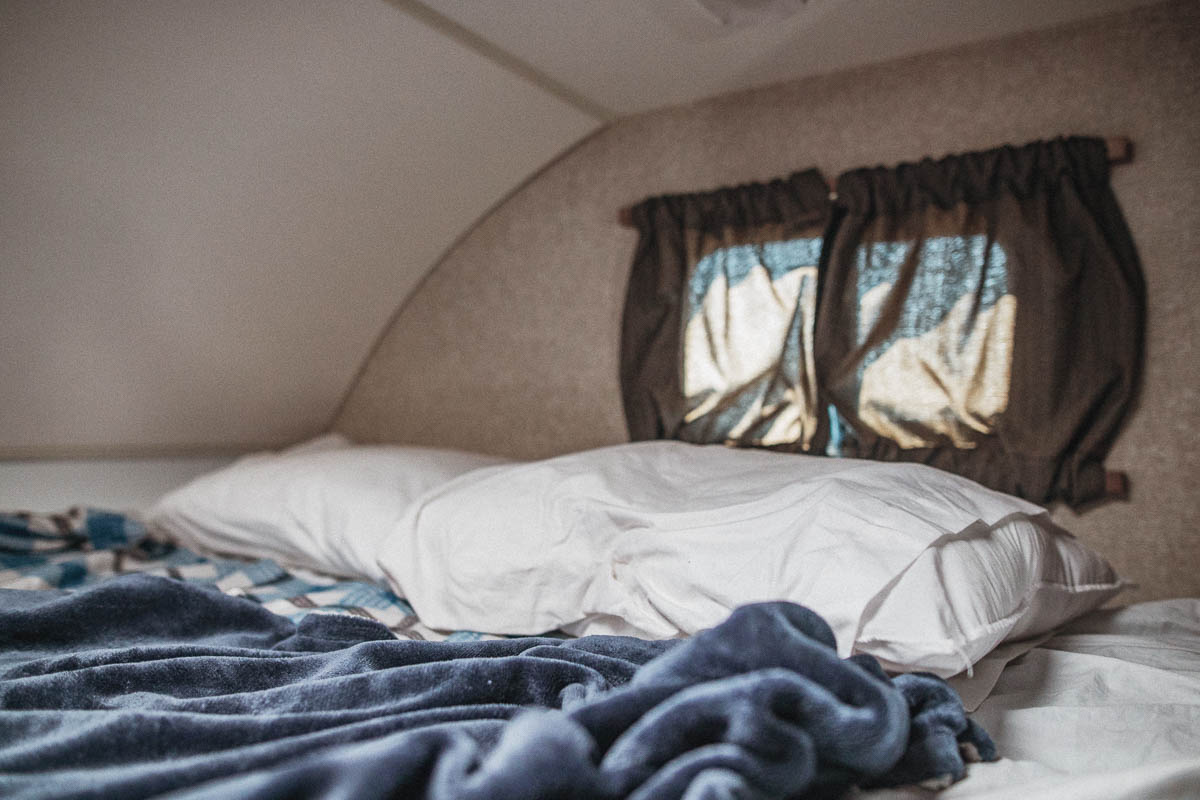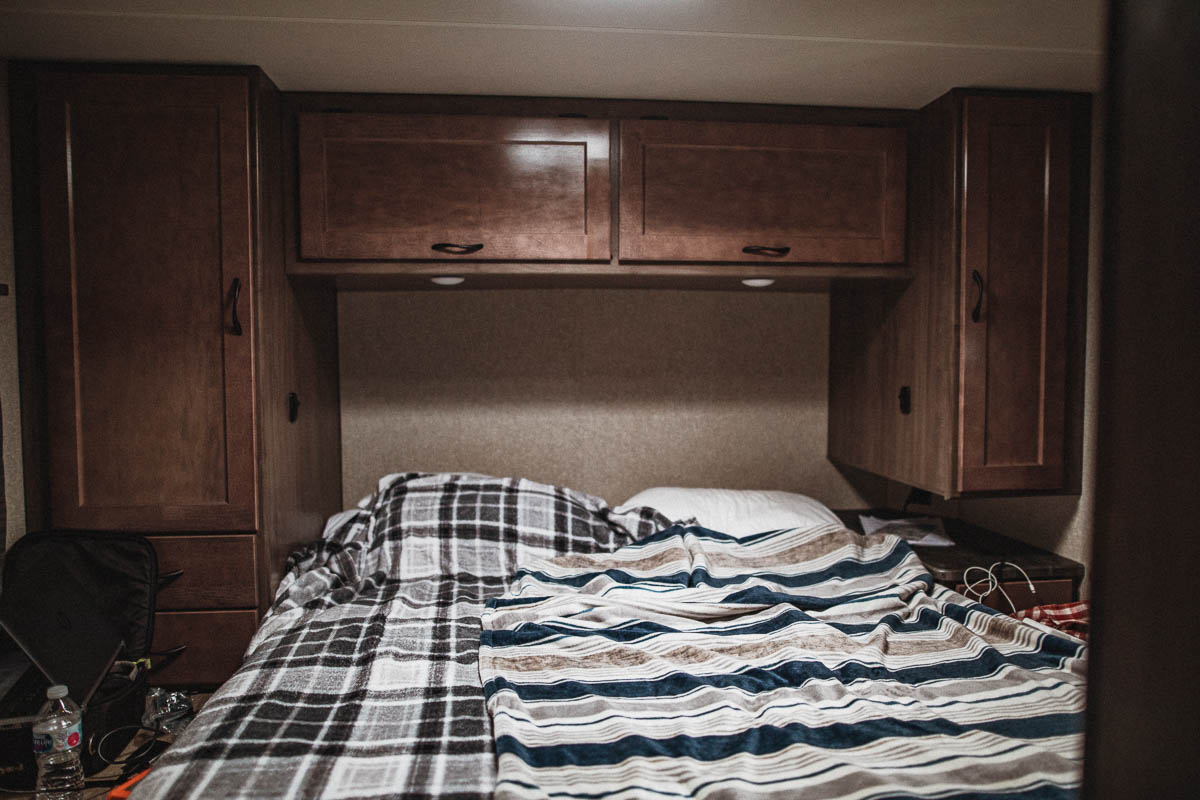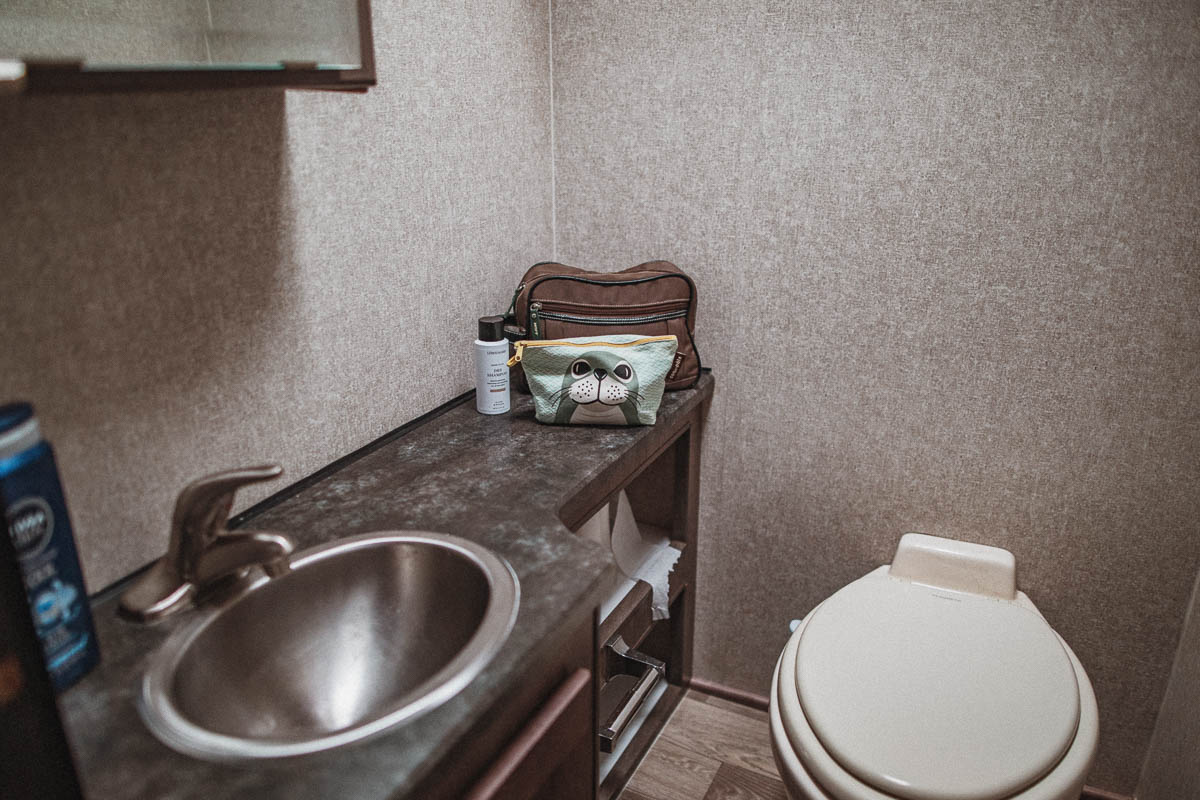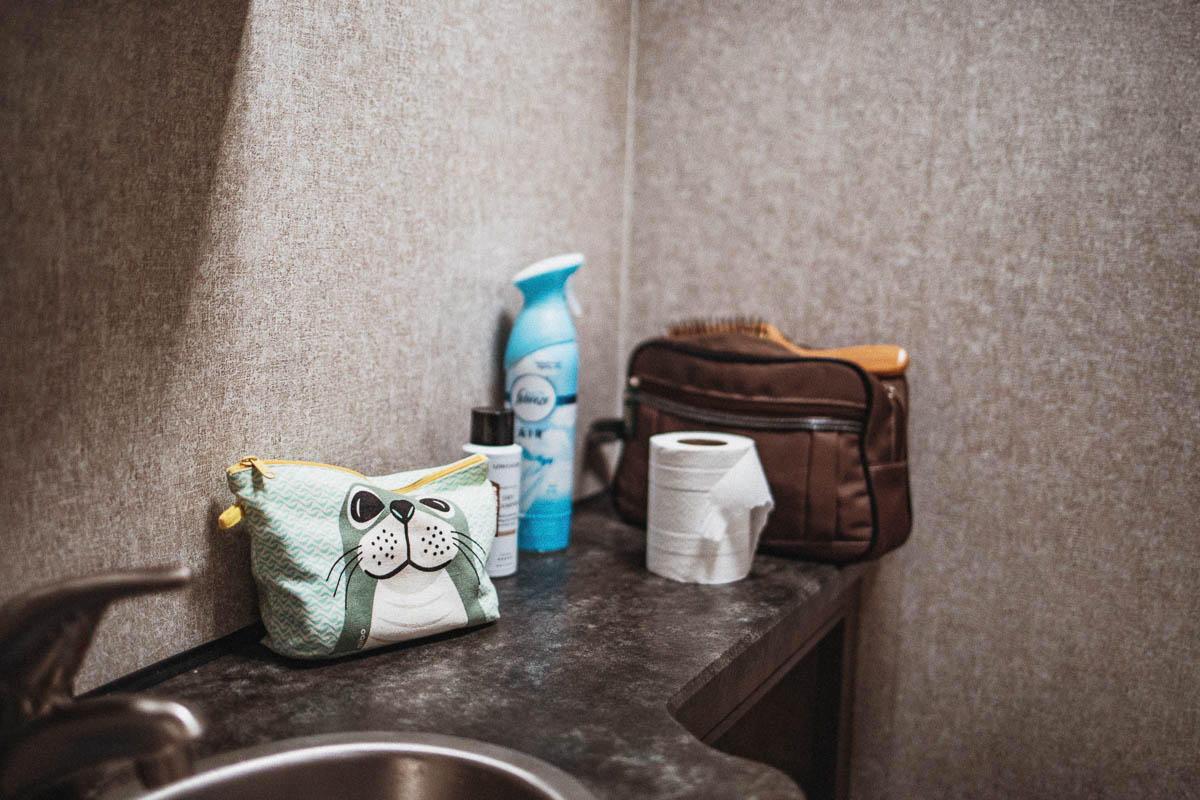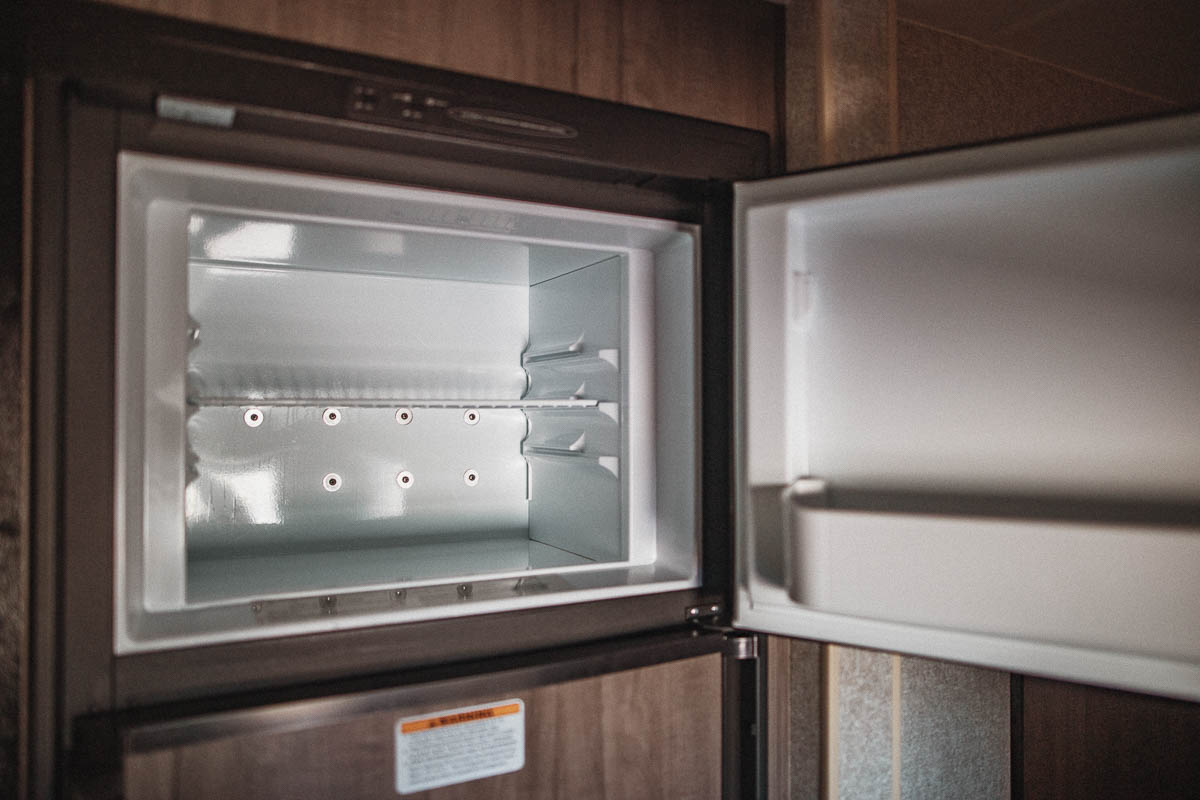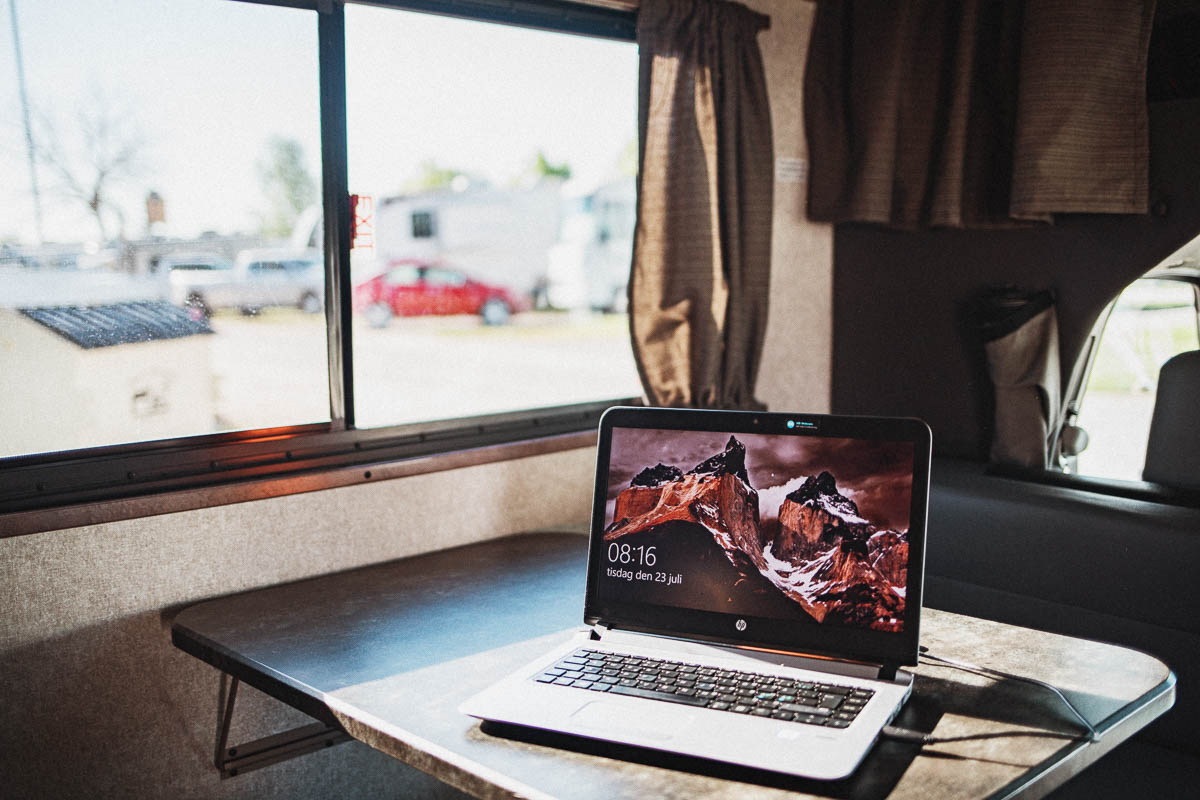 Cooking inside the RV vs BBQ outside
We actually only cooked food inside the RV once when dad wanted spaghetti and meatsauce. So Kenny was nice enough to cook for him while the others went to see a movie in Bozeman. When they came "home", they weren't too happy with the choice of food. They simply said that when we're in the US, we should eat out or at least have barbeque.
Kenny was the one who was in charge of cooking and barbequeing. He thought it worked well to cook, but it became a bit smoky inside even though he used the fan. We simply solved this problem by staying outside while cooking. Well, except for Kenny of course.
We were a little bit unlucky and there was quite a lot of mosquitoes and small bugs at the places we stayed at. But, the door to the RV had a mosquitonet so we could have the door open even in the evenings.
BBQ and burgers
We mostly grilled up meat or hamburgers on the BBQ provided at our campsites. Sometimes we had access to a firepit with a grill and sometimes we had a real outdoor grill. The most luxurious grill we had was the one at West Glacier KOA in Montana.
We also had a lot of BBQ potatoes. Cooking for six people isn't always easy so when it cames to side dishes, Kenny boiled potatoes and then mixed in some BBQ sauce and onions. Delicious and supereasy to prepare!
We also bought a lot of fresh corn cobs that we grilled. I love that!
We usually had breakfast inside
We usually had breakfast in the RV and we tried to buy ahead whenever we stopped at Walmart's. We bought a lot of bread and cheese and juice. We especially made sure to include a stop at the last grocery store before heading into a national park.
We also stocked up on water so that we wouldn't have to stop and get new water all the time. Plus, it's always cheaper to buy in bulk. Kenny also stocked up on beers and the rest of us were happy with Coca Cola, Pepsi and Fanta.
We had breakfast at IHOP (International House of Pancakes) once. Everyone was super happy with the food there but it is extremely large portions! So it became more like a brunch we might say. At least we didn't have to have lunch that day. Another day we stopped for dinner at IHOP and we weren't able to finish all the main dishes and sides so there was enough left overs for dad the next day.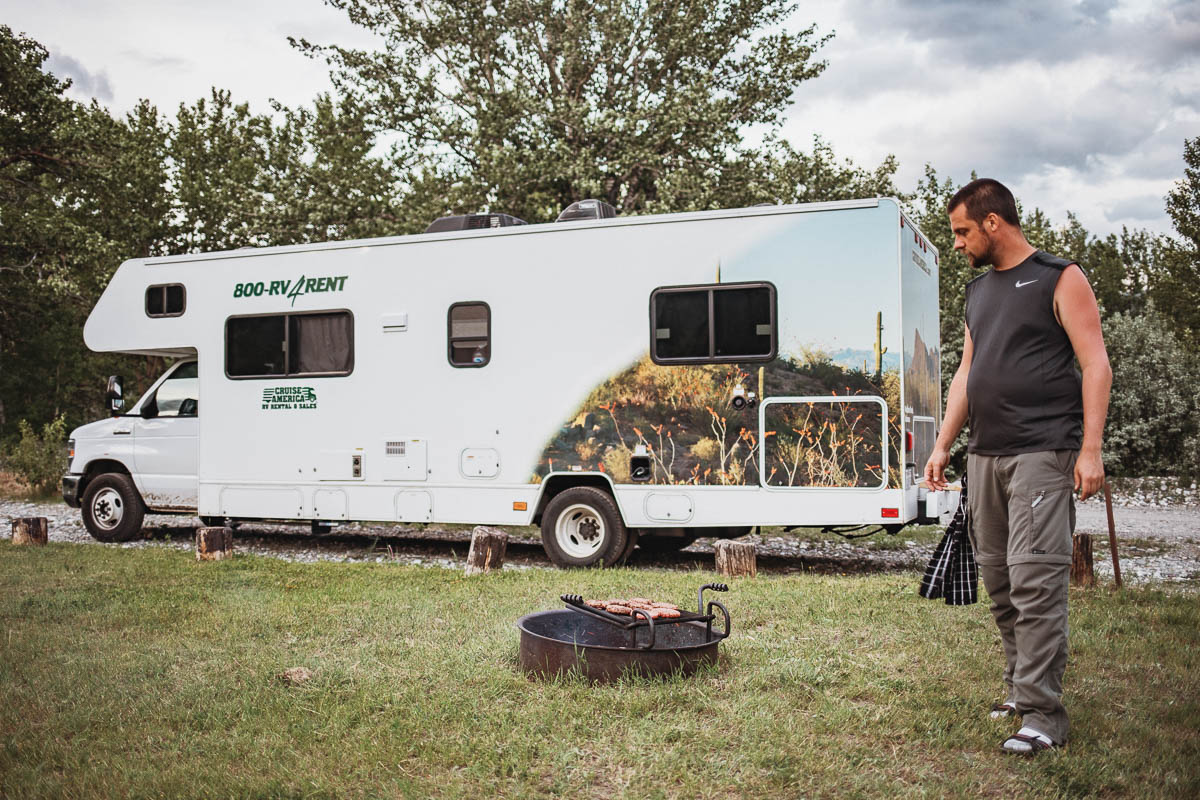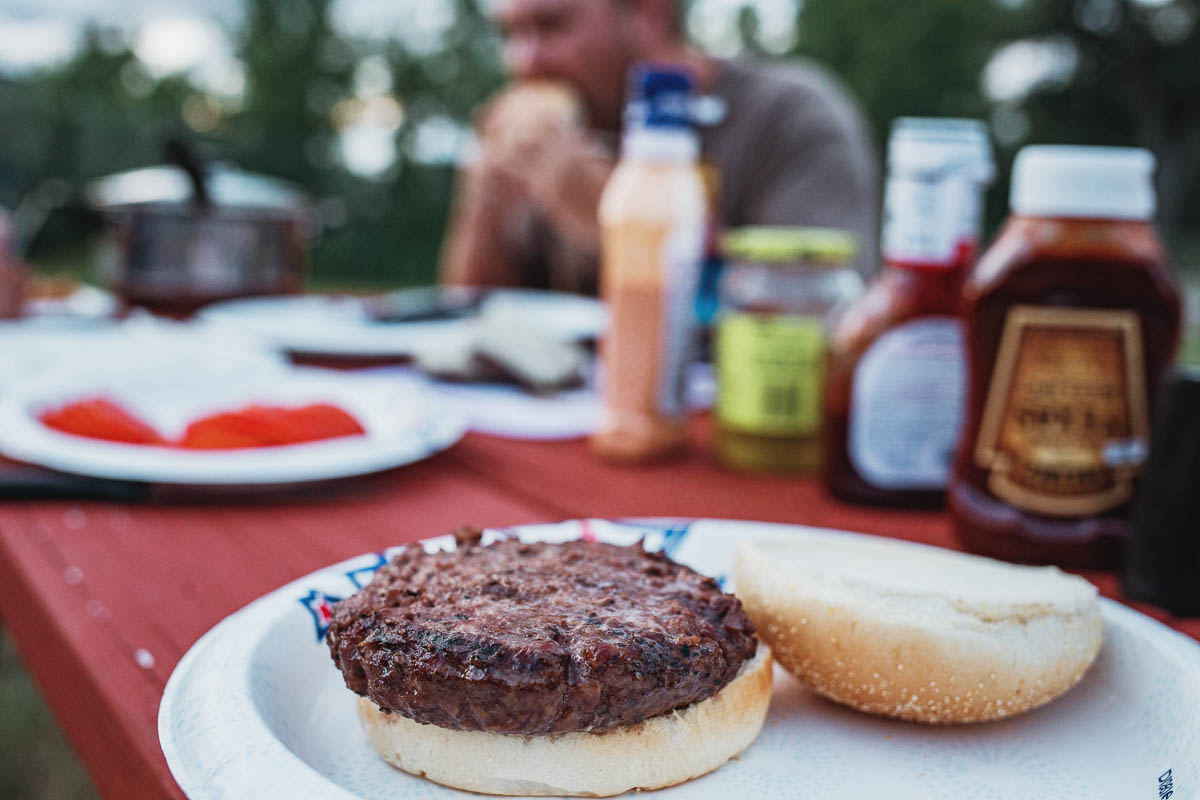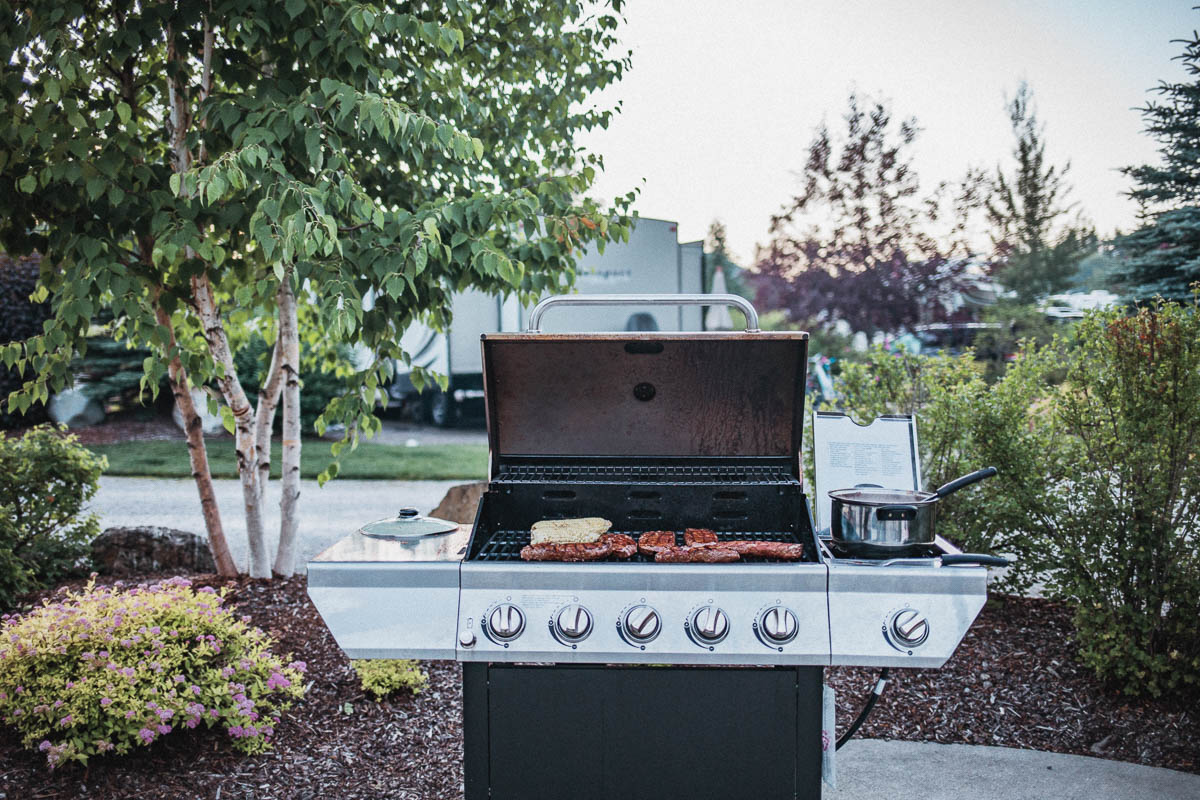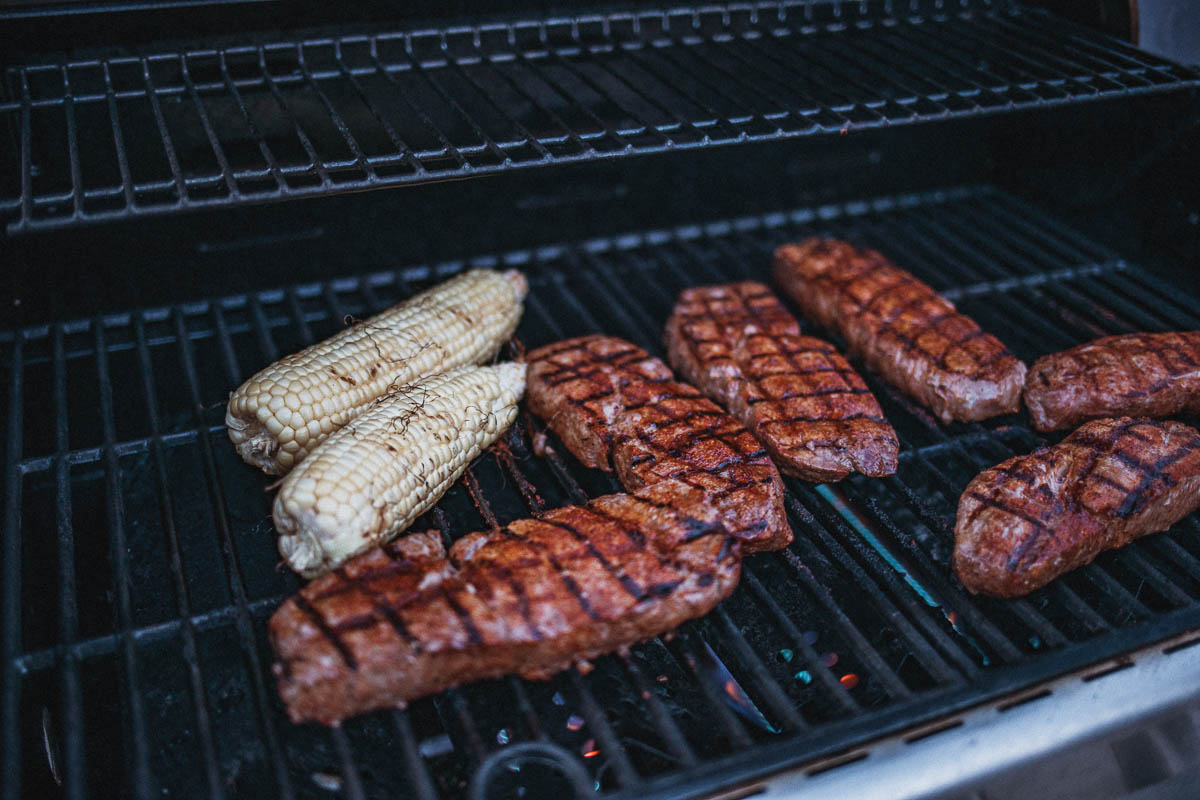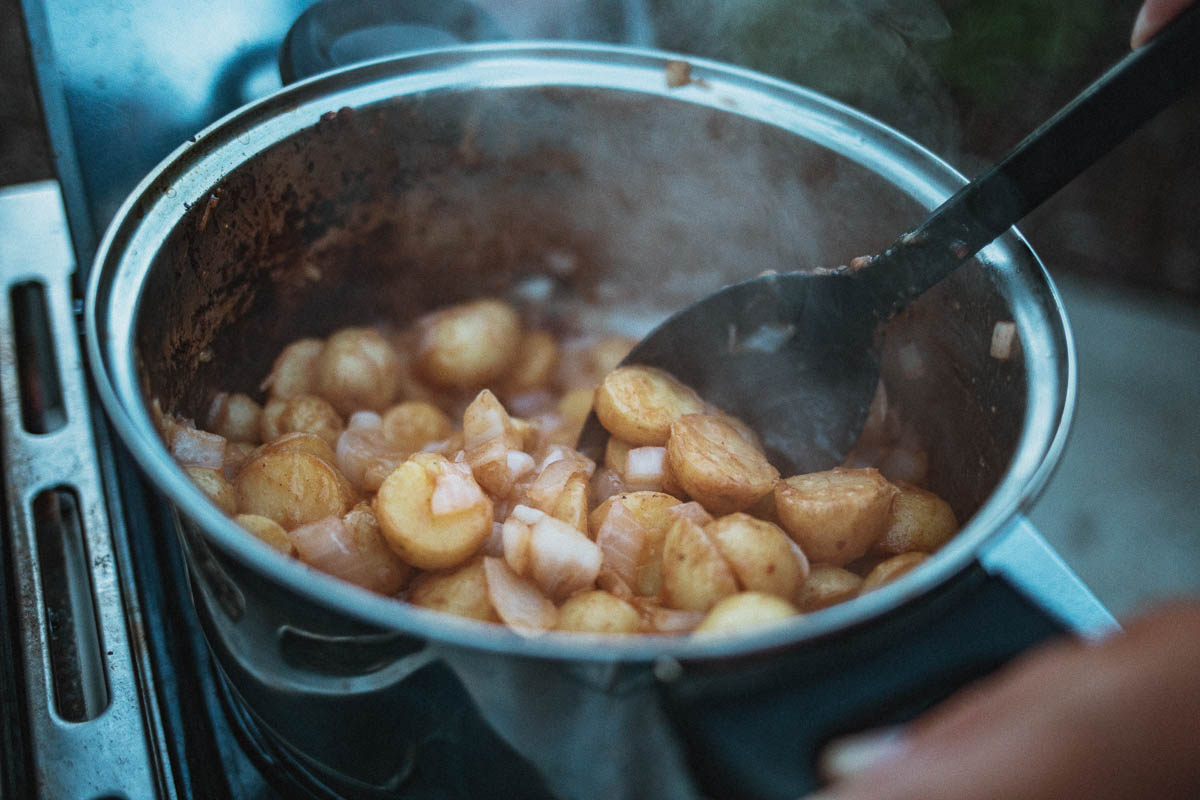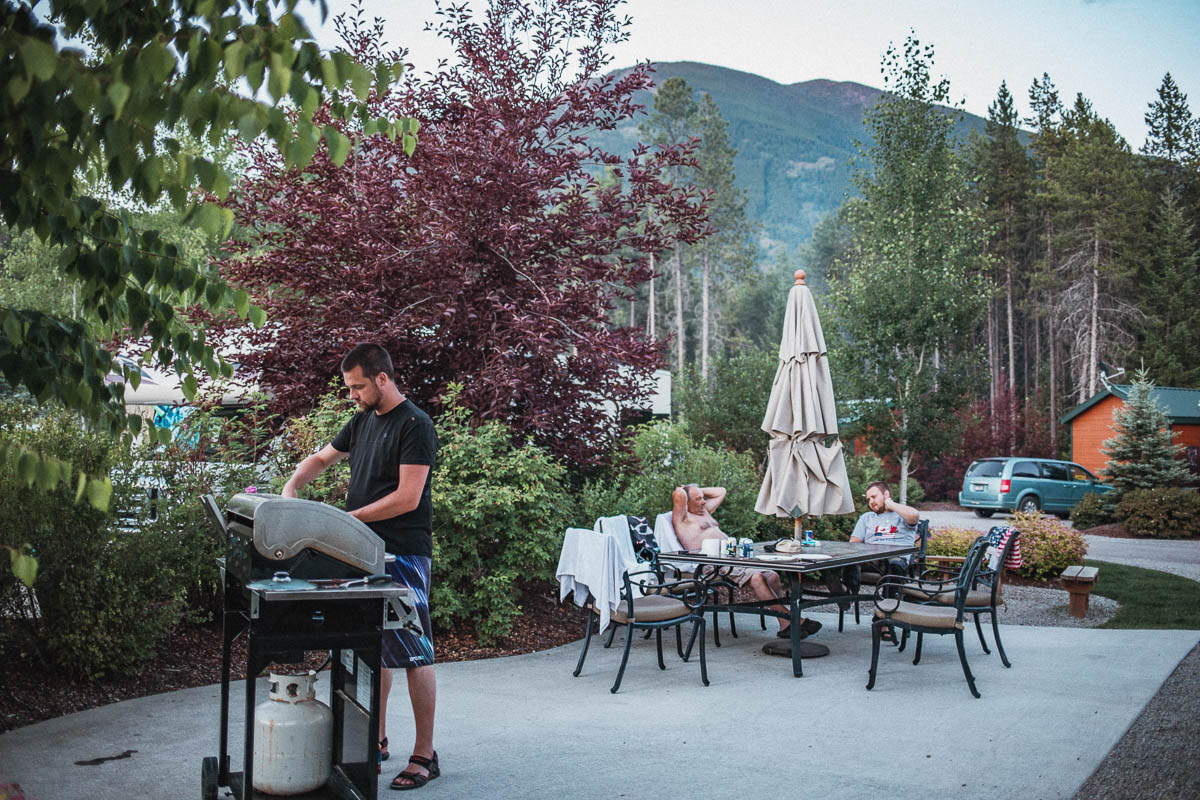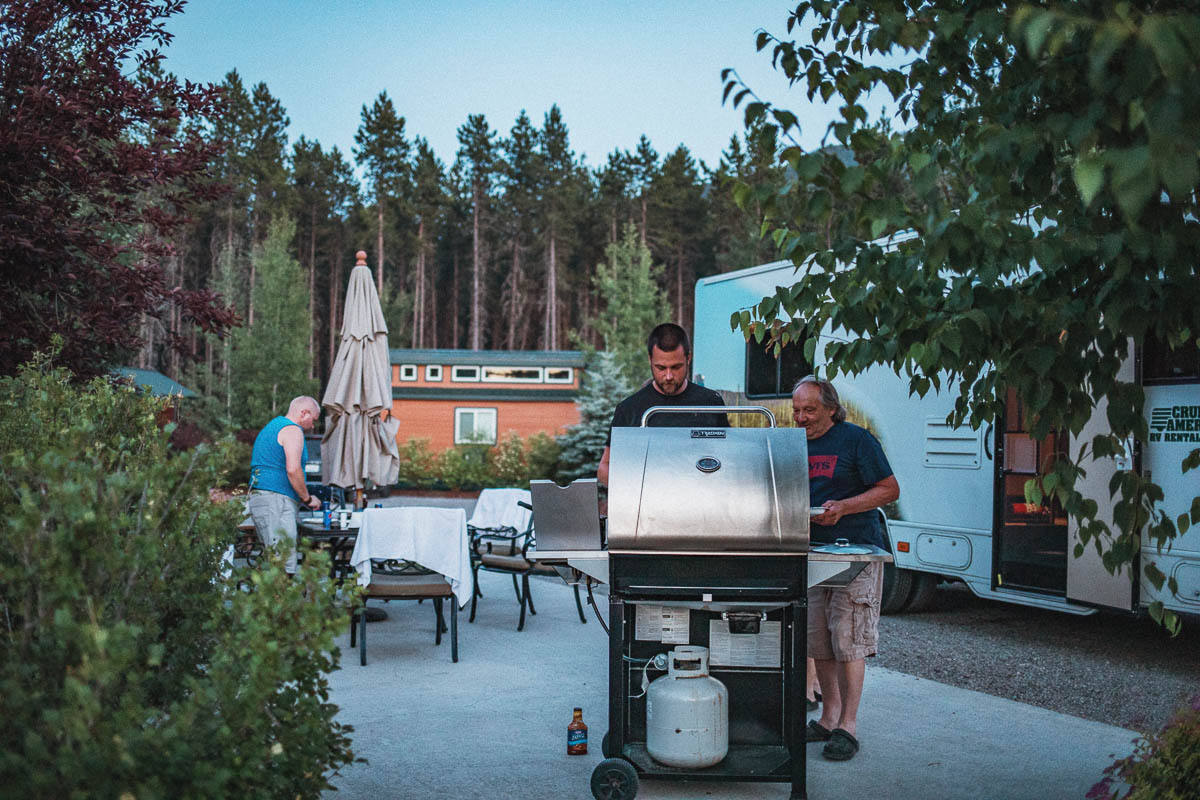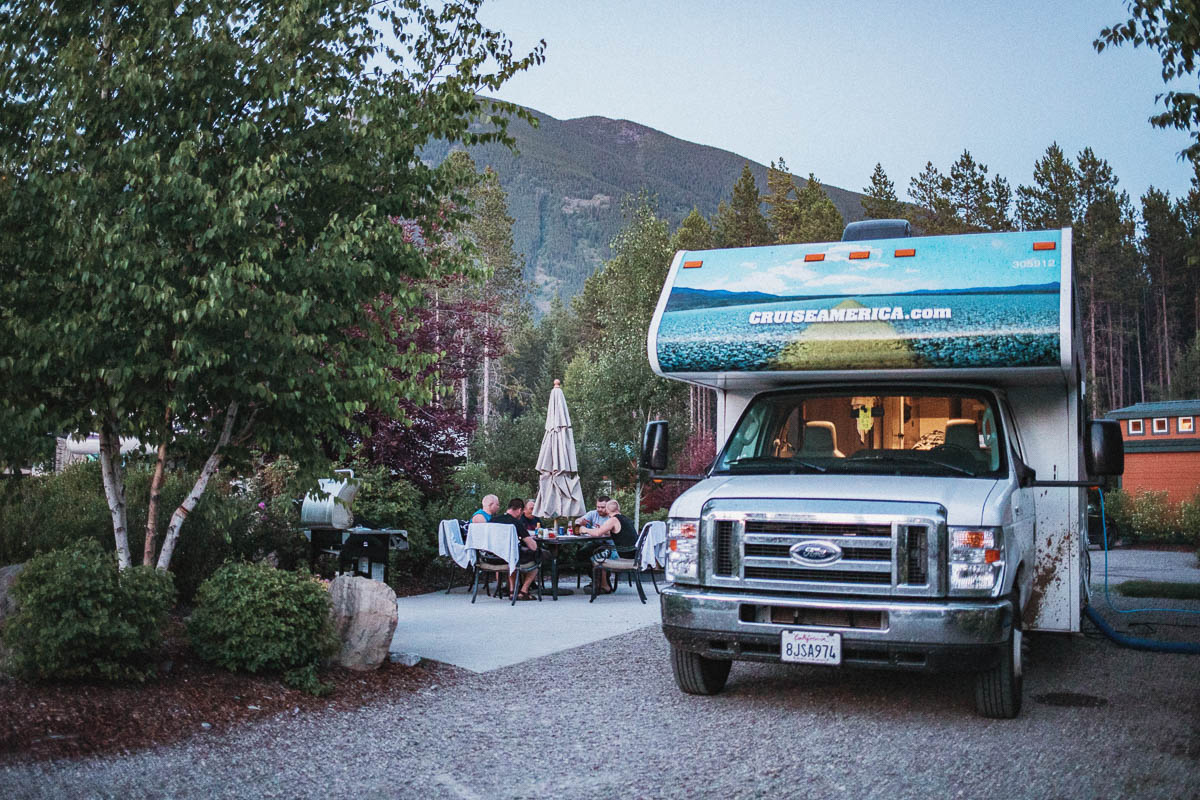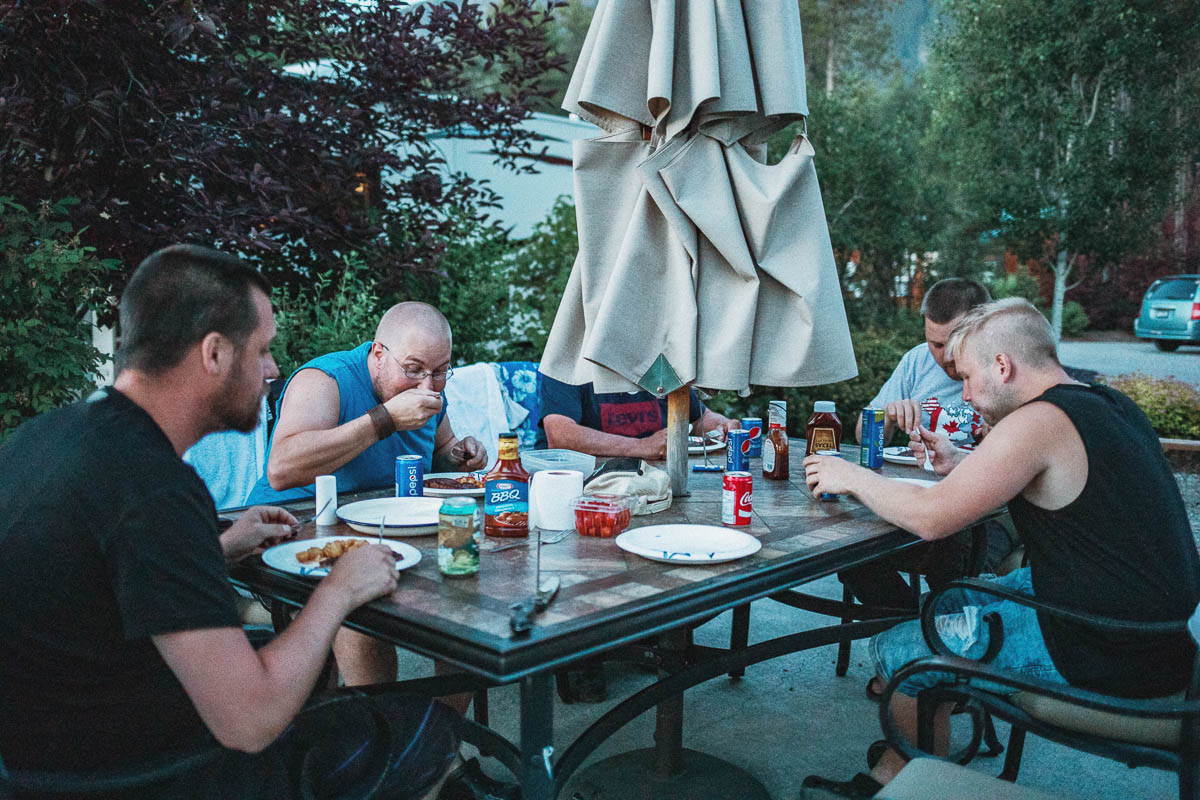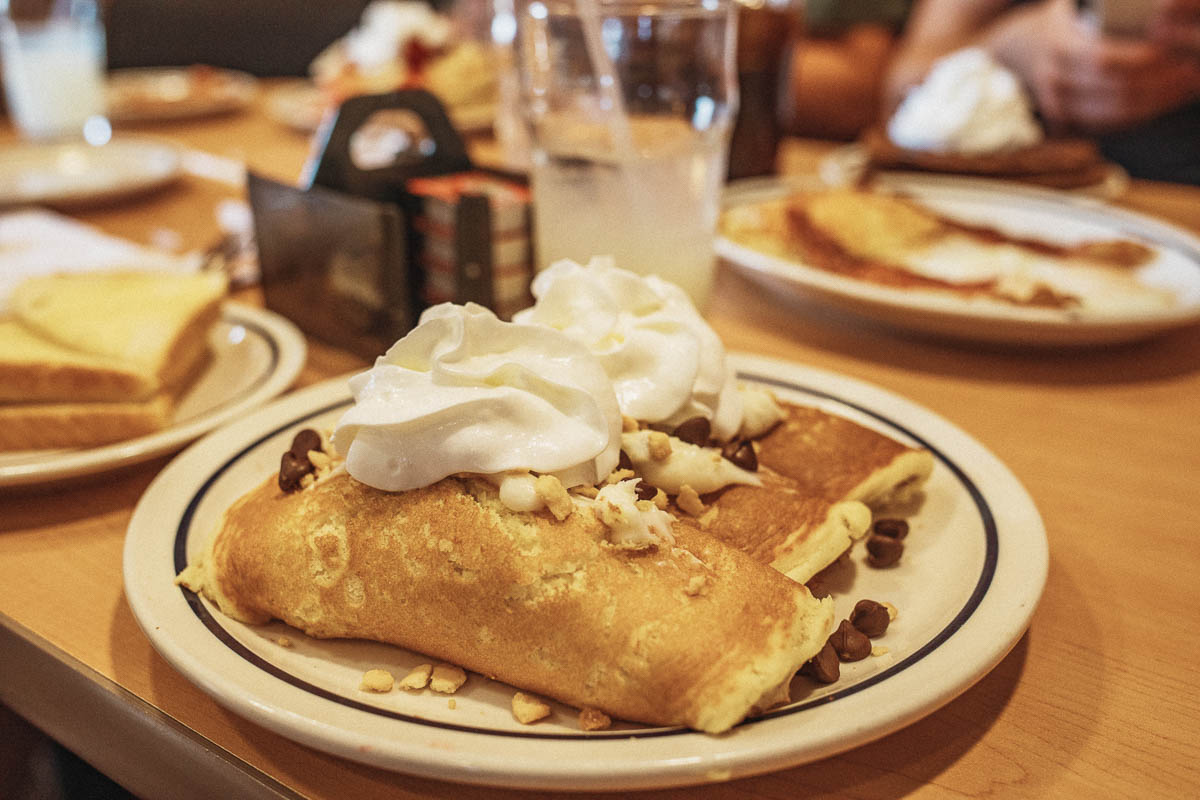 Is it difficult to drive a large RV from Cruise America?
Our designated drivers for our roadtrip was Kenny and Jimmy. So, I'll let them answer this question.
Kenny: I was a little bit nervous to drive for the very first time especially because it was dark outside at the time. It was a bit difficult in the beginning, and it felt unusual to drive such a large vehicle. So, I was a little nervous to drive that night. But it went well and it didn't take long until I felt like I'd driven it forever and I felt safe behind the wheels.
The hardest thing was to back it up but that went well too – I got help from the others when I had to back it up in tight spots. The RV is also quite high so you have to keep that in mind when you drive. You need to know the exact height so you know where you can drive it.
All in all, I found it to be easy to drive a large RV in the US because their roads are so big. It feels like the country is really adapted for large vehichles. The campsites are also large and we always got great spots. We never felt crowded at the campsites we had.
Be patient when you drive
Jimmy: No, it wasn't hard to drive the RV because Kenny and me, well, we're in a class of our own. Not everybody can be as good as us when it comes to driving an RV. Haha, no but joke aside – I think it depends on how good of a driver you are. If you're a great driver, then you probably will be able to drive a large RV without any troubles. But if you aren't the best driver, then you might think it's harder. But, if you are a terrible driver you probably should let somebody else do the driving so that you can focus on other things.
It took me a few miles before I felt used to the size of our large RV, but it always does when you're driving something new. Even if you're just renting a small regular car.
It felt a bit tricky when we were in larges cities because we couldn't always find parking wherever we wanted. But with a little patience, we always found parking and just walked the rest of the way.
When you're driving a large vehicle, finding parking can always be an issue. But just be patient and keep an eye out for an alternative route. You'll find parking eventually. We always did.
You also have to remember to take out the turns more than you do with a regular car. If you don't, you might not be able to make the turn without slamming the back end into something. It's also important to never have any loose stuff in the camper – in case you need to hit the brakes quickly. Things might fly everywhere if you're unlucky and that can be dangerous.
Another thing to remember is that driving a large vehicle also means that it can get more thirsty than a regular car. Nevertheless, since gasoline is still quite cheap in the US it doesn't necessarily mean you'll be broke at the end of the trip. But, it's always good to remember this.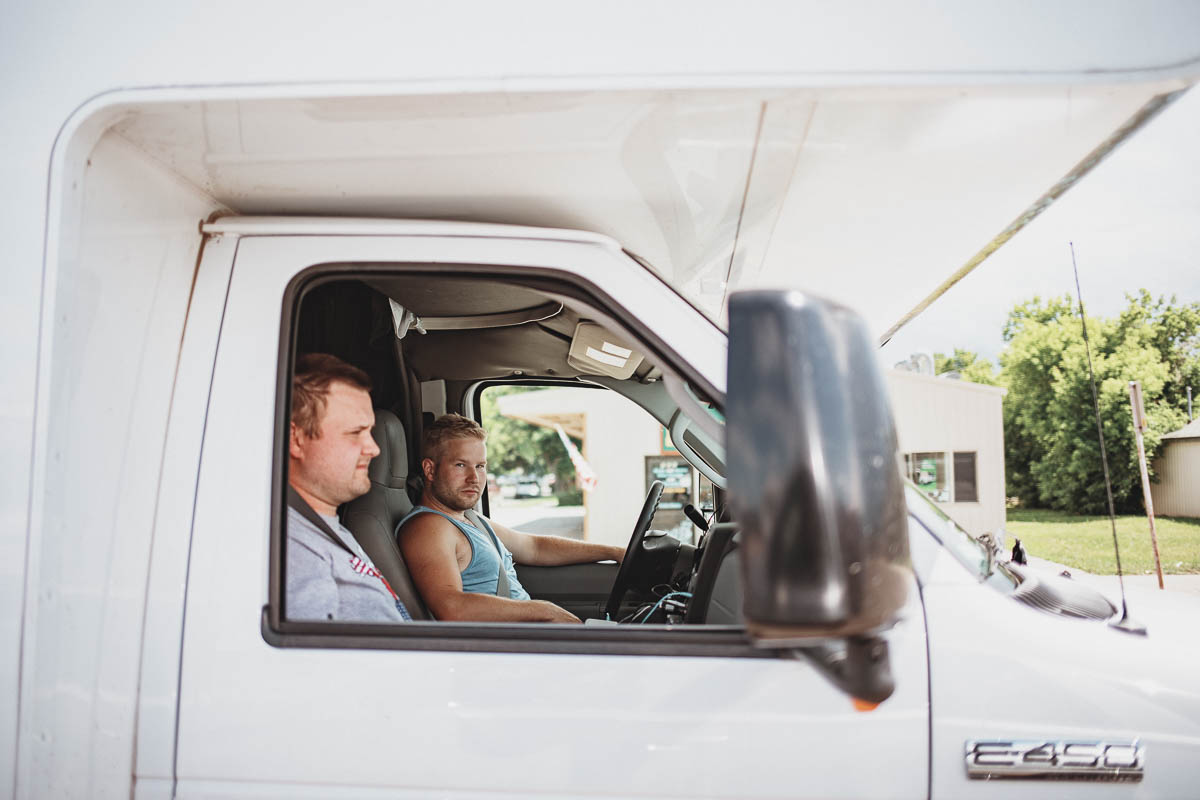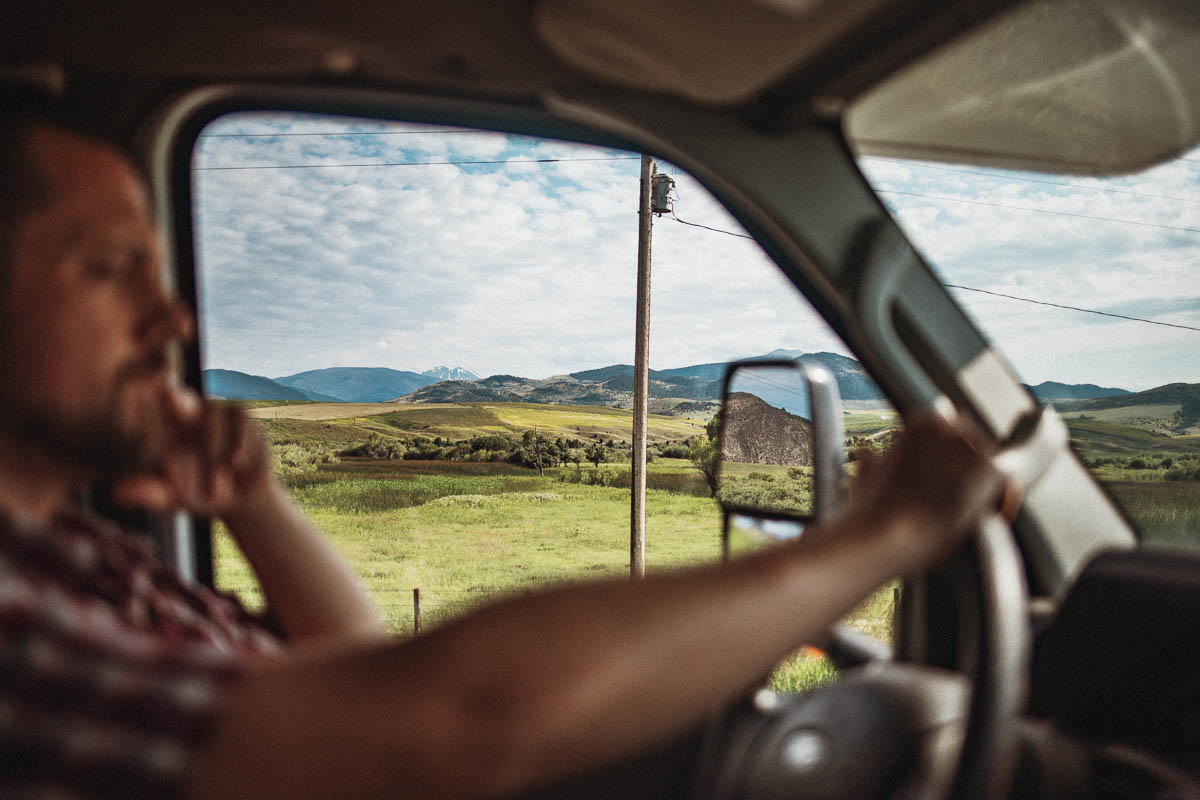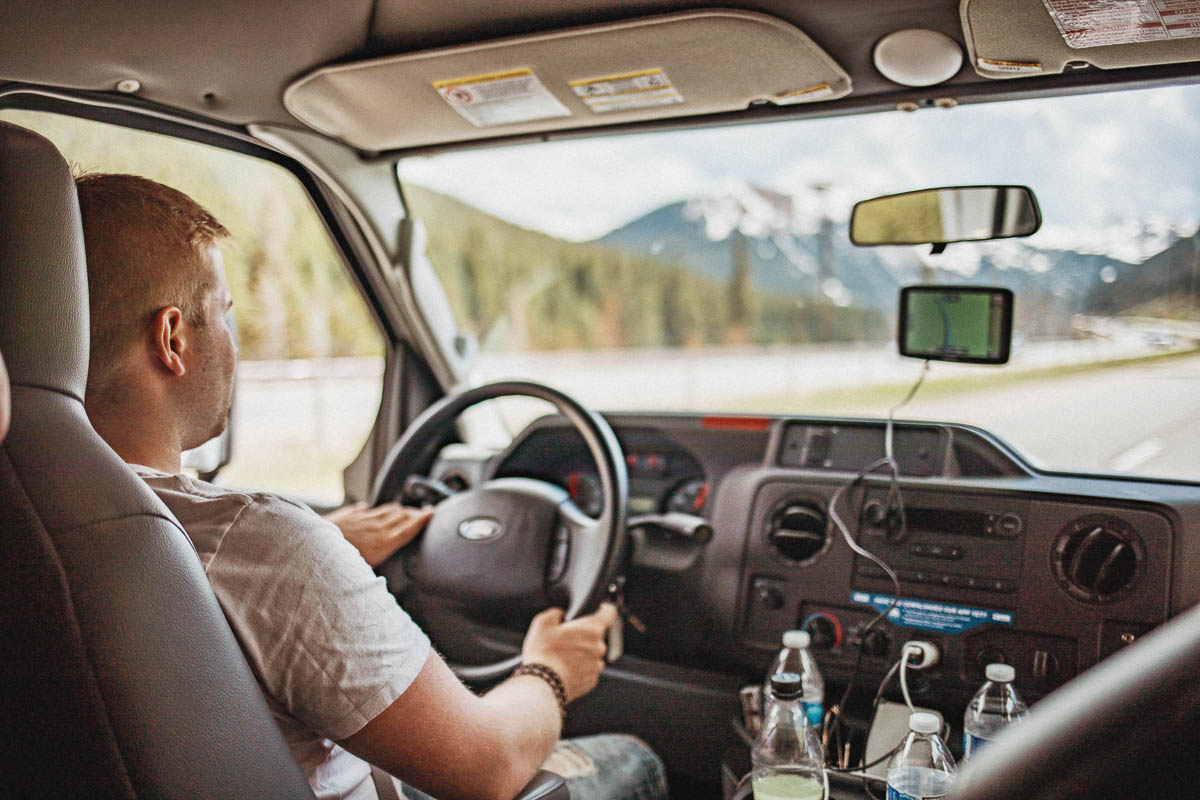 Is everything included in the price of a rental from Cruise America?
No.
In addition to the basic price, there are additional fees for:
the number of kilometers you drive
use of generator
You can also choose to remove all deductible in the event of an accident – this costs $11.95 per night. I always highly recommend this because you never know if you'll be unlucky and get in an accident. It doesn't even have to be your fault.  For us, we always feel that it's worth paying extra to avoid any deductible and also remove that extra stress from our trip.
It costs 0.35 cents per mile that you drive. One mile is 1.6 km. When you make your booking you will be asked to specify how many miles you think you will drive and then the price of this is calculated. When you return the RV, this will be adjusted and you'll never pay for a longer distance than the actual miles you've driven.
The price for using a generator = $ 3.50 per hour. What you use the generator for is air conditioning, the microwave and for electrical outlets. You can save on this cost by booking a campsite with electricity. These places are a bit more expensive than those without electricity. But if you are going to use a lot of electronics when the motorhome is stationary then it's definitely worth thinking about.
It is also possible to rent a Kitchen Kit with kitchen ware for $110 as well as a Personal Kit with towels and bedding for $60 per kit.
Kitchen Kit with kitchen equipment
In the end, we chose to include both the Kitchen Kit and a Personal Kit as it felt easier. An alternative to renting can be that you either buy the things you need when you get to the US. Or if you have room in your luggage, you can always bring everything you need from home.
If you want to buy new things then you can go to IKEA, Walmart or Target stores. They'll probably have all you need.
We didn't use all of the kitchen supplies provided and we also felt the need to add a few things that we felt were missing. Kenny wanted a sharper knife and we also brought a cheese grater with us from home. We ended up buying mostly pre-sliced cheese though.
This is included in the Kitchen Kit
Broom
Can Opener
Carving Knife
Coffee Cups
Colander
Cooking Fork
Cooking Spoon
Cookware
Dinner Forks
Dinner Knives
Dinner Plates
Flashlight
Mixing Bowl
Paring Knife
Soup Bowls
Soup Spoons
Spatula
Steak Knives
Tea Kettle
Teaspoons
Tumblers
Personal Kit with bedding and towels
The Personal Kit provides you with everything you need to get a good nights sleep.
However, on my next RV roadtrip, I think I might just skip the Personal Kit and just get my own stuff from IKEA. I'm quite picky when it comes to pillows and I ended up having to buy one anyway.
Unfortunately, I forgot the pillow in the RV when we returned it. It was a smaller travel pillow and I really wanted to bring it back home to use on airplanes.
Another tip if you do not want to rent a Personal Kit is bring towels or bedding that may be a little more worn – then you can use them one last time if you don't want to bring everything home again.
Bad luck with missing sleeping bags
We also had some bad luck with our Personal Kits. When we arrived at the first campsite, around 5 hours from Denver where we picked up the RV, we realized that there were no sleeping bags or duvets in the bag. We'd tried to check off everything before we left, but the Personal Kits came in a large plastic bag and we didn't open them until at night.
We each ended up buying a fleece blankett hat we used for the colder nights. Dad and I went all in and splurged on large blankets for $12 while Jimmy was a little more economic and found a blanket for only $5.
What we didn't know at the time of purchase was that we'd be compensated for these purchases. As long as we submitted a recepit on return to the rental location. We did try to call their customer service but never got a hold of them. We were in quite a few places with bad cell reception and then we just got forgot about it.
So if you decide to rent a kit, be sure to check that everything specified is there. Do this before you leave the rental location. And always save the recepit if you need to make a purchase due to something missing.
This is included in one Personal Kit:
Bath Towels
Dish Towel
Pillow
Pillowcase
Sheet
Sleeping Bag/Comforter
Wash Cloths
You need to add tax to all prices.
Using the generator
When we started our roadtrip driving out from Denver, we didn't use the generator. But it wasn't long before we realized in order to be able to use the air conditioning during the drive – we would have to start the generator.
We also used the heat function a few nights when we were in northern Montana where it was a bit chilly at night. We only had it on for a little while because otherwise it would get too hot inside – especially in the "bedroom". It felt like waking up inside a sauna!
Other than that, we didn't really use the generator so much. We often had access to electricity at the campground. And when we didn't, we took the opportunity to recharge all our electronic devices before we parked the motorhome for the night.
When should I rent an RV from Cruise America?
This is perhaps the most difficult question of all.
We're all different and we all like different things. And more importantly, we all have different wishes about what we want to experience and get out of a trip. Just because I like to wake up in the middle of a national park, it doesn't mean that you do as well.
Like always, there's also both pros and cons for this type of traveling.
I would recommend renting an RV if you
love nature and want to stay in campgrounds
plan to visit many National Parks
want to be flexible and not plan too much in advance
don't have to unpack and unpack the whole bag when changing hotels
I do not recommend renting an RV if you
want to arrive quickly (it generally takes longer to get around with a camper)
will spend most of the trip in big cities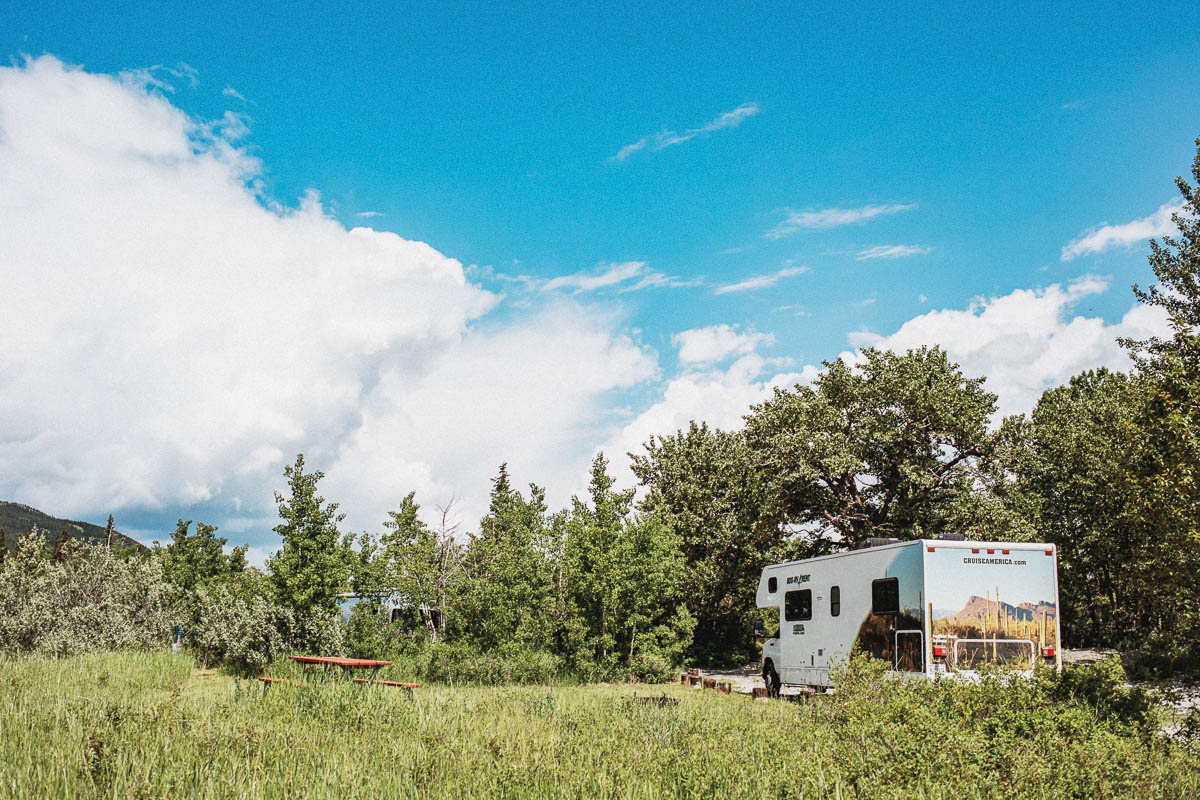 RV travel – all the pros
Everything is in place in the RV – bed, refrigerator, toilet.
You can stay inside National Parks without getting ruined by expensive hotels.
Even if you don't stay in National Parks, you have the opportunity to be right in the middle of nature.
You don't need to unpack and repack all the time.
It is possible, for example, to play card games while driving because you have a table.
You can save money on meals by having breakfast instead of eating out. We usually ate breakfast in the camper and also either lunch or dinner. We usually eat a meal out as everyone in the company thinks it is part of the whole experience of the roadtrip.
RV travel – all the pros
You can't drive on every road.
Finding parking can be tricky.
It was difficult to have a conversation with all the passengers – especially if you sit in front and the one you want to talk to is in the back. The noise level was quite high in the camper we drove.
That you are very close to each other all the time. It is not really a problem as long as you are aware of this and that you enjoy your travel company. Still worth thinking about before booking.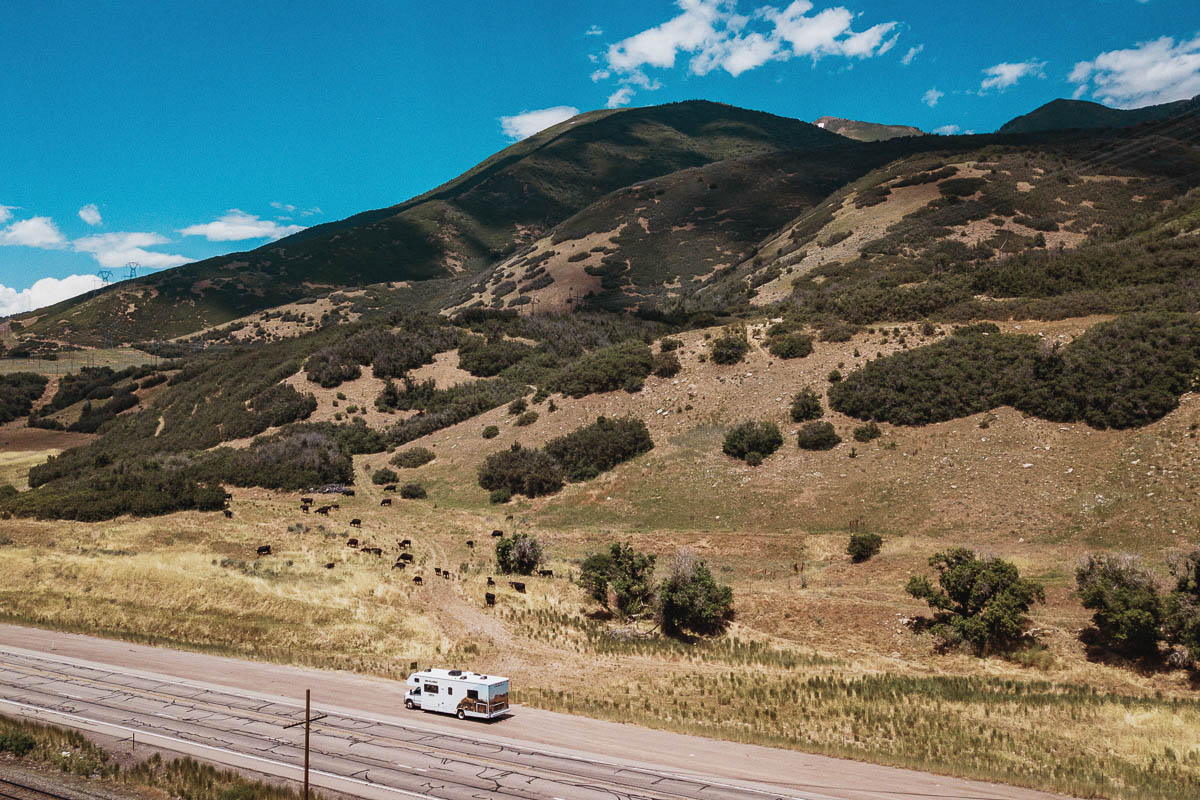 Who can rent an RV from Cruise America?
At Cruise America you can rent a camper if you are 21 years of age or older. Of course, you must also have a valid driver's license and a well-known credit card such as Visa or Mastercard.
International driver's license is not needed but we chose to get it anyway.
Everyone who will drive the motorhome during the journey must be present at the pick-up. All drivers must also agree to the agreement and sign it.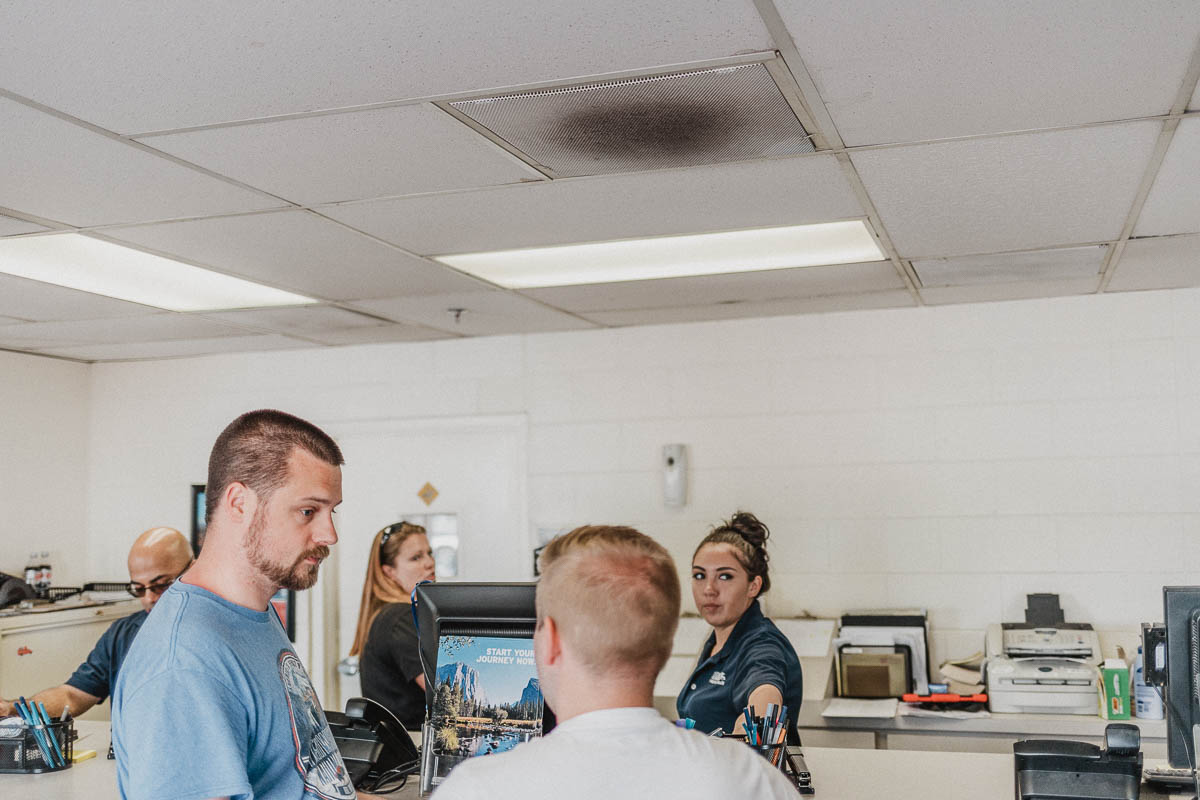 Where can I drive my Cruise America RV?
It is possible with one-way rental at Cruise America but you need to be out in good time with your booking and be prepared for an extra fee for this. However, it may still be worth paying the extra fee if you don't want to return to the same place.
If you rent a motorhome in the US with Cruise America, you can drive the motorhome in the country, as well as in Canada.
Cruise America also has rental cars in Canada under the name Cruise Canada. Therefore, you can rent a motorhome in the US and drive into Canada – or rent a motorhome at Cruise Canada and drive into the US. However, one-way rentals is not possible between the two countries.
You are not allowed to drive the camper into Mexico.
Special rules also apply to travel in the following places:
USA
Alaska
Manhattan
Death Valley
Canada
Yukon
Northwest Territories
Newfoundland
This information is only for international renters. Different rules apply for American/Canadian renters so be sure to always check the current rules on Cruise America's website – they may have made changes after publishing this post.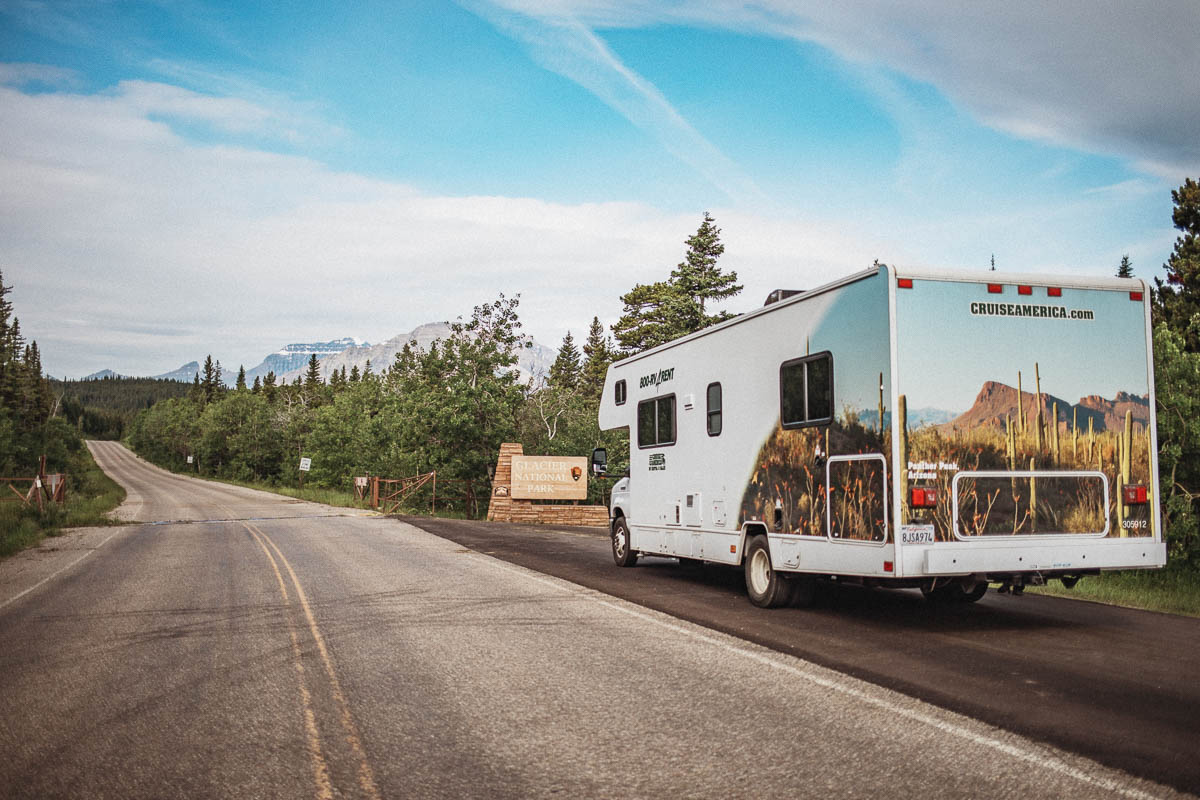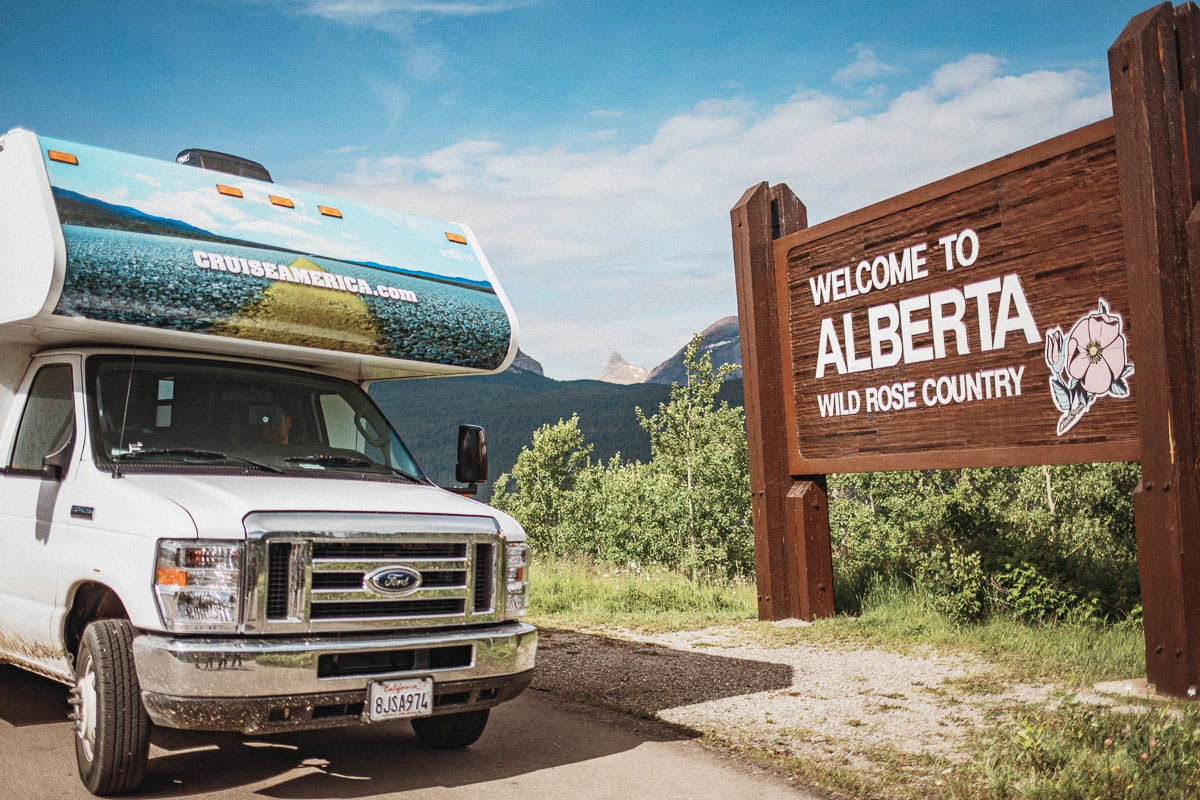 Should I use Google Maps or a real GPS?
As much as I love Google Maps, I still prefer an actual GPS when it comes to driving in other countries. Although Google Maps is a nice addition because it does enables me to get live updates in case of an accident along the way.
Something that I love about a GPS is that the screen is usually much larger than my phone screen. And the fact that I don't have to use my phone is also great. My GPS has a great bracket and attaches to the surface really well.
I use the TomTom GO which is the cheapest variant from TomTom. Prior to this RV adventure, we purchased a map of the United States since we only had a European map before. It was possible to buy a regular map of the USA or a motorhome-adapted map. However, we chose the usual one because I already had a good look at which roads we could not drive with the RV.
TomTom also has a special GPS for those who drive a lot of motorhomes and that helps you find the right route for motorhomes. You can also customize the navigator and use it when you're driving a RV, a caravan or a regular car. The navigation and routes will be adapted to your current vehicle.
Since I use a GPS from TomTom myself, I'm only familiar with their products but I'm sure all the other brands has similiar choices.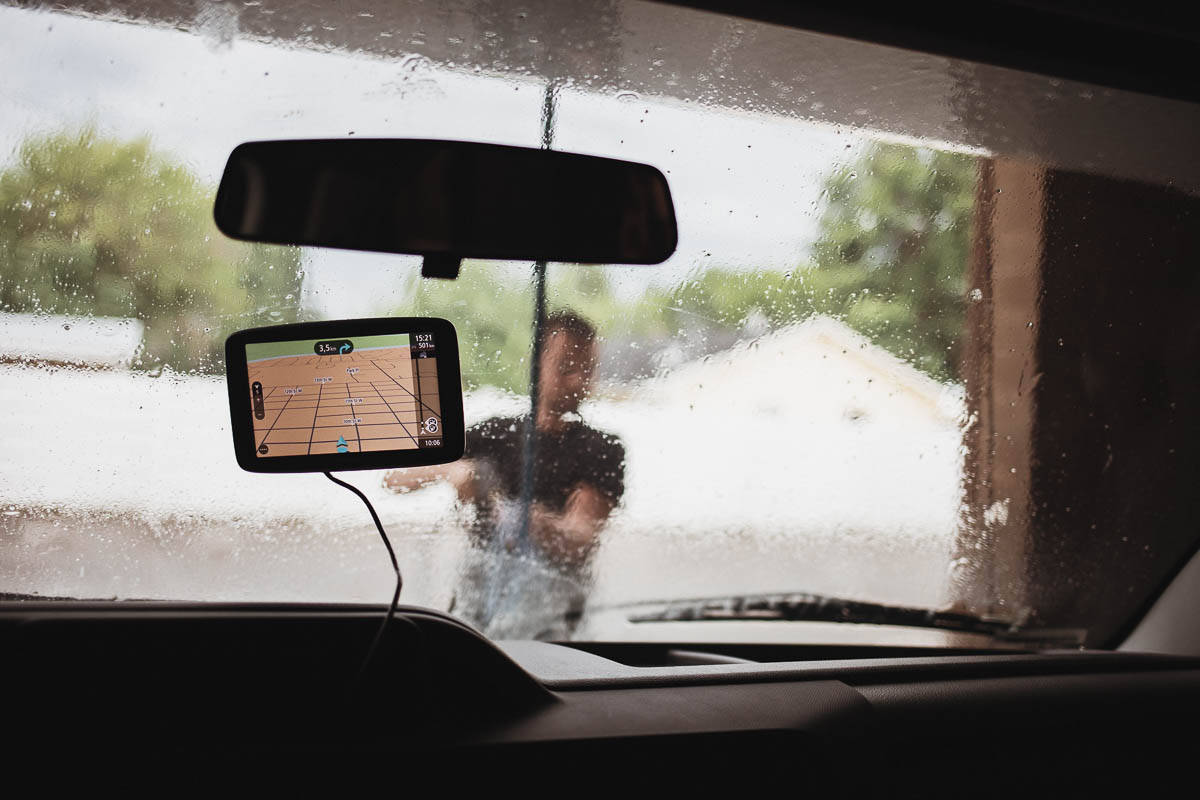 A few things you should know about renting an RV
Traveling with a RV is a really popular way of travel in the US. With Cruise America the price varies depending on season, location and availability. Summer is high season and prices are usually a bit higher during these months.
Always read through the terms of the rental.
Double check that the motorhome is insured – at Cruise America all insurance is included, but it never hurts to double check like this regardless of who you choose to rent with.
If something happens, take pictures and make sure you get a copy of any police and injury report. When you rent an RV from Cruise America you should always report an accident directly. All this is also in the terms.
As a customer, you are responsible for checking engine oil, fluids and coolant levels at each refueling. You also have to report if something breaks right away. For example, if you need to refill oil during the trip, you pay for this on the spot but you get the money back when returning the motor home.
You need to call Cruise America some day before it's time to pick up your camper van. This is to determine exactly what time you should come and pick up the camper.
Always go through the RV at the rental location. We did this together with one of the staff. I also took pictures of the motorhome in addition. I always do this when I rent a vehicle.
At Cruise America, you must deposit a deposit of $ 500 when you pick up your camper. This amount will be refunded when you return the motor home.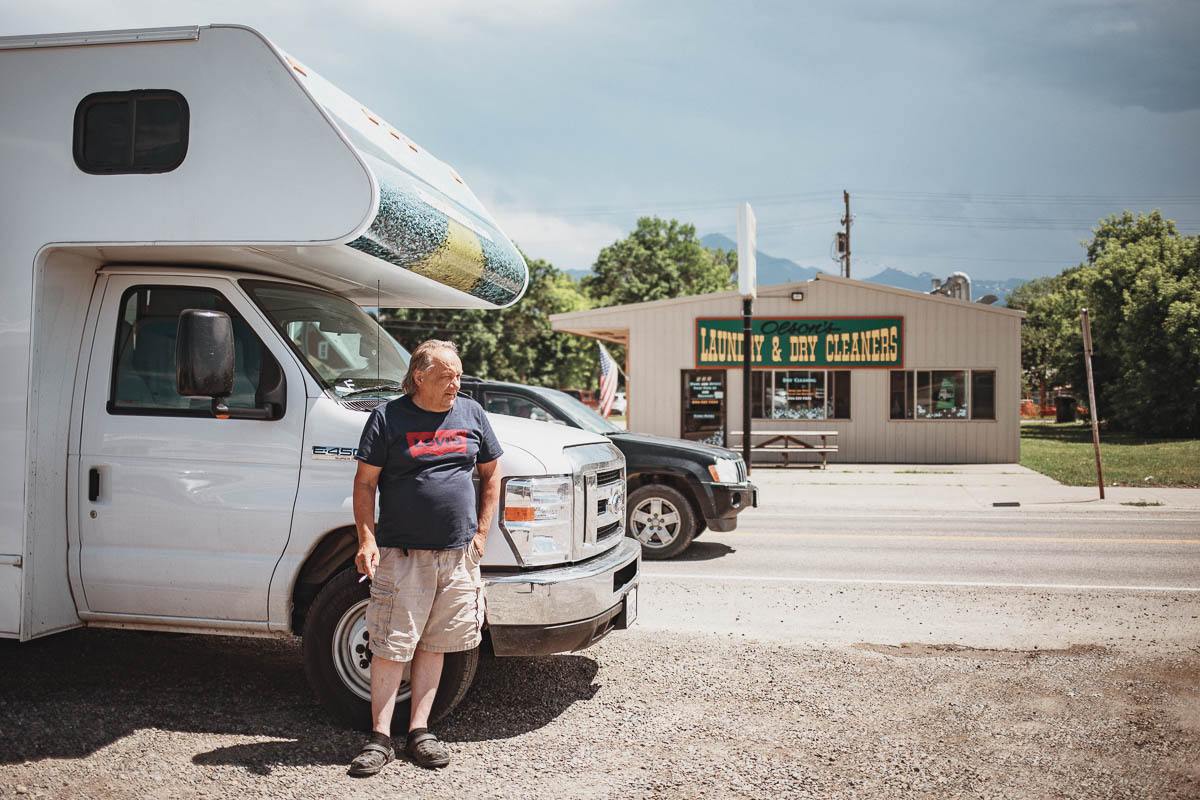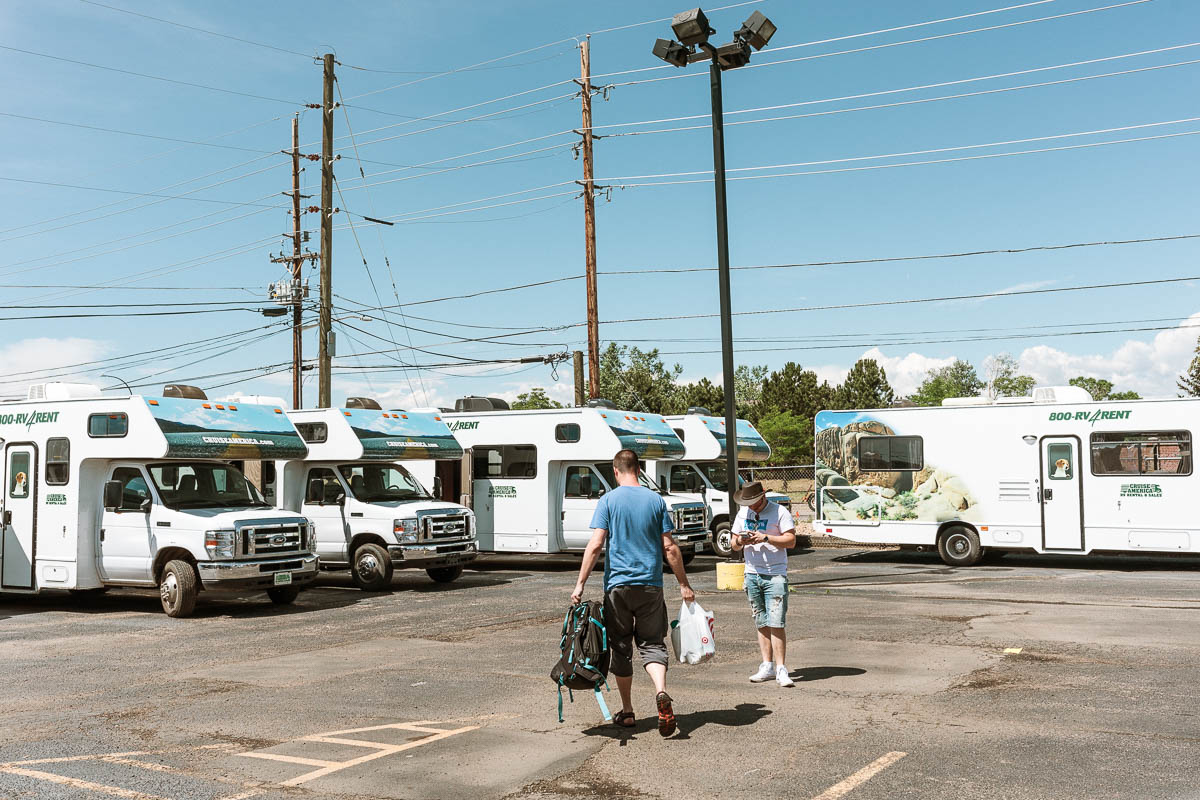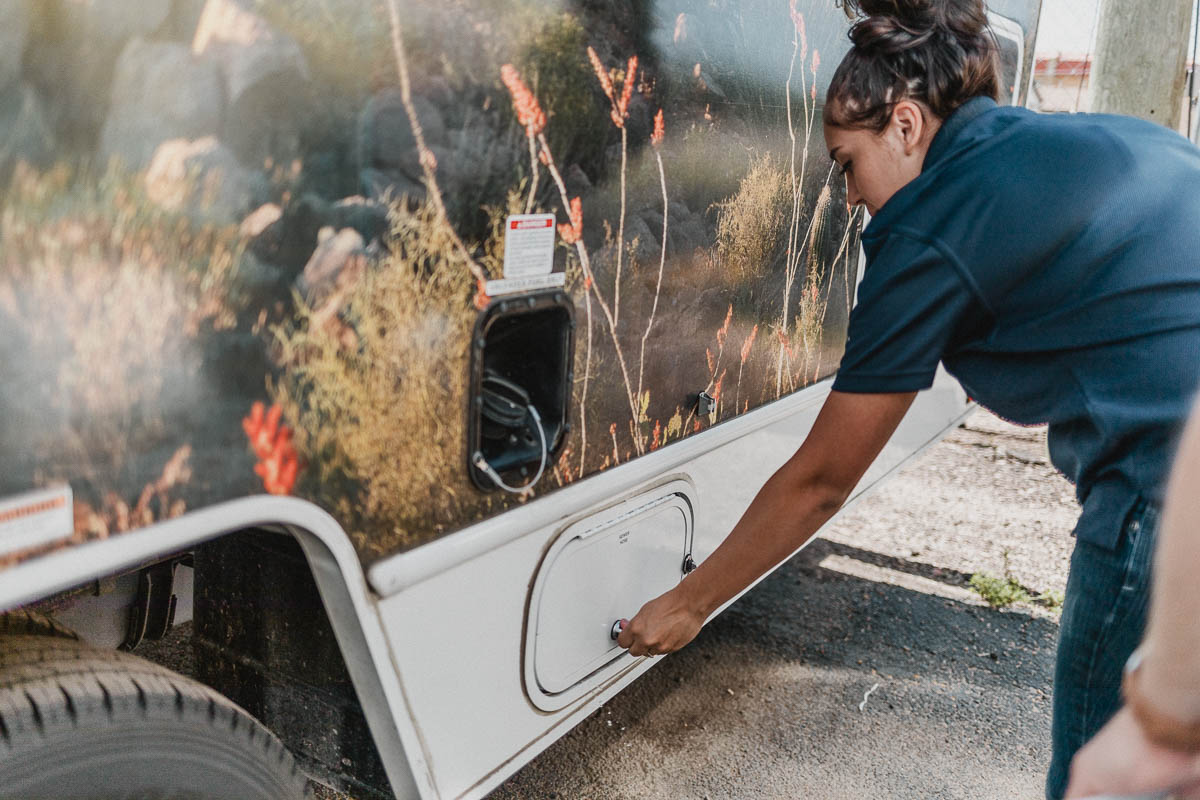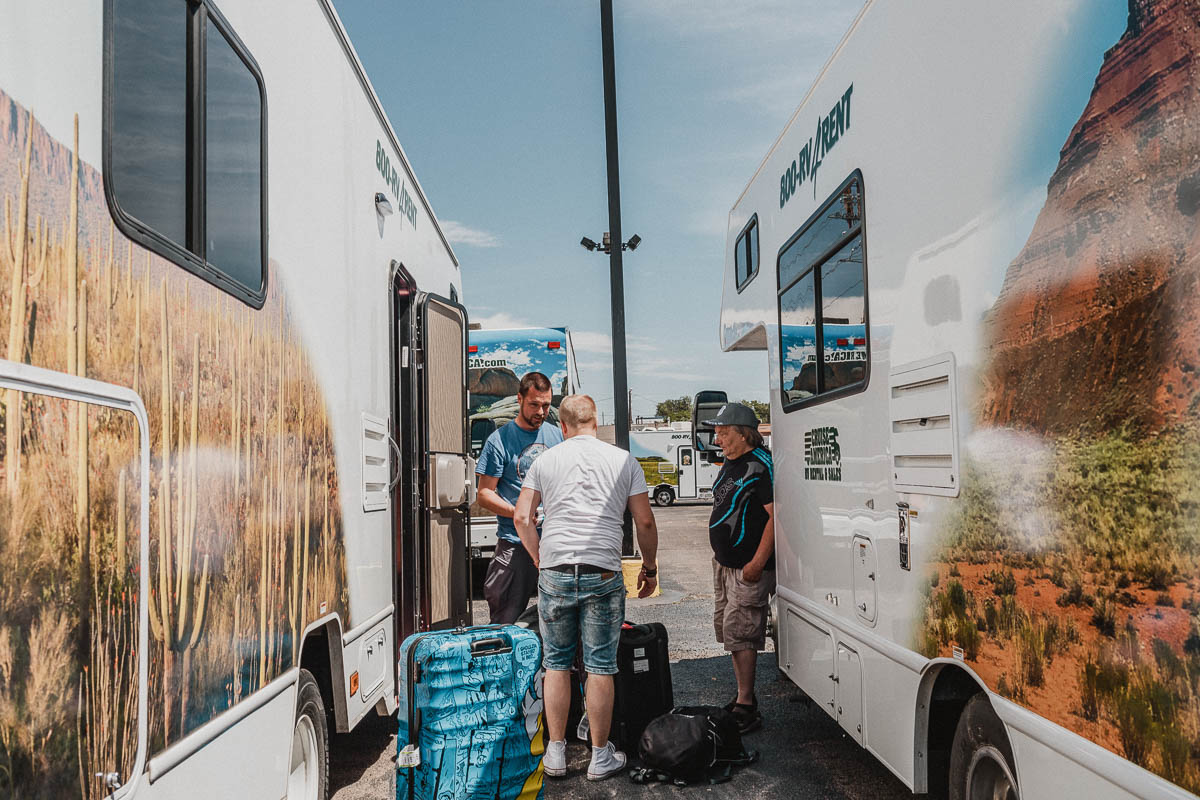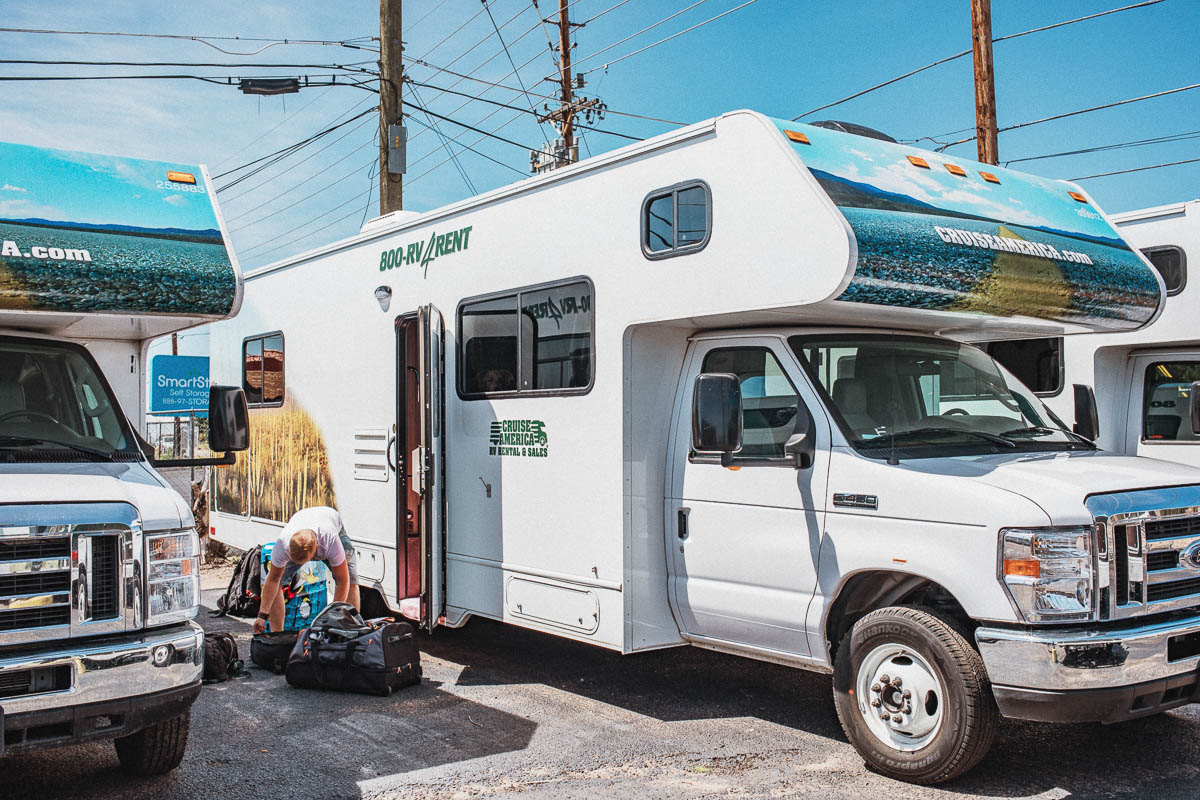 Things to know before returning your RV to Cruise America
Don't forget to clean your camper! If you return an uncleaned camper, it costs $250. Cleaning can take longer than you think so make sure you have enough time for this. I recommend to have around 3-4 hours for cleaning. It's always better to have some extra time to spare than not having enough time.
You have to empty the motorhome's holding tank or pay up to $50 if you leave it full. We made sure to have Full Hookups for our last campground night and didn't use water or the toilet after this.
If you return the car after an agreed time, a fee of $ 25 per hour will be added. You must notify the company if you are delayed.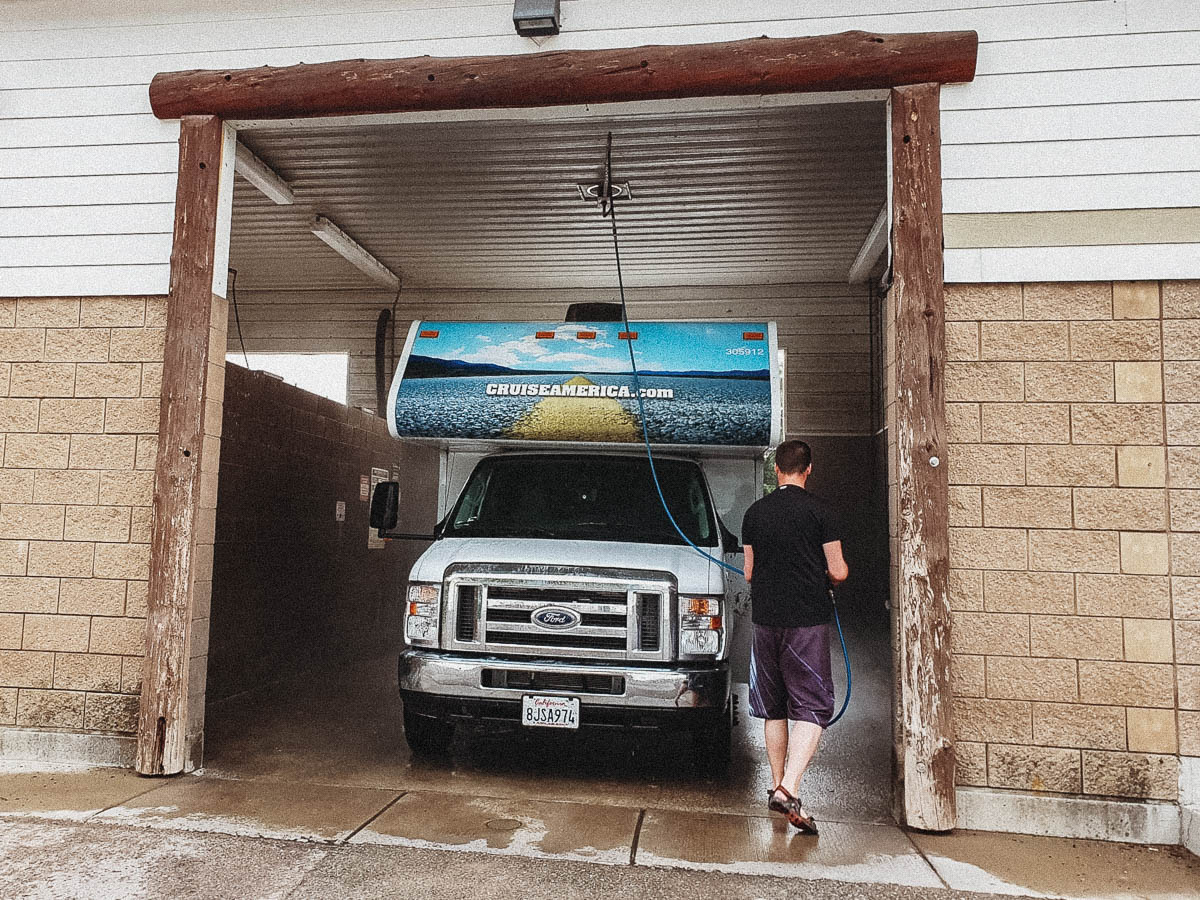 If you have any questions that I missed, please feel free to leave a comment after reading this post, or you can send me an email and I will add your question afterwards.